May 25, 2012
Move Pro – Your personal moving manager on your iPhone and iPad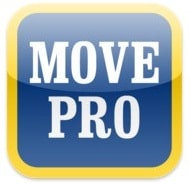 Hilldrup has released a new iPhone and iPad app – Move Pro – that will help ease some of your moving anxieties. Moving is anything but simple, and although so much planning goes into it, you can't help from feeling overwhelmed and disorganized at times. Move Pro is there to give you the details about your move right at your fingertips.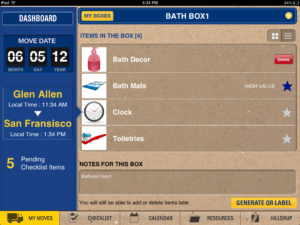 Move Pro helps to streamline the move process by providing you with powerful tools designed to make your move even easier. The app includes a step-by-step customizable checklist that integrates with your calendar, giving you reminders about tasks and can also forward to-dos to family members or friends.
And then there is one of the app's most convenient features which lets you keep important move information in one place.  Having your move counselor's contact information on hand, a place to keep important documents together, and keep pictures of your important personal possessions available on the app will allow you to quickly reference information at any point during your move.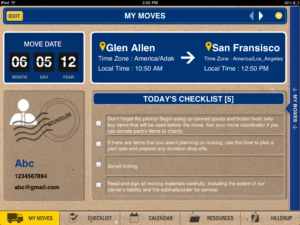 Moving is more than just getting your belongings to your new home. For example, a common – yet frustrating – problem people experience when moving is setting up utilities. Unfortunately municipal websites aren't the easiest to navigate, so one feature we've included is a link that will let you set up all your utilities in one place.
One of the most powerful features allows you to build an inventory of boxes you pack yourself, and then generate and print QR codes for each, which you can later scan to see what's inside.
Other things you can do with Move Pro include:
Access expert moving advice and how-to videos
Obtain your Employer Identification Number (EIN)
Send "We've Moved" notifications and task requests to anyone in your contacts
Track your shipments
Convert currency if you're headed overseas
Move Pro offers you start-to-finish resources to help manage your move and stay organized, all at your fingertips. That way you – or whoever you're helping relocate – can focus on more important things, like the work to come, and not the work to get you there.
Once you've had a chance to play around with Move Pro, go to the app store on iTunes and fill out a review to let us know how you like it!

CATEGORIES: