May 2, 2014
National Moving Month: Eight Tips to Your Upcoming Move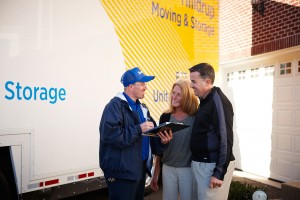 May is National Moving Month, which also kicks off the moving industry's busiest time of year. With so many families getting ready to move over the next couple months, we wanted to offer a recap of some of the moving tips we've shared over the past couple years, and some new ones to keep in mind. If you're an HR manager in charge of relocation, these are great tips to share with your new employees and transferees. A successful move can have a tremendously positive impact on the overall success of an assignment.
Plan early: If you plan on using a professional moving service like Hilldrup, call as soon as you can – we recommend at least four to six weeks in advance, if possible.
Get an estimate in writing:

Don't count on a quote given over the phone to be accurate

. Have someone come out to your home and give you a face-to-face estimate. A mover who sees your belongings will be able to give you a more accurate quote.
Check the company's rating with the BBB. Do your research to ensure that you are using a trustworthy and reputable moving company.
Keep valuables with you: While rare, unforeseeable events do occur and we recommend you keep irreplaceable items, such as wedding albums and heirloom jewelry, with you when you move.
Protect your identity: Because moving involves change-of-address forms, setting up new utility accounts, etc.,

you're more exposed to identity theft

. It's a good idea to keep an eye on your bank statements and order a credit report after your move to make sure nothing is out of the ordinary.
Keep things organized and label your boxes well: Staying organized during a move will reduce the headache of unpacking.

Smart tape

and our

Move Pro app

can help you keep track of all your items during your move.
Dispose of paint, oil and other toxic liquids correctly and donate your electronics: Throwing away toxic chemical improperly is

harmful to the environment

and often illegal. Most local Habitat for Humanity organizations will accept paint donations and automotive shops can help you dispose of left over motor oil. Old electronics can be donated to most Salvation Army and Goodwill locations.
Donate your unwanted non-perishable food: Many people who move are tempted to throw away the cans in their pantry instead of boxing them up and lugging them to their new home.

Move For Hunger

offers a third, and simpler, option – just leave it behind.

They work with moving companies like Hilldrup

and realtors to collect the left-behind non-perishables and donate them to a local food bank. It couldn't be easier, especially considering the good it does.
Do you have any additional tips that you've learned from your moves over the years? Share them in the comments below!
CATEGORIES: