August 28, 2014
What Happens When a New Employee Leaves?: Getting reimbursed for relocation expenses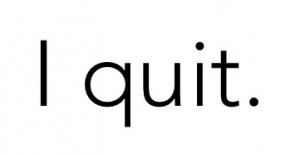 Nobody expects a new hire to quit, but unfortunately, it's a reality all HR managers face at some point in their career. Better offer, personal issues, misaligned job expectations – whatever the reason, some employees will hand over a resignation letter in the first months of an assignment. As frustrating as it is, as any HR manager also knows, bringing on and relocating a new employee isn't cheap. SHRM has multiple equations to determine these types of costs, but even a low-level junior staffer costs several thousand dollars to fill a position. While this expense is unavoidable, there is one area where companies can recoup some of the expenses with onboarding a new employee – relocation costs.
Whether you offer a full relocation package or a lump sum, your organization should include some kind of reimbursement clause to help avoid situations where a recent new hire or transferee has cause to leave unexpectedly, before he or she can have a meaningful impact to merit the relocation assistance that you provided.
There are several ways to structure this part of the acceptance offer or employee contract. You could simply require employees to back their entire allowance should they leave in the first year. Another way, similar to vesting periods, could be to require employees pay back a percentage of their relocation package based on how long they've been with the company. For example, you could stipulate that if they leave in the first three months, they must pay back 100 percent, four to six months, 75 percent, etc.
All this said, you still need to make sure new hires and transferees are supported all throughout the relocation and onboarding process to make sure they get off on the best foot possible. According to one SHRM report, half of senior-level hires from outside the company leave within 18 months. While this can include a wide range of problems, sometimes it's simply the employee and his or her family is not adjusting well to their new city. It's important to offer more than assistance getting them and their belongings from point A to point B. Consider offering a mentoring program, a "buddy" system, and offer additional counseling with choosing schools and neighborhoods, things to do around town or local organizations to join. These things have a significant impact on their quality of life and can go a long way to ensure they stay with your organization for the long haul.
Whether you have questions about how to amend your corporate relocation policy to include reimbursement language or want to enhance your relocation services, our client services team is always happy to answer any questions you may have.
CATEGORIES: