October 3, 2014
Helping New Hires Get the Most of Out of a Move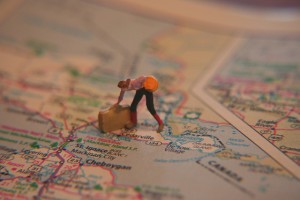 The saying "a little effort goes a long way" is true in many facets of life and the workplace is no exception. HR managers have many responsibilities and one of them is ensuring employees feel supported – particularly when they relocate for a new position or transfer.
Why? Relocating is exciting, but it's also a time when employees quickly can feel disoriented and anxious with all the change occurring in their life. Any initiative HR managers can show to help with the transition will be greatly appreciated. Here are some tips to help them feel supported:
Review relocation package: Relocations packages vary based on seniority, location, among other factors, and as a result, giving a standard explanation of benefits and restrictions is sure to leave questions. Even if you offer a lump sum, offer some guidance on how to budget it and provide a list of preferred vendors so they don't use

a rogue mover

.
Provide moving tools: Even if an employee is given a full-service relocation package, there will still be some packing and organizing he or she needs to do. Mobile apps like

Move Pro

can be a great way for relocating employees to know what tasks need to be done and when. If you're relocating millennials who might be on the fence between renting or owning in their new city,

Trulia offers a fantastic tool

to help them decide.
Make sure they get off on the right foot: Just because they're unpacked and showing up to work doesn't mean the transition is complete.

According to SHRM

, senior level executives to hourly workers are prone to leaving within the first six months. There's rarely any single reason, but dissatisfaction with their new city can be a contributing factor. Make sure your employee and his or her family are settling into their neighborhood.

CityPointe

offers neighborhood guides to help individuals get acclimated.
Relocation is a growth opportunity for both employees and organizations when talent is appropriately matched with a specific need, and a smooth transition can help immensely toward this goal. If your HR department is short staffed and unable to provide this level of attention to transferring employees, consider partnering with Hilldrup. Our move coordinators work with transferees and new hires every step of the way to make sure they have a seamless and enjoyable move.
CATEGORIES: