January 14, 2015
Where to move? The 2014 United Van Lines' Annual Migration Study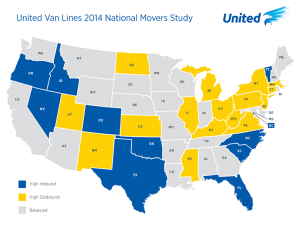 After a big shakeup last year of the top inbound states, this year's United Van Lines' Annual Migration Study remains largely the same at the top spots. Oregon, South Carolina and North Carolina were the top three destinations for the second-consecutive year, respectively. Washington, D.C., which was the top destination from 2008 to 2012, fell four places to the eighth spot.
The tri-state area did not fair as well. New Jersey, New York and Connecticut had the highest outbound rates, respectively.
In the "no news is good news" category, Michigan placed in the balanced category for the second year in a row, meaning the difference between its inbound and outbound moves was less than 10 percent.
Michael Stoll, economist, professor and chair of the Department of Public Policy at the University of California, Los Angeles, weighed in on these results in United's release announcing the study. Stoll notes these findings "reflect longer-term trends of movement to the southern and western states, especially to those where housing costs are relatively lower, climates are more temperate and job growth has been at or above the national average, among other factors."
The United Van Lines Migration Study is based on household moves handled by United within the 48 contiguous states and Washington, D.C. "High inbound" states are those where 55 percent or more of the moves are going into the state. Conversely, "high outbound" are those where 55 percent or more moves were coming out of the state. States are considered "balanced" if the difference between inbound and outbound is negligible.
CATEGORIES: