February 4, 2016
New electronic logging device rule makes roads safer for all drivers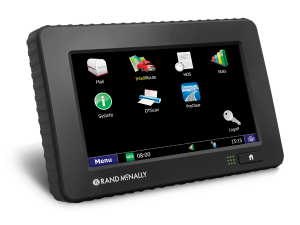 For nearly 80 years, truck drivers have kept records with pen and paper, but a new Department of Transportation mandate is making waves in the industry. Commercial truck drivers and companies will now be expected to shift from paper logs to electronic logging devices (ELDs) by December 2017.
Currently, paper logs are kept for the main function of monitoring a driver's hours of service, which help ensure that drivers have adequate rest. Companies that do not abide by these regulations face significant fines. But with paper logs, verification of a driver's hours of service has been no easy task.
The installation of ELDs will make the monitoring of the hours of service regulations much easier to verify. The ELDs installed in Hilldrup's trucks will alert drivers when they are close to reaching their daily driving limit and also will remind them to take a break. Additionally, these devices will communicate with our service departments, notifying our technicians of any potential equipment issues that need to be checked. Dispatchers in our operations department will also have access to driver's hours, so that they can keep tabs on hours driven in real time.
Drivers will need to be trained to use this new equipment, but according to the U.S. Department of Transportation's Federal Motor Carrier Safety Administration, the transition to ELDs will provide benefits industry-wide, such as:
The installation of these devices is estimated to save 26 lives and prevent 562 injuries resulting from crashes involving large commercial motor vehicles each year
The annual net benefit of reducing the amount of required industry paperwork will save more than $1 billion.
Roadside law enforcement personnel will be more efficient in reviewing driver records.
Drivers will save about 20 minutes a day, not having to keep paper records in their log books.
We're always looking for new ways to help our drivers perform their jobs as efficiently and safely as possible. We've already begun installing these devices in our trucks and the full fleet will be outfitted ahead of the deadline. This new rule will keep our drivers safe and reduce the number of fatigued commercial drivers on the road, making the highways a safer environment for all drivers.
CATEGORIES: