CONTEST: Friends Don't Let Friends Ask Them to Help Move
No one likes helping a friend move. It's almost always raining. The car is never big enough for just one trip. And…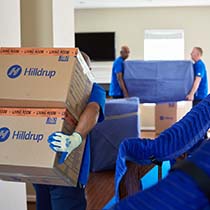 No one likes helping a friend move. It's almost always raining. The car is never big enough for just one trip. And the stairs, so many stairs.
They should let the pros (like Hilldrup) handle it instead. That's why we're giving you a chance to get your friend $250 off their move! Simply enter your friend into our monthly drawing! Winners will be selected at random and notified by the third of each month.
A couple of rules:
The moves must be local (no more than 30 miles) in one of our service areas (Stafford/Fredericksburg, VA; Washington, D.C.; Richmond, VA; Charlotte, NC; Raleigh/Durham, NC; Greenville, SC; Atlanta, GA; Orlando, FL).
Moves cannot take place on Sunday.
A pre-move survey must be done prior to the move.
Some states may require full payment. In those cases, your friend will receive a rebate check after the move is completed.
Good luck!
---