Eyes On the Road: A Look at Hilldrup Driver Safety
In light of recent news and questions surrounding truck driver safety, we felt it was important to take some time to discuss…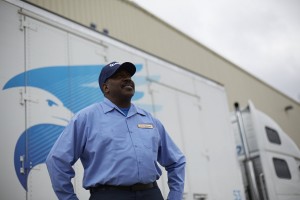 In light of recent news and questions surrounding truck driver safety, we felt it was important to take some time to discuss how truck drivers are regulated. Operating such a large vehicle demands serious attention to detail and oversight, and is something we monitor very closely to ensure the safety of our drivers, their shipments and everyone else on the road.
We recently talked with Harold Wood, vice president of risk management and safety, and Tim Clemons, manager of safety, to help shed some light on how we approach driver safety.
First, how much can Hilldrup van operators work in a given day?
Tim: Hilldrup constantly reviews and monitors how many hours our drivers are on the road and require drivers to stand down if they are close to reaching the maximum legal hours. In fact, here's a look at some of the specific regulations around the number of hours a driver can operate his or her vehicle:
Drivers cannot drive after being on duty for 14-consecutive hours.
Drivers must take a 30-minute break before they drive if they've been on duty for eight consecutive hours.
Drivers must have 10 consecutive hours off-duty prior to beginning their next shift.
After those 10 off-duty hours, drivers cannot drive more than 11 cumulative hours in a 14-hour period.
Drivers cannot drive after being on duty for 70 hours in an eight-day period. 
How do we know if our drivers are abiding by these regulations?
Harold: All drivers are required to submit logbooks detailing their driving activity, which we monitor in house and also at United Van Lines' home office in St. Louis, Missouri. All of our vehicles are equipped with GPS units, and we routinely review each log against those units to make sure everything matches up. As an added layer of accountability, we even track drivers' receipts to make sure the location and time matches up with the submitted logs.
What else is Hilldrup currently doing to educate its drivers?
Harold: We are currently finishing up an extensive training period on hours of service involving more than 400 people, including drivers and in-house staff, totaling over 1,000 hours of training since January 1.
Tim: This training has gone over every part of the Federal Motor Carrier Safety Hours of Service covering all of their driving limits and hours they can work and drive as well as how to do their logbooks to account for their time on the job.
How does Hilldrup's safety standards compare to others in the industry
Tim: I can tell you from past experiences with other organizations that Hilldrup closely monitors and requires compliance with all regulations – not just hours of service, but equipment regulations, physical regulations, and the whole gambit of the code of federal regulations for the Department of Transportation.
Harold: Our goal is to provide a safe working environment for our drivers so they are prepared to handle their vehicles in a manner that will protect the motoring public and themselves.
If you have any additional questions about driver safety initiatives, please visit the U.S. Department of Transportation FMSCA to learn more.
---