Hilldrup Helps Host Annual Thanksgiving on the Mayflower Event
Our DMV team ensured our area first responders could celebrate Thanksgiving properly by having a hot meal "aboard the Mayflower."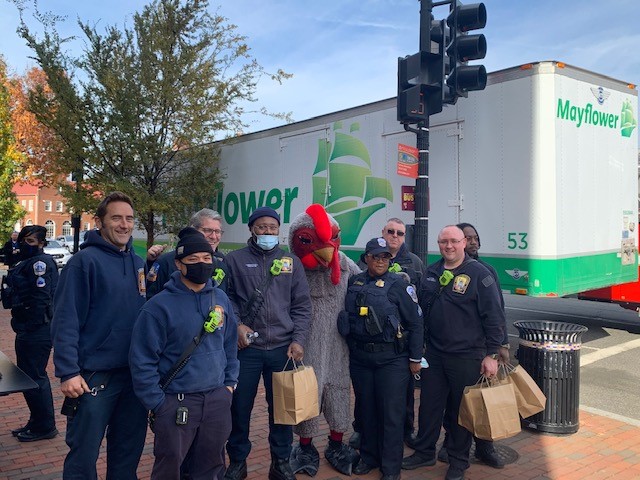 Whether it's the bountiful, hot delicious food or the quality, uninterrupted time spent with family and friends – there's plenty to love about Thanksgiving! But there's no doubt that our community's first responders aren't always guaranteed the day off to enjoy the holiday like many others. That's why Hilldrup was excited and honored to help host the annual Thanksgiving on the Mayflower event – an opportunity for local first responders to receive a Thanksgiving meal while working to protect our communities.
For many years, Hilldrup has supplied a Mayflower trailer on Thanksgiving for the annual event. Hilldrup's Washington, DC, Maryland and Virginia (DMV) teams helped coordinate efforts to ensure that a Mayflower truck was available for the event along with a Van Operator and staff to ensure everything ran smoothly. The most exciting – and delicious! – part of the event of course was the Thanksgiving meal itself which was prepared and generously donated by The Four Seasons Hotel Washington, DC to first responders working on Thanksgiving. Approximately 650 meals were provided in total!
We were honored to help serve so many local first responders to ensure they had a Thanksgiving meal to take home for the holiday simply by inviting them aboard "the Mayflower!"
"Hilldrup has a long and proud history serving the men and women who keep our country safe and secure – from active military to local first responders," said John Seal, Senior Vice President – Operations (DMV). "It is an honor to support our area's public servants working this Thanksgiving through this annual event."
Thank you to the wonderful team at The Four Seasons Hotel who truly made this event possible! Special thanks also goes out to Hilldrup Van Operator, Andre Nelson, Hilldrup's DMV Operations team members and Eileen Williams, Corporate Sales Executive, for their efforts to ensure the event was a success. We hope our hometown heroes had a wonderful, safe Thanksgiving holiday!
Hilldrup's Eileen Williams, Corporate Sales Executive, takes a photo with local first responders – and of course, a life-size Turkey thanks to The Four Seasons Hotel! – on Thanksgiving during the event.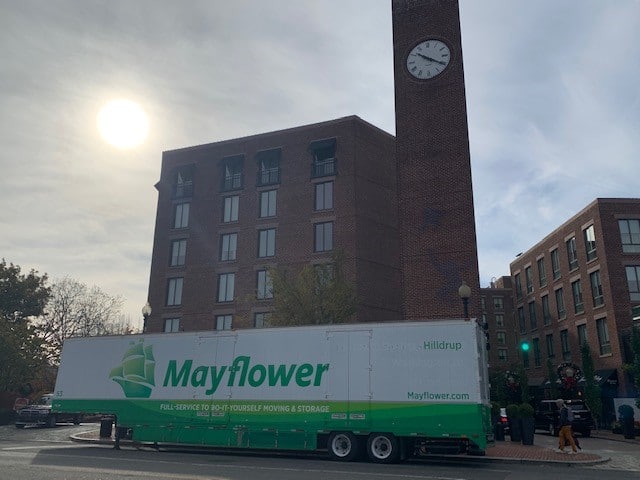 Thank you to our Washington, DC Operations teams who ensured that a Mayflower truck would be ready and available to host local first responders. From here, first responders could pick up their Thanksgiving meal courtesy of The Four Seasons Washington, DC.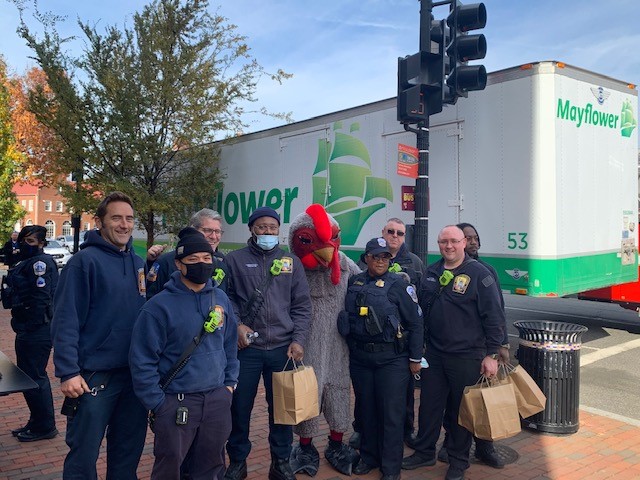 We were excited to be able to help host this year's event since COVID-19 derailed last year's plans. To keep everyone safe, approximately 650 Thanksgiving meals were provided to-go style. Thank you to the servicemen and servicewomen who keep us, and the communities where we live and work, safe throughout the year!
---