Hilldrup Stafford Raises Over $49,000 for Rappahannock United Way
Hilldrup's annual campaign to support our Fredericksburg area community through the Rappahannock United Way (RUW) resulted in a $49,032 contribution to RUW's…
Hilldrup's annual campaign to support our Fredericksburg area community through the Rappahannock United Way (RUW) resulted in a $49,032 contribution to RUW's mission of improving lives throughout the local community. We've been honored to support RUW for many years and are grateful to each of our team members for helping to make this success possible!
The theme for 2019's Rappahannock United Way campaign was a nod to RUW's 80th anniversary – Vibin' to the 80s! Throughout the campaign, 80s themed décor, fashion and games were incorporated to show our spirit and support of all things RUW.
Hilldrup Stafford's 2019 fundraising events and fundraisers included:
50/50 Raffle Contests
Silent Raffle
Hilldrup Bake Sale
Christmas Ornament Sale
Casual Wear Passes
Hilldrup "Jail" Event
Valentine's Day Candy Grams
Hilldrup Market Place
Super Bowl Prediction
At the heart of Hilldrup's 2019 RUW campaign was Jessica Facciolo, Customer Care Representative and Hilldrup's Campaign Coordinator. Jessica, as well as our Human Resources team and RUW Ambassadors from across Hilldrup's departments, truly were the creative brains and driving spirit behind each event. We couldn't be more thankful for their hard work throughout the campaign season!
We're extremely thankful to all of our employees who gave their time and donations to support RUW. We look forward to continuing to support the communities where we live and work through our partnership with RUW!
Looking for ways to support the Fredericksburg area community? Please visit Rappahannock United Way's website to learn how.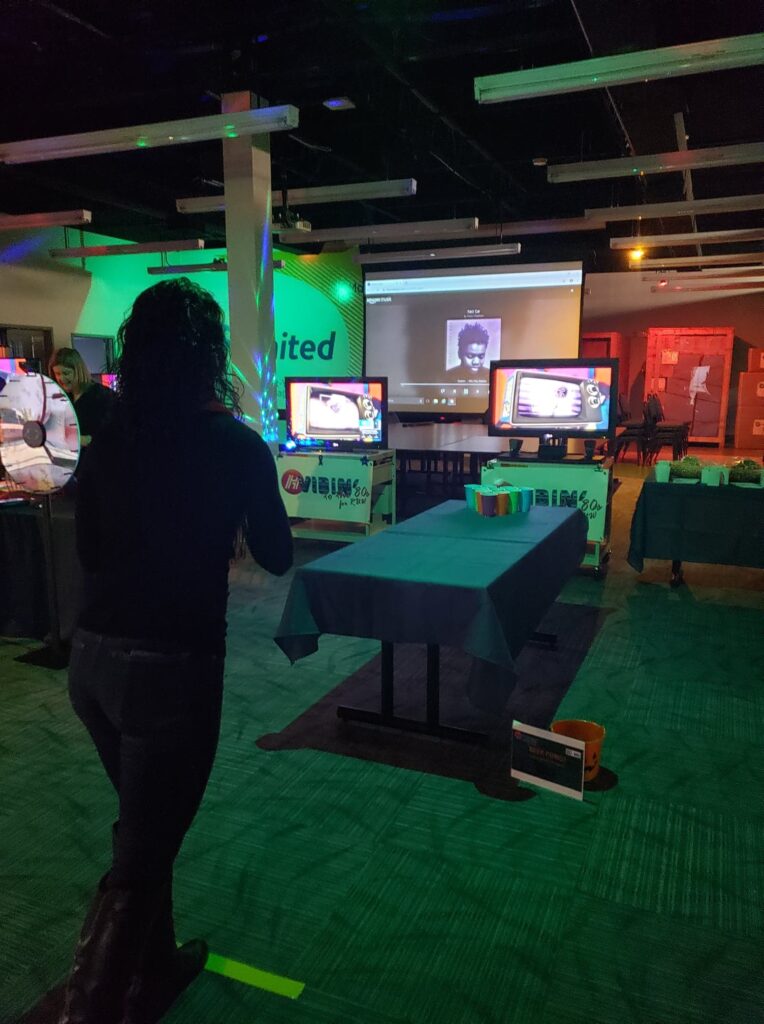 Christy Ferreira, Relocation Specialist, participated in Hilldrup's 80s-inspired game series as part of our Rad and Righteous RUW Campaign Kick-off campaign in the fall. Between donations to play games and pledges that were filled, we were thrilled to be able to raise over $49,000 for RUW!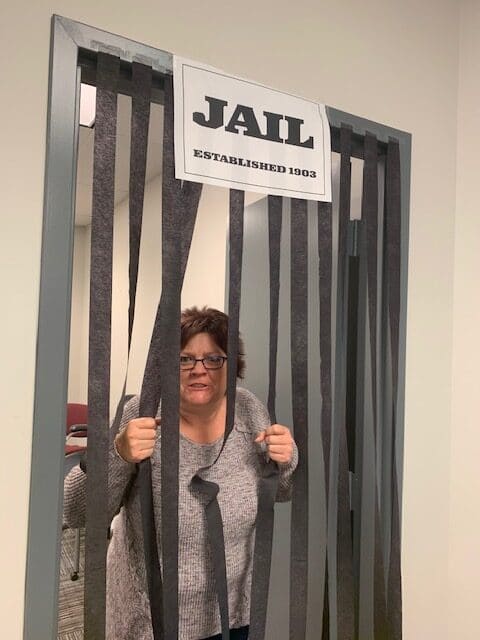 Crystal Brinson, Manager, Customer Service, spends some time in "Hilldrup Jail" as part of a RUW fundraising activity. Hilldrup Stafford employees could donate a set amount of money to send any one of their colleagues – or managers! – to Hilldrup Jail for a short amount of time. Of course, you could always pay your "bail" to be released as part of the fun!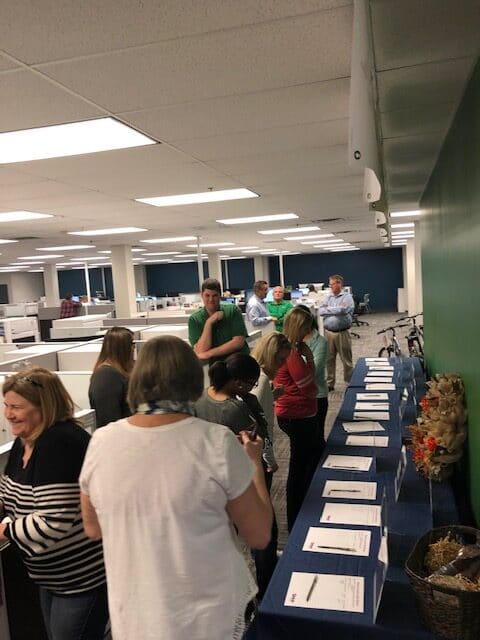 Hilldrup's Silent Raffle made quite a stir in the office when it took place at our Stafford office in October. From Apple AirPods to bicycles and from sporting tickets to a casual wear pass – there were lots of prizes to bid on and excitement surrounding the items for auction. We enjoyed the friendly competition of trying to outbid our teammates all in support of raising money for RUW!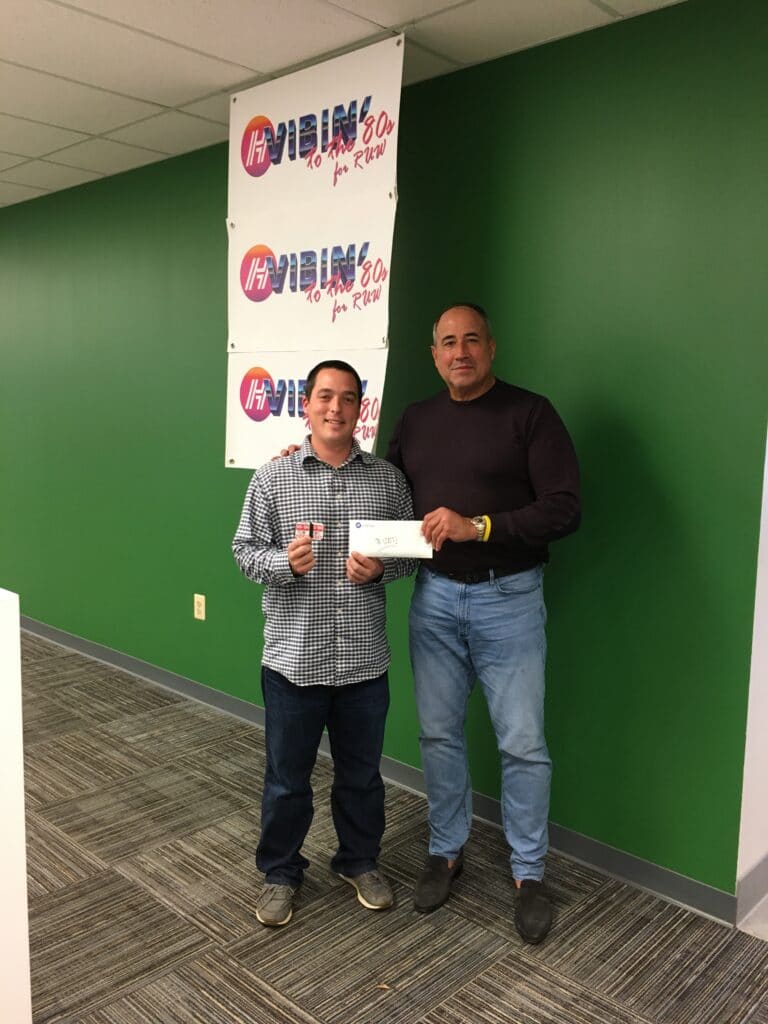 We can't forget our 50/50 Raffle Winners! Above, Jason Cox, Sr. Quality Assurance Coordinator/Van Operator Liaison (left), holds his winning ticket as Charles W. McDaniel, President and CEO of Hilldrup, presents him with his winning earnings! Greg Donovan, Vice President, International, won Hilldrup's second round of the 50/50 Raffle. Congratulations Jason and Greg and thank you to all who participated!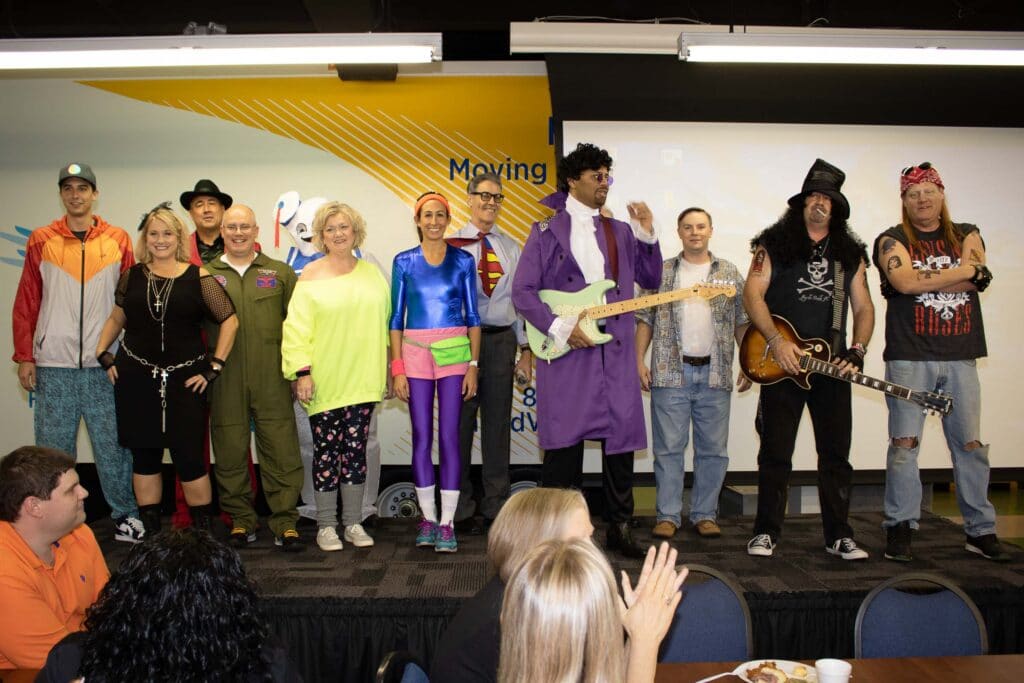 A blast from the past! Hilldrup's Senior Management Team sported their best 80s-inspired look in the spirit of Halloween and of giving. Employees could contribute any donation amount as a "vote" of which senior leader rocked their best look. Thank you all for participating!
---