Hilldrup's Halloween Spirit
The creativity and spirit of Team Hilldrup never disappoints – and Halloween is certainly no exception! At our Atlanta, Raleigh and Charlotte…
The creativity and spirit of Team Hilldrup never disappoints – and Halloween is certainly no exception! At our Atlanta, Raleigh and Charlotte branch, many employees arrived at work dressed in their best Halloween costumes and even enjoyed a delicious potluck and sweets to celebrate the holiday.
As per tradition, Hilldrup Stafford had a costume contest for a variety of categories and a competition for the best-decorated cubicle. We were inspired by our 2019 Rappahannock United Way Campaign Theme of Vibin' to the 80s for RUW. Congratulations to our winners!
Individuals:
Scariest: Maleficent – Carol Neal, Billing Manager
Funniest: Chuck Norris – Robert Riebe, Creative & Brand Manager
Most Original: Flo from Progressive – Bridget Geiger, Corporate Communication Strategist
Group/Duo:
Scariest: Nightmare Before Christmas – Autumn Sweeney, Accounting Associate; and Marjorie Sweeney, Bill & Revenue Analyst
Funniest: Pepto Bismol – Robin Allison-Jones, Billing Supervisor; Carrie Chewning, Senior NA Audit Bill & Revenue Analyst; Kristin Harris, NA Bill & Revenue Analyst; Toni Mohrman, Bill/Order Processor; and Chanel Payne, Senior Estimated Pay Analyst
Most Original: Hilldrup Spice Girls – Sharnneice Allen, Customer Assistance Counselor; Darcy Duxbury, Claims Counselor; Carmen Garrett, Claims Coordinator; Crystal Hunt, Customer Assistance Supervisor; Jami McKenna, Director, Quality; Customer Relations; and Leslie Tanner, Senior Administrative Assistant, Customer Assistance
Best 80s: Pac Man – Brian Anderson, International Associate; Luz Beltran, International Team Leader; Jennifer Cleven, International Move Coordinator; Katelynn King, Senior Billing & Revenue Analyst; and Peter Meyer, Manager, Government Services
Best Cubicle:
"Speakeasy" – Kathy Angers, Customer Care Representative, and Jessica Facciolo, Customer Care Representative
SMG 80's Themed Contest Winner:
"Robert Palmer" – Barry Dodson, EVP and Chief Financial Officer
We love seeing our team's Halloween costumes and spirit; thank you to all who participated!
Check out photos from our branches, below!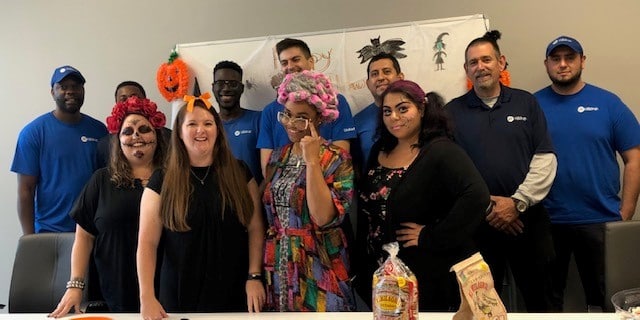 Hilldrup Atlanta was in the Halloween spirit with their costumes and office decor – great job, everyone!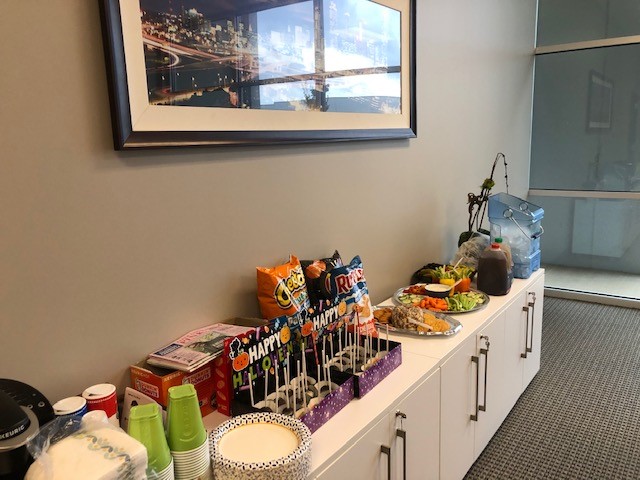 A potluck at our Atlanta office was held for employees to stop by and enjoy some holiday-inspired treats!
Matt "Minshew Mania" Appleton, Assistant Operations Manager, was in the Halloween spirit at Hilldrup Charlotte!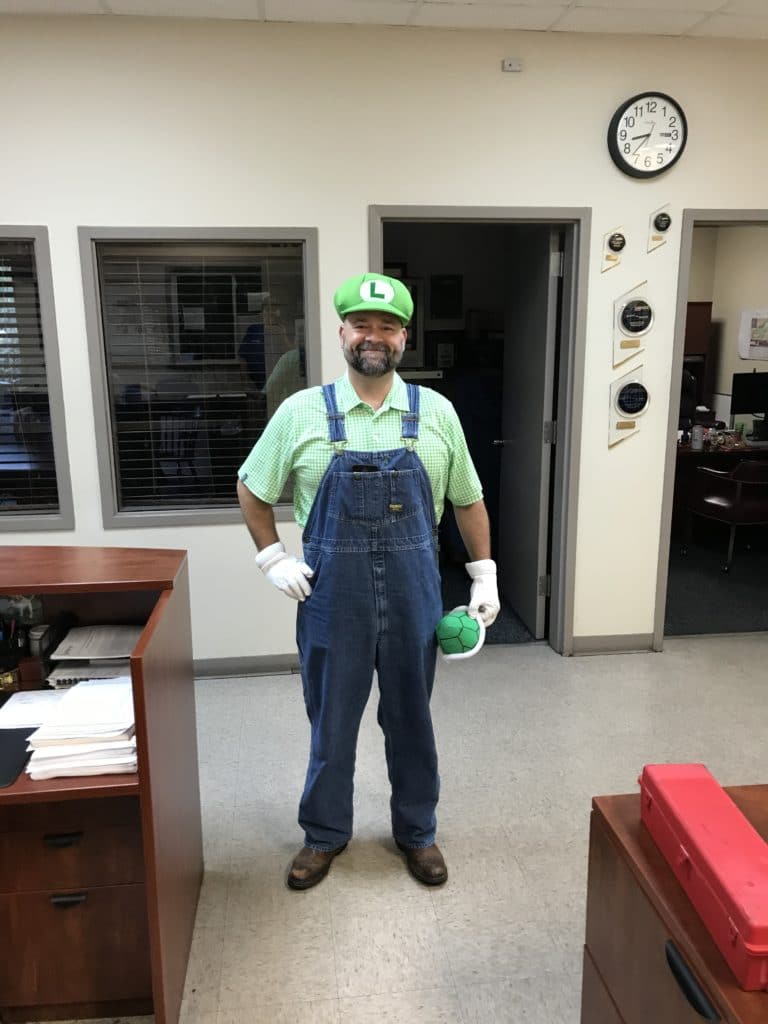 Jeremy "Luigi" Williams, Operations Manager, in Raleigh-Durham was in the holiday spirit!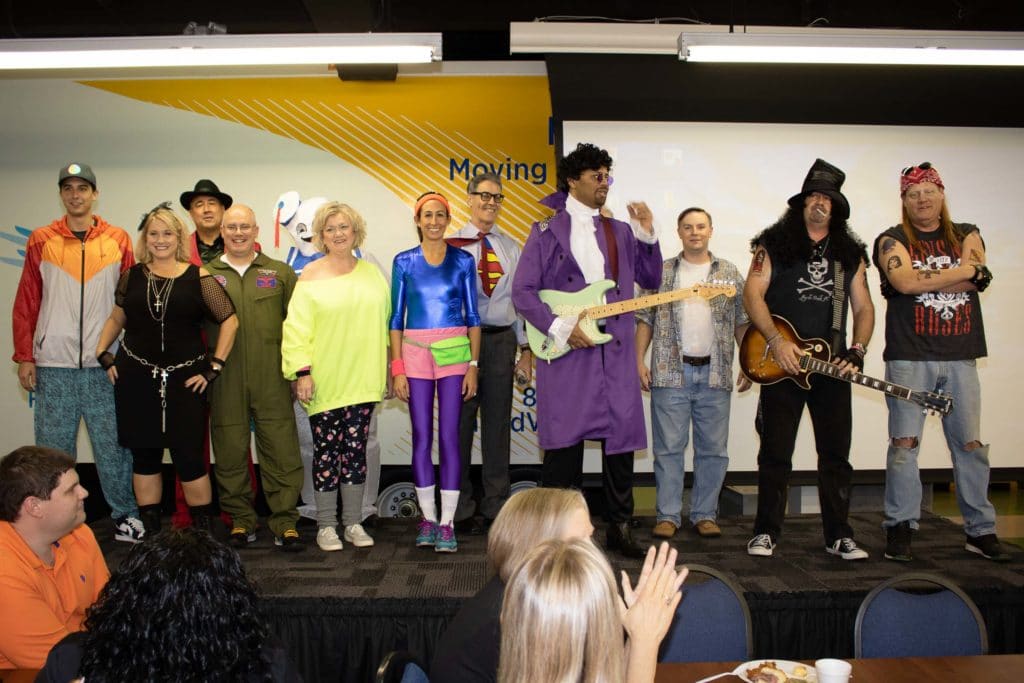 Hilldrup's Senior Management Group at our Corporate Headquarters sported their best 80s inspired costumes! We even enjoyed special guest appearances from "Madonna," "Prince," "Slash" and "Axl Rose!"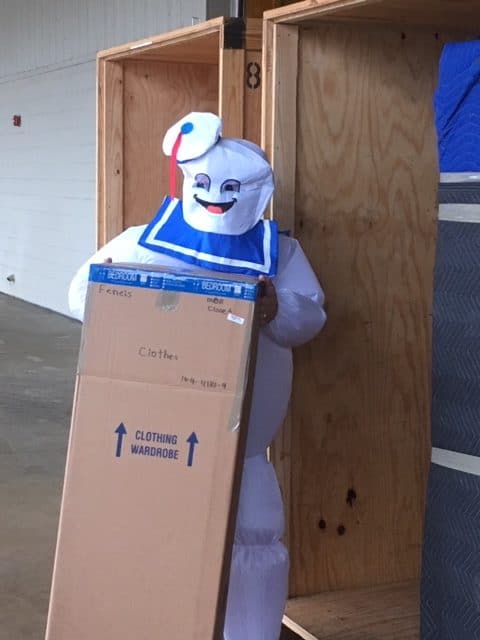 Tom "Stay Puft Marshmallow Man" Hinkley, Senior Vice President, Commercial Services, stayed busy and in character throughout the work day!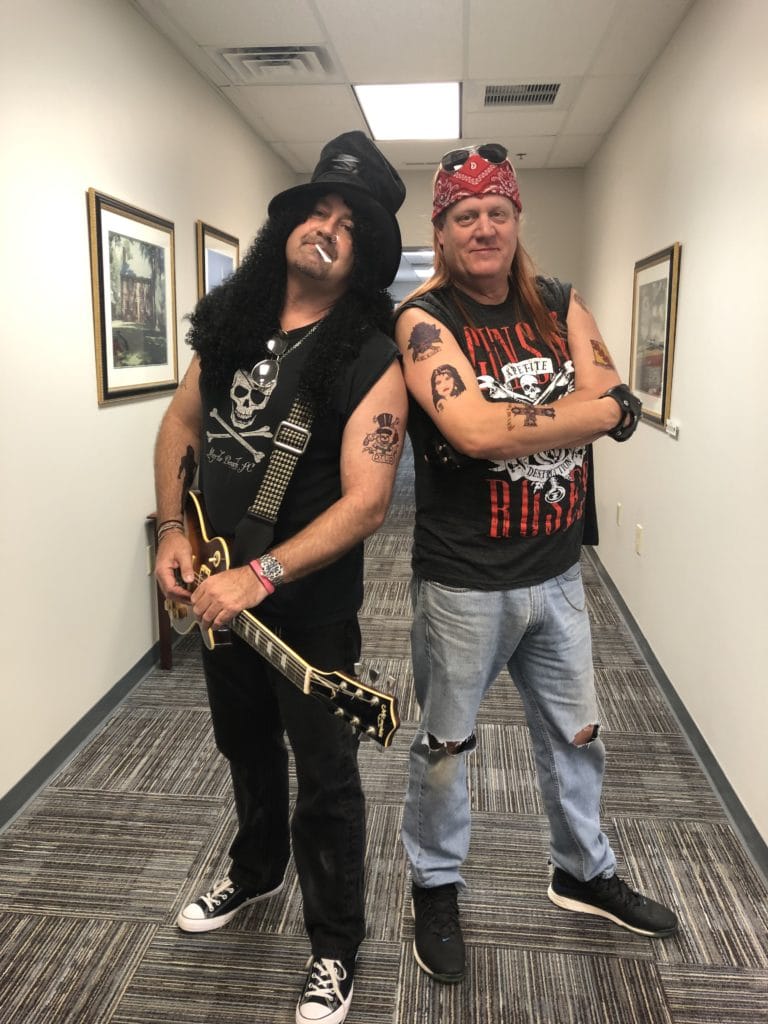 George "Slash" Roth (left) and Russ "Axl Rose" Watson (right) made for quite the duo inspired by the 80s theme at our corporate office.
Hilldrup Stafford employees gather for a group photo to display all our Halloween spirit together – thank you all for your participation, and congratulations to our winners!
---