'Tis the Season to Give Back
Christmas is almost here, and probably more than any other time during the year, the saying "It's better to give than…
Christmas is almost here, and probably more than any other time during the year, the saying "It's better to give than receive" rings true in all of us.
Giving back to the communities in which we serve has always been a fundamental part of our business. Without their support, there's no way we would have been able to stay open for the past 112 years! What's been great about this is that as we've grown in staff and branches, we've been able to help more people and organizations across our service areas.
At Christmas, all of our branches participate in a variety of volunteer opportunities to give back. For example, this year our Greenville, S.C. branch assisted in putting up Christmas lights for a tacky light tour that raises money for charity, and down in Raleigh, our crew worked with the Salvation Army's Angel Tree, where they went to all the participating locations to pack up the donated toys and deliver them to the Salvation Army to be wrapped! Our Richmond branch delivered Christmas decorations to Little Sisters of the Poor and will take them back to storage following the holidays.
At our Stafford headquarters, we "adopted" five area families through Hope House, a local non-profit aimed at moving homeless families into housing. Each family received presents for both the kids and parents to help them celebrate the holiday season. We also helped pick up and deliver toys collected through the area's Toys for Tots program.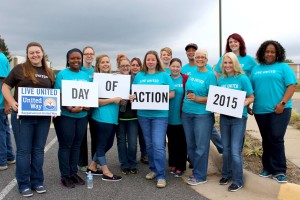 Although the Christmas season sparks a greater sense of giving in us all, that spirit is something we try to practice year round. In addition to our ongoing partnerships with organizations like Move for Hunger and MoveRescue, here are some of the ways we've gotten out into our communities this past year:
Our Stafford office is a major partner with the local United Way, and for another year, we participated in its Day of Action. This year we had volunteers serve at the Fairy Godmother Project, Habitat for Humanity and the Thurman Brisben Homeless Shelter. We also sponsored the Rappahannock Regional Boys & Girls Club and participated in the Stafford Hospital 5K race to raise money for the Stafford Hospital Foundation!
In Charlotte, our team helped pick up and deliver donated school supplies to area schools, transported bottled water to flood victims in Columbia, S.C., and regularly volunteered with organizations like Habitat for Humanity and the Salvation Army.
Our team in Atlanta collected more than 700 lbs. of food for Move for Hunger, as part of its Thanksgiving food drive!
Our Greenville team read books to 35 children at St. Anthony's School every month. They also routinely volunteered with other organizations and ministries such as March of Dimes and Shoebox Ministry which serves the less fortunate.
Down in Orlando, our employees collected more than 200 lbs. of food for a Thanksgiving luncheon for the homeless.
Our team in Richmond assisted the March of Dimes and March for Babies, picking up and delivering giveaway products and setting up and tearing down the events. We also continued storing pallets of diapers for the Capital Diaper Band!
Our Raleigh branch is heavily involved with Habitat for Humanity's Restore. Not only is Hilldrup a platinum level sponsor, we've donated 32.87 tons of materials to the store that would have otherwise gone to a landfill.
Because there are too many great pictures of our team's community service to include in this post, we've created a Facebook album for you to see our folks in action!
The holidays are a special time to reflect on all that we have, and more importantly, what we have to give. We wish you all a wonderful Christmas, and hope that you can enjoy time with friends and family this season.
---