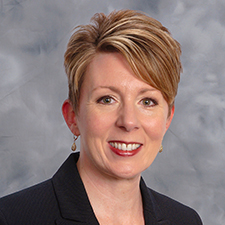 Beth Williams
Vice President, Human Resources
Beth Williams is the Vice President of Human Resources, where she is responsible for talent management within the organization, including benefits and compensation, compliance, leadership training and employee development. She is a certified professional coach and developed Hilldrup's first company leadership development program.
Beth also oversees Hilldrup's Rappahannock United Way campaign and coordinates its volunteer teams for the annual Day of Caring. She was elected to the Rappahannock United Way (RUW) Board of Directors in 2013. She's previously served as Campaign Executive and co-chair for RUW's workplace campaign.
In addition to her work with the United Way, she is also a mentor for Leadership Fredericksburg and is an active member of the Fredericksburg Regional Chamber of Commerce. She has been a guest speaker and facilitated workshops for area events including the University of Mary Washington Leadership Colloquium and regional workforce readiness programs.
Beth holds a bachelor's degree in psychology from Mary Washington College and her professional coaching certification from the Institute for Professional Excellence in Coaching. She's an avid reader and enjoys spending time with her friends and family. She lives in Fredericksburg, Virginia, with her husband, son and daughter.