News & Events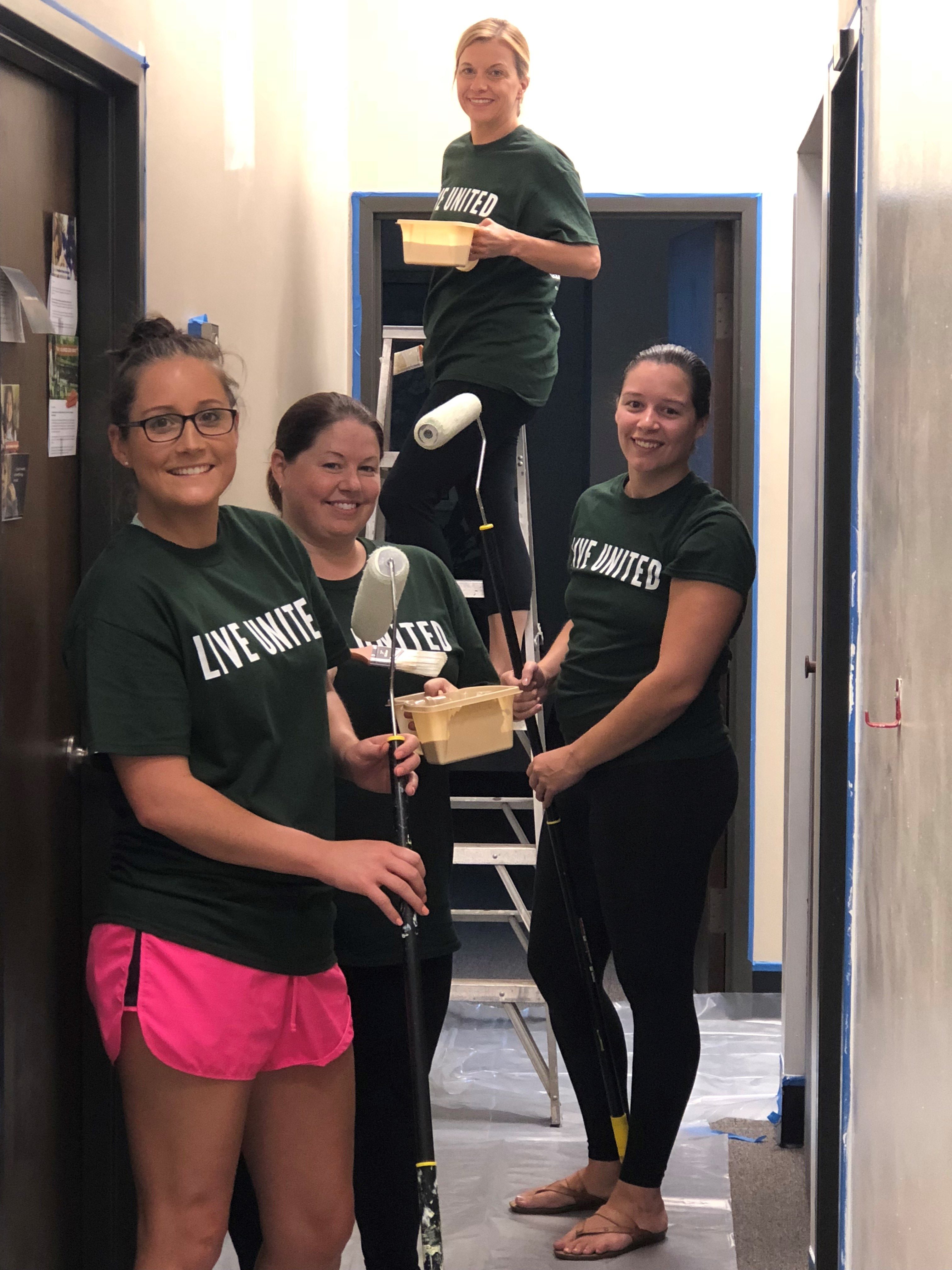 It wasn't just another day at the office for Stafford employees but rather, another example of how Hilldrup is passionate about giving back to the communities we serve. Recently, several members of our Stafford team dedicated their time and efforts toward our annual Day of Action through our partnership with the Rappahannock United Way (RUW). Volunteer teams came together to assist with the needs of our community throughout the region. Through this giving, we can better understand the direct impact RUW has, all while having fun with our coworkers! From mulching to painting, we were proud to give back to and transform our local area.
One of our volunteer events took place at the Fredericksburg Regional Food Bank where a handful of Stafford employees helped stencil and paint the warehouse room and hallways. A fresh new look to the interior of the building was an exciting change for both the Food Bank's employees and visitors. It was fantastic to see just how many meals are provided through their organization to those in need.
Across town, in historic downtown Fredericksburg, Hilldrup volunteers helped clean and move durable medical equipment at Equipment Connection. Through their program, new and gently used medical equipment can be reused so that those in the community can have access to supplies to which they may not otherwise have access. Our team assisted with washing floors, walls and equipment while also taking an inventory of the items there.
A third project that our team readily assisted with was providing landscaping work at the Cedell Brooks Jr. Park in nearby King George County. Hilldrup volunteers transformed the park by weeding, mulching and planting trees throughout the grounds.
"Everyone has a great outdoor workout with lots of stretching and moving," explained Linda Kline who oversaw the volunteer efforts at Cedell Brooks Jr. Park. "Thanks for sharing your dedicated employees and making a difference in the community!"
Our fourth and final project took place at the Lloyd Moss Free Clinic where our team volunteered to install and reinforce the Patient Eligibility Center's front window counter and repair shelving for the office staff.
We were thrilled to have so many employees participate in the Day of Action events – thank you to all who took part in giving back! To learn more about RUW and become a volunteer, please visit https://www.rappahannockunitedway.org/volunteer/.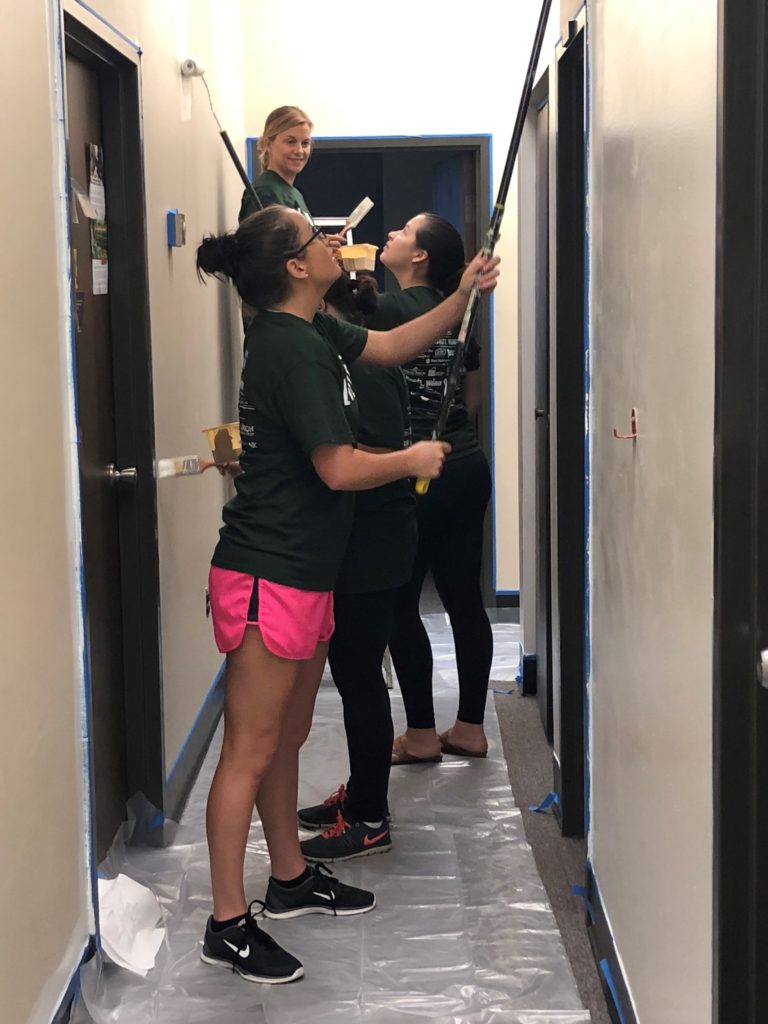 The Hilldrup team was hard at work stenciling and painting the halls and offices of the Fredericksburg Regional Food Bank through our partnership with RUW's Day of Action.
From left: Amy Steele, Marketing Manager; Darcy Duxbury, Customer Assistance Counselor, and Jordan McDaniel, Manager, Digital and Social Media, smile for a quick photo while preparing to move assistive chairs at Equipment Connection in downtown Fredericksburg.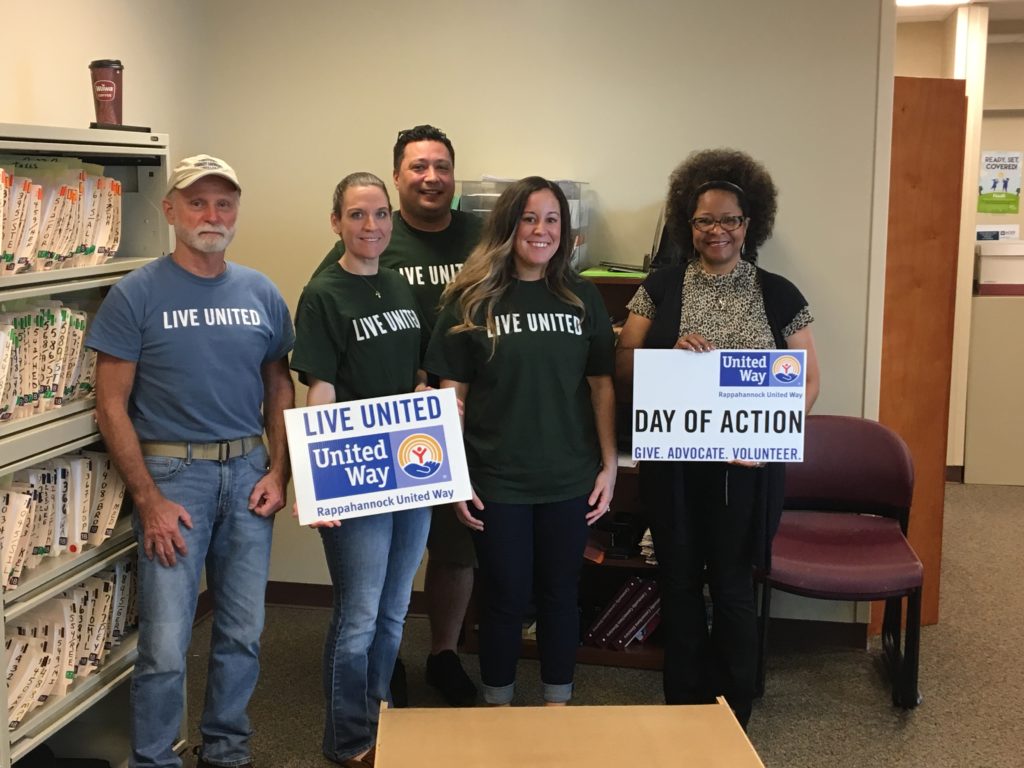 Team Hilldrup's own Jessica Facciolo, Harrison Howard, and Kristy Gramling sported their green LIVE UNITED shirts during the Day of Action. Here, volunteers helped install a counter and repaired bookshelves at the Lloyd Moss Free Clinic in Fredericksburg, VA.
Jordan and Tricia McDaniel work together as a mother-daughter team to assist with cleaning and inventorying supplies at Equipment Connection.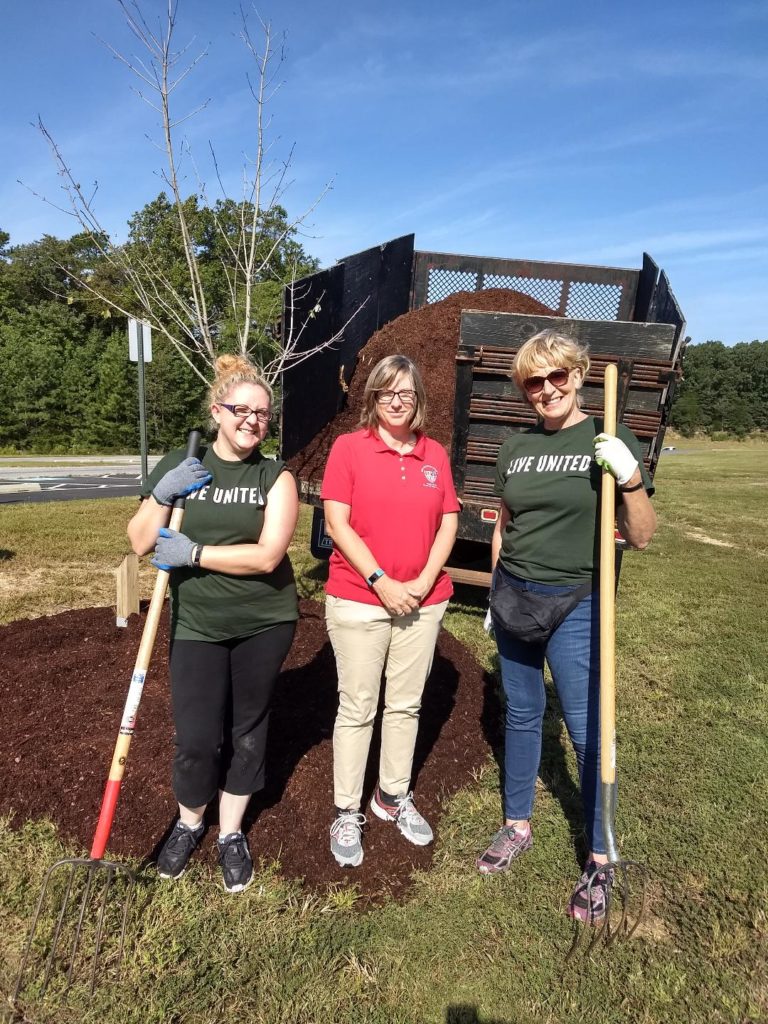 Cathy Binder, King George County Board of Supervisors for the Shiloh District (center) stopped by to thank volunteers for their efforts. Thank you to Wendi Reinhart (left) and Toni Mohrman (right) for participating!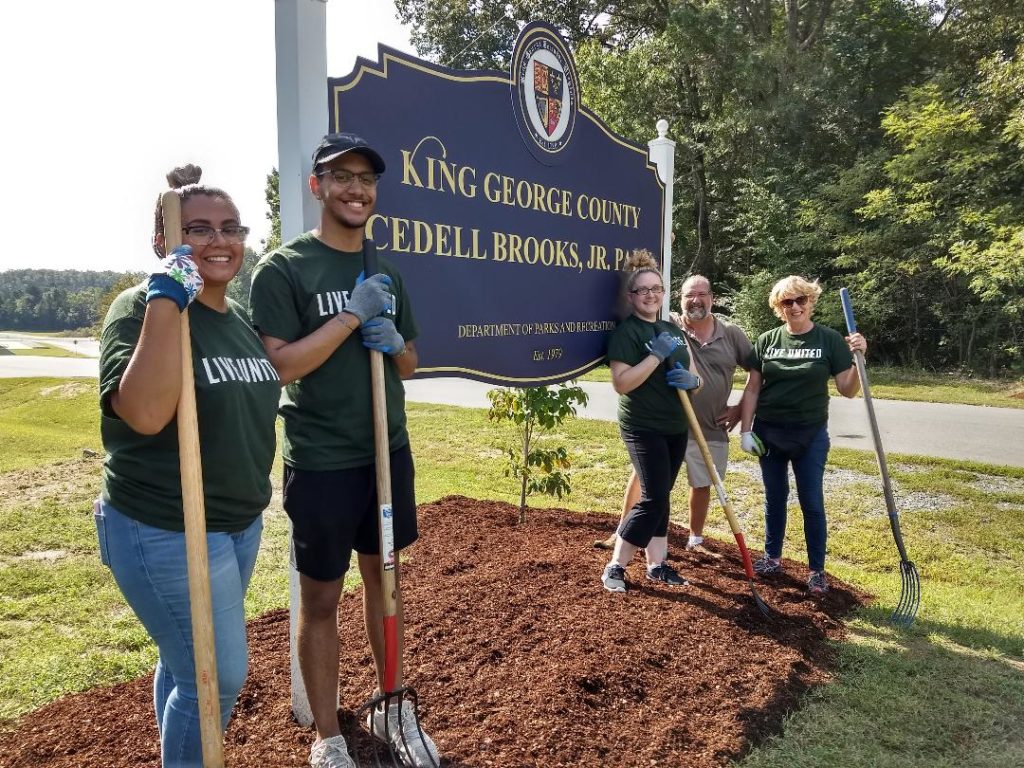 The Hilldrup team was all smiles after planting a Dogwood tree and mulching around the park's signage – the largest and last area to be mulched for the day. Great job everyone!