News & Events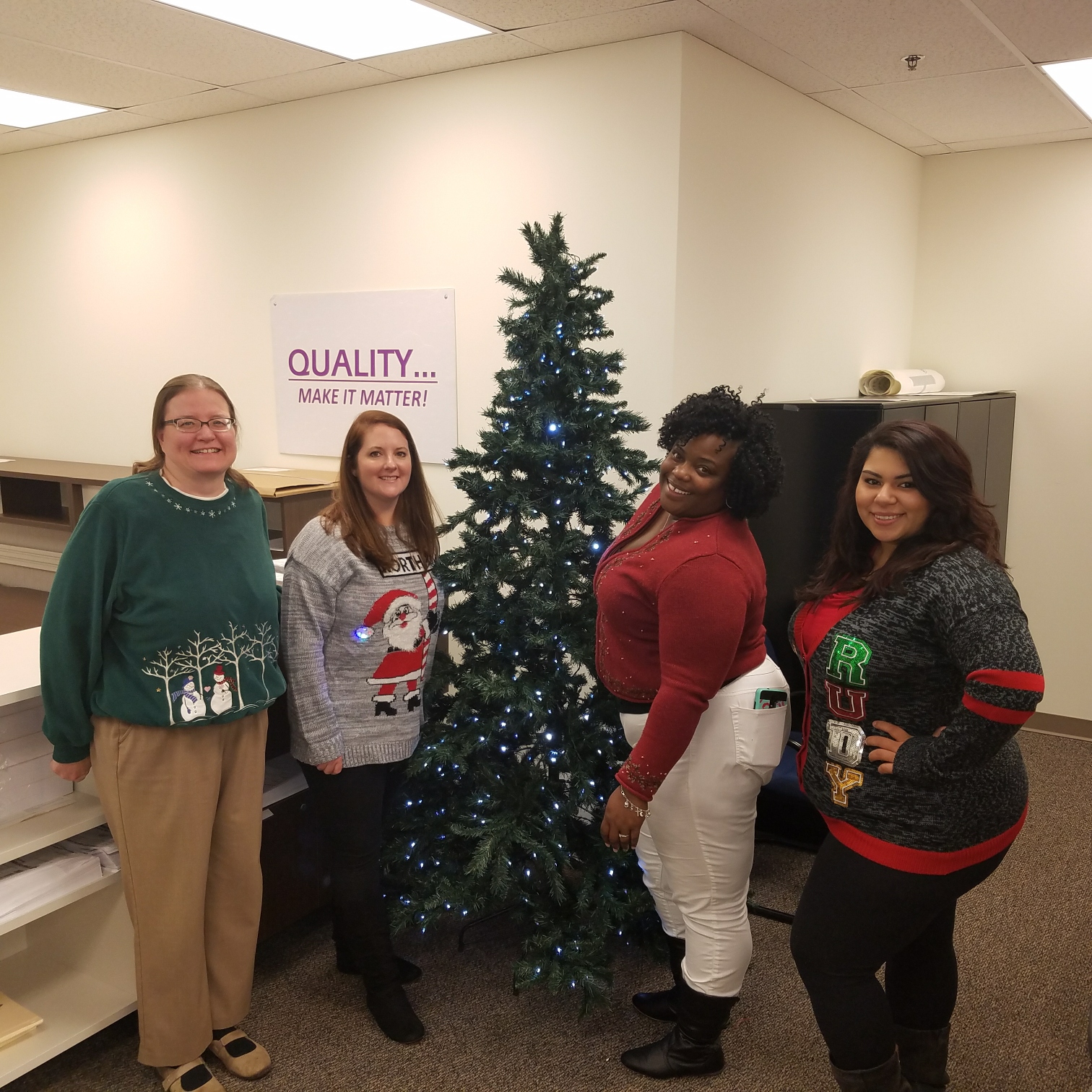 The holidays are right around the corner and across our branches there was plenty of seasonal spirit to be seen. From sporting tacky Christmas sweaters to enjoying office luncheons, the holidays were in full-swing at Hilldrup!
The Stafford branch kicked off the holiday season by celebrating St. Nicholas Day on Dec 6th. Employees participated by hanging a stocking by their cubicle so "St. Nicholas" could stop by and fill them with small chocolates and candy-canes to enjoy!
Spirit week at Stafford began the following week with daily themes to include wearing your favorite holiday-inspired hat, socks, scarf or tie and tacky Christmas sweater. A hot cocoa bar was enjoyed by the office as well. Each day that employees participated, they would enter into the drawing for a chance to win a $25 gift card to see the Illuminate Light Show at Meadow Event Park. Congratulations to our winner, Susan Whitfield!
And we can't forget our annual Christmas party as a big "thank you!" to all of our dedicated employees for a great year. Check out the Christmas party fun here.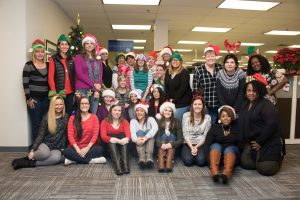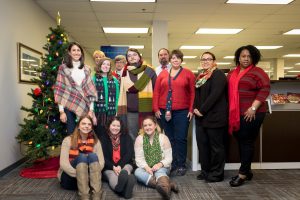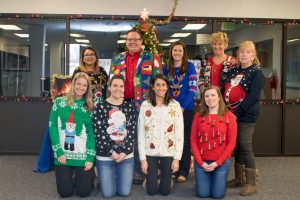 The Richmond branch held a Christmas party for their crews and office personnel. Everyone enjoyed a meal from Chick-fil-A, and the office held a raffle for a chance to win one of 20 prizes!
The Raleigh branch enjoyed a Christmas luncheon at Kanki, a local Japanese steakhouse and sushi bar. John Diamond, Raleigh's General Manager, and Brinson Price, Raleigh's Local Planner, also had the opportunity to meet Roy Williams, Head Coach of the North Carolina Tar Heels men's basketball team, at a Christmas luncheon. Check out their photos – and that 2017 NCAA National Championship trophy!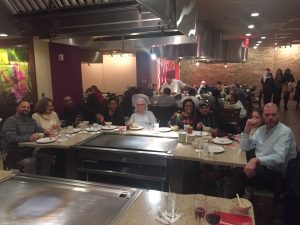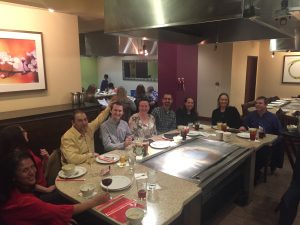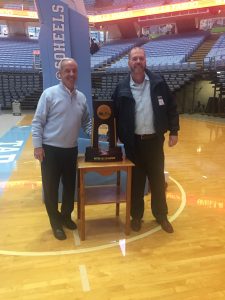 The Greenville branch held a luncheon where staff was treated to catering from Zaxby's. The team enjoyed participating in Ugly Sweater Day as well as an employee gift card drawing.  Their passion for helping the local community continued through the month of December in supporting a local food drive as well as donating to the Greenville Humane Society. One of their donations resulted in this furry friend joining the home of Greenville's Office Manager, Becky Werther!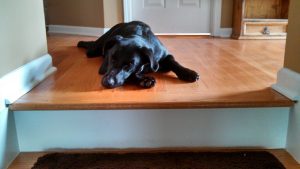 Employees of the Charlotte branch enjoyed their annual Christmas breakfast. A Christmas card drawing was held for a chance to win cash, gift certificates as well as an opportunity to choose a present from a gift table.
During breakfast, Matt Appleton, Charlotte's Commercial Warehouse Supervisor, received his 5 Year Service Award from Hilldrup. Congratulations, Matt!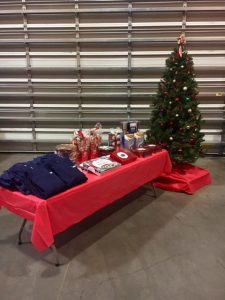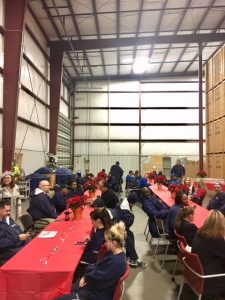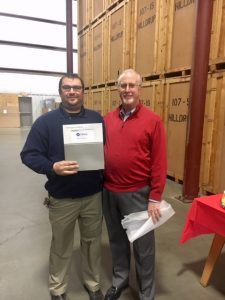 At our Atlanta branch, employees took part in wearing their best, tacky Christmas sweaters. Atlanta also enjoyed a delicious potluck, Secret Santa gift exchange and a Poke-a-Tree game to win a mystery prize. Atlanta even experienced some flurries!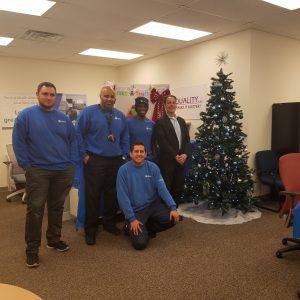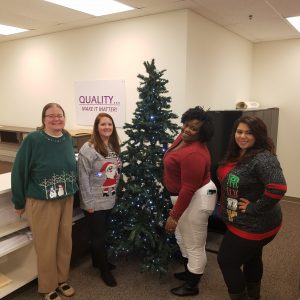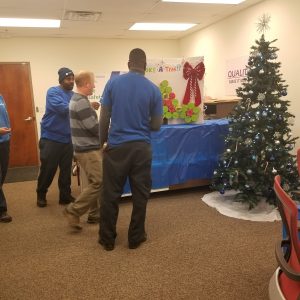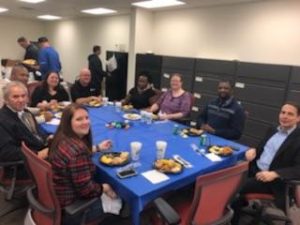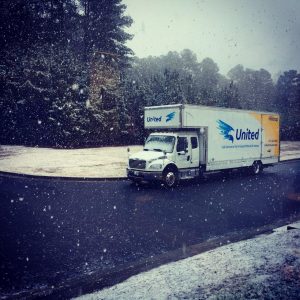 Orlando assisted in donating food to the local community through non-profit organization, Move For Hunger. A Christmas dinner party was also enjoyed by approximately 50 people – you can read more about the event and one-of-a-kind venue here!