How We're Committed To Being The Best, Period.
Who We Are
As a fourth generation family-owned company, we place great value on treating our employees with the highest levels of respect and care. At Hilldrup, we help one another to grow and develop professionally, celebrate a culture of recognition and take pride in working with the industry's best team.
We extend these values beyond the workplace as well, through strong partnerships and involvement in the communities where we work and live. We are proud to give back to the communities that have supported us through the years through active participation in local charities and community programs.
Our employees find Hilldrup to be a community where they can grow and truly succeed, with some having served our organization for more than 40 years.
Our Mission, Vision & Values
Hilldrup's Mission, Vision and Values (MVV) are the guiding principles of our organization. From how we treat our customers, to how we treat one another, we look to our MVV for guidance continuously.
Hilldrup's Mission is to deliver superior service by promoting a culture that is customer-centric, empowers employees and maximizes profitable growth. This Mission defines our approach and strategy to doing business every day.
We're focused on our internal and external customers and what their needs and expectations are of us. Being customer-centric means that we can make the right decisions for each client and customer, every time. Empowering our employees is critical to instilling the confidence and trust in our team for them to make the right decisions for the customer in the moment and making things right, right away. We hope that you'll find this evident when working with our team. Being profitable means being viable. In order for us to continue to serve our customers and to take care of their moves, we must be sustainable to allow us to reinvest in the company and talent. By being financially successful, we're better able to retain, train and support those who make our moves happen every day.
Our Vision serves as the cornerstone of our organization, to simply: Be the best moving services company, period. If you ask any member of the Hilldrup team what our ultimate goal is, they'll respond with our simple but bold vision statement. It's simply what we do and what we're about.
Hilldrup's six values include:
Empowered Accountability: You are Hilldrup to the customer. When a challenge arises, we are personally responsible for taking ownership and providing a timely and clear resolution.
Uncompromised Integrity: We show respect and integrity to our customers, partners and each other in all that we do and at all times, even when no one is watching.
Unwavering Commitment: We are committed to our customers, each other and our Hilldrup values with steadfast resolve.
Fearless Communication: Let your voice be heard, and listen!
Infectious Positivity: People want to be around and do business with people who are positive and happy. There are two ways to look at every situation – we focus on the positive side.
Purposeful Agility: Flexibility is the key in developing long-term business success. But we do it with purposeful planning.
A Culture of Recognition
Hilldrup believes strongly in a culture of recognition. Serving our customers above and beyond their expectations is something that we expect from ourselves but also something we know is worth celebrating. Both in-the-moment recognition through our MVV is Thriving program and our end-of-year recognition via Value of the Year Awards are tangible ways we reinforce what matters most here – our values.
We also support our management team, who receives training in how our values tie directly to performance so they can be confident that they are coaching their employees based on whether they live up to the values in their roles.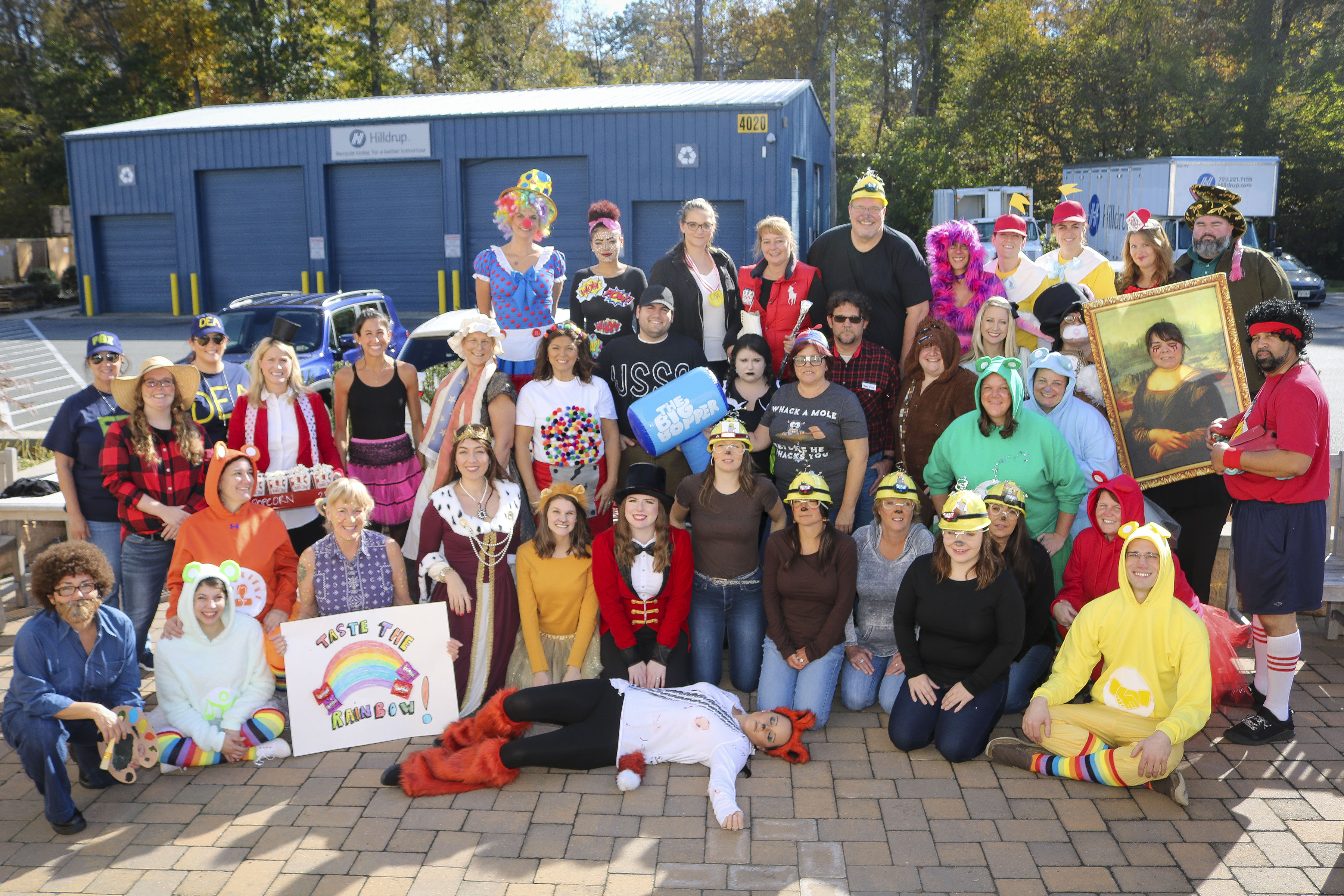 Hilldrup knows that what makes us top of the line is our people. From the moves we complete to the dedicated professionals behind the scenes making it all happen seamlessly, we are #UniquelyHilldrup.
It is truly this uniqueness in what we do, how we do it and the people we hire that has allowed us to receive industry recognition on a national level, grow to 10 branches up and down the East Coast and succeed in our fourth-generation of family ownership.
Hilldrup Gives Back
We want to give back to the communities that have supported us since the very beginning. We're passionate about not just moving families or businesses to a new neighborhood or office space but making those communities the best they can be.
In 2019, Hilldrup partnered with The Community Foundation of the Rappahannock River Region to launch the Hilldrup Move-Up Fund to empower individuals and their families who need a "hand up" to a more favorable situation. Hilldrup has also partnered with the City of Fredericksburg to become one of Fredericksburg's first philanthropists, otherwise known as a "Fredanthropist." The Fredanthropist program seeks to enrich the local community through new events, activities, facilities and programming that the City's annual budget may not necessarily allow for otherwise.
To whom much is given, much is expected. We encourage our teams to give back in any way that they can to their local communities – whether through time, resources or a financial contribution. Multiple initiatives are organized at each of our 10 branch locations so that we can give back to our neighbors across our organization's footprint.
Check out more about Hilldrup's Community Involvement!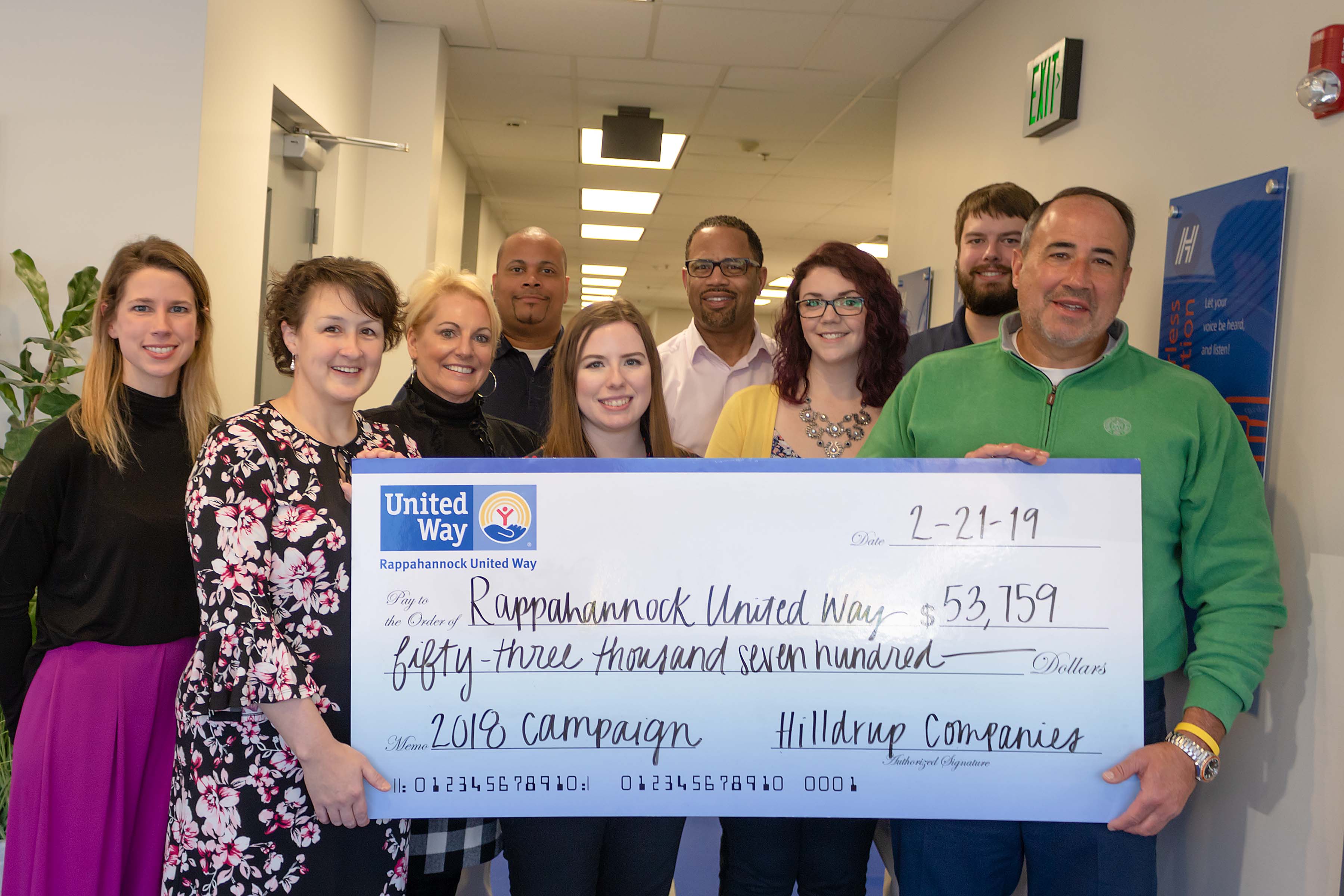 A Workplace to Call Home
Beginning a career with Hilldrup is more than simply finding a place to work; it's a place to call home. Our employees are encouraged to grow and develop in their careers with us and be recognized along the way. To achieve our vision to be the best moving services company, period, we expect a lot from our employees, and we support them with competitive compensation, excellent benefits and opportunities for growth. That's why we are truly #UniquelyHilldrup. Don't be surprised if you find Hilldrup to be your home away from home; in fact, some of our employees have proudly served our team for over 40 years! Check out our current openings today!