To the West! – The 39th Annual United Van Lines National Movers Study
Other than the date, few things changed in this year's United Van Lines' Annual National Movers Study, which cites Oregon as the…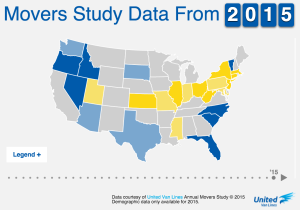 Other than the date, few things changed in this year's United Van Lines' Annual National Movers Study, which cites Oregon as the top inbound state for relocating individuals and families this past year. This is the third-consecutive year the Beaver State has been the most popular moving destination. South Carolina and Vermont rounded out the top three.
New Jersey and New York also held on as the top two outbound states, respectively, with Connecticut dropping one spot to No. 4. Illinois had the third-highest number of outbound moves in 2015.
Regionally, the South had the highest percentage of inbound moves at 53 percent. In a related survey, United Van Lines noted the reasons people moved to the Southern states were because of "company transfer/new job, retirement and proximity to family."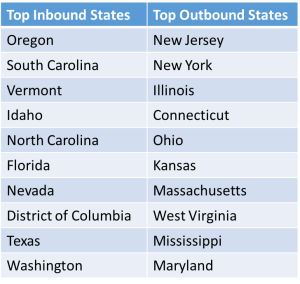 In United's news release detailing the findings, Michael Stoll, economist, professor and chair of the Department of Public Policy at the University of California, Los Angeles, noted that the retiring Baby Boomer generation is leaving colder climates in the Northeast and Midwest in favor of warmer homes in the South and Western states.
The United Van Lines Migration Study is based on household moves handled by United within the 48 contiguous states and Washington, D.C. "High inbound" states are those where 55 percent or more of the moves are going into the state. Conversely, "high outbound" are those where 55 percent or more moves were coming out of the state. States are considered "balanced" if the difference between inbound and outbound is negligible.
---