Atlanta Distributes 34,957 Girl Scout Cookie Cases During Count N Go Event
Our hard-working teams successfully distributed tens of thousands of Girl Scout cookies at the Six Flags White Water Park in Marietta, GA.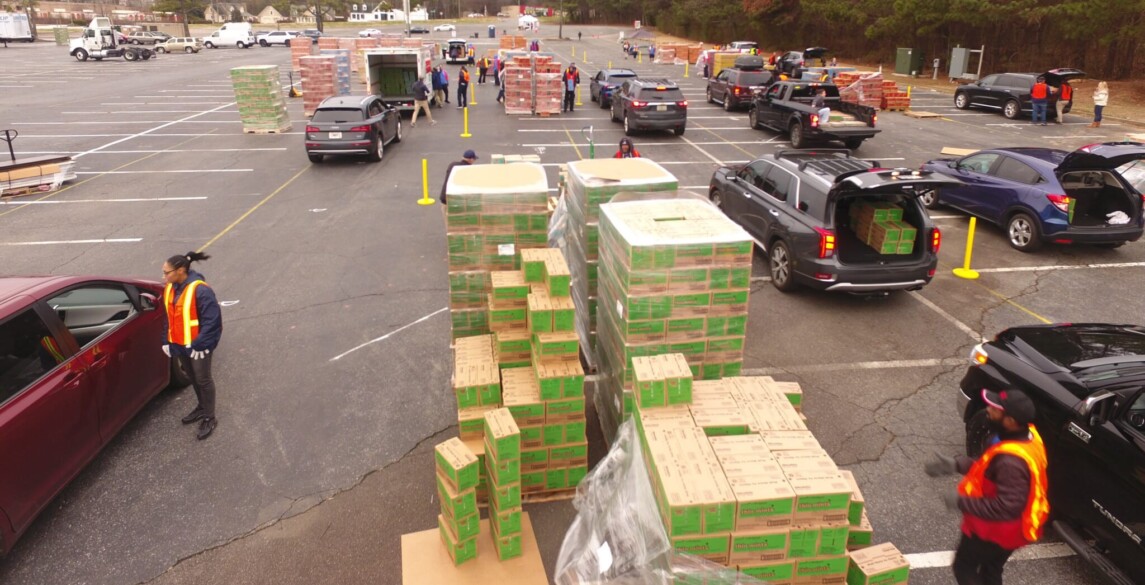 The 2023 Girl Scout Cookie season is in full swing and as the largest girl-led entrepreneurial program in the world – it's serious business! In its first year assisting with Girl Scout cookie distribution, Hilldrup Atlanta prepared for its Count N Go event with the plan and manpower to ensure the swift distribution of 34,957 cases of cookies to local troops.
A total of 346 Girl Scout troops were represented in the lines of vehicles that visited our distribution site at the Six Flags White Water Park parking lot in Marietta, GA.
Atlanta's professionals arrived at 6am on the morning of the event to get the parking lot set up and ready for our 8:30am start time. Our teams unloaded the cookies from the trailers and staged them in "pods." We paired each cookie type with another: Samoas with Lemon Ups, Tagalongs with Trefoils and so on, down the line. From there, cones were set up to organize the flow of traffic into four lanes. From SUVs and cargo vans to personal vehicles and U-Hauls, our teams carefully loaded up each order into its vehicle. The event wrapped up around 5pm with the vast majority of our employees logging over 20,000 steps from the day's work!
"Each "pod" or flavor variety of cookie had 3 or 4 movers counting and loading cookies into the troop vehicle," shared Brandi Hatch, Office Manager. "It was quite a production!"
Beyond the logistics of ensuring that all cases were distributed in the right amount and order, there was plenty of manpower behind the operation. We mobilized 45 crew members, including 4 project managers, a forklift operator, 4 tractor trailer drivers and 34 movers all to get the job done in a single Saturday.
"We were excited for the opportunity and learned so much through the process," said Brandi Hatch.
In addition, Atlanta later delivered an additional 6,779 cases of cookies to Kennesaw, GA and released an additional 1,217 cases of cookies from Hilldrup's dock.
An incredible effort all around – thank you to our teams who worked efficiently and quickly to distribute the tens of thousands of cases to the local Girl Scout troops. We hope the girls have a successful and sweet season!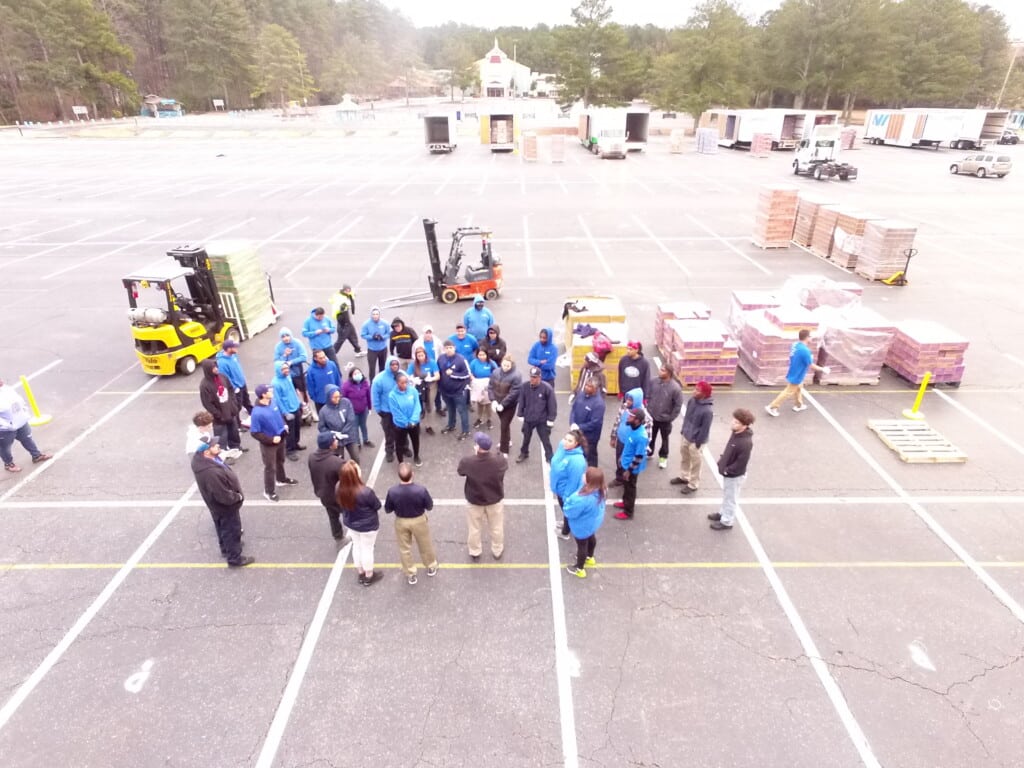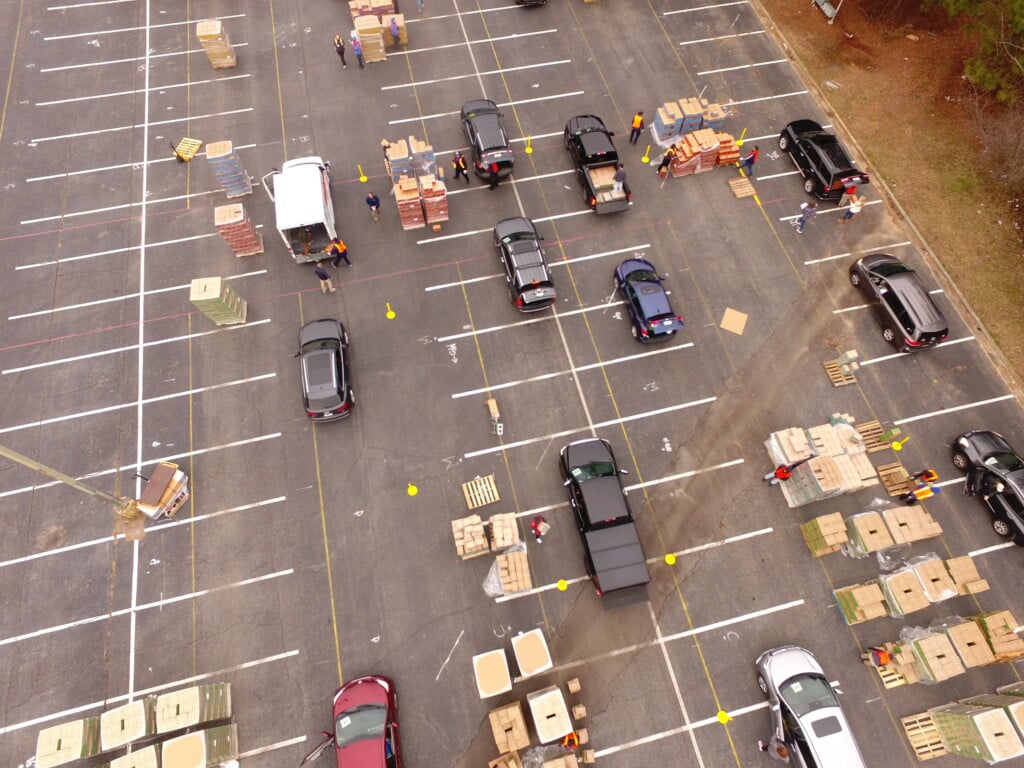 Via drone, an aerial view of Atlanta's Count N Go event in Marietta, GA was captured by Nigel Kelly, Director, Business Development.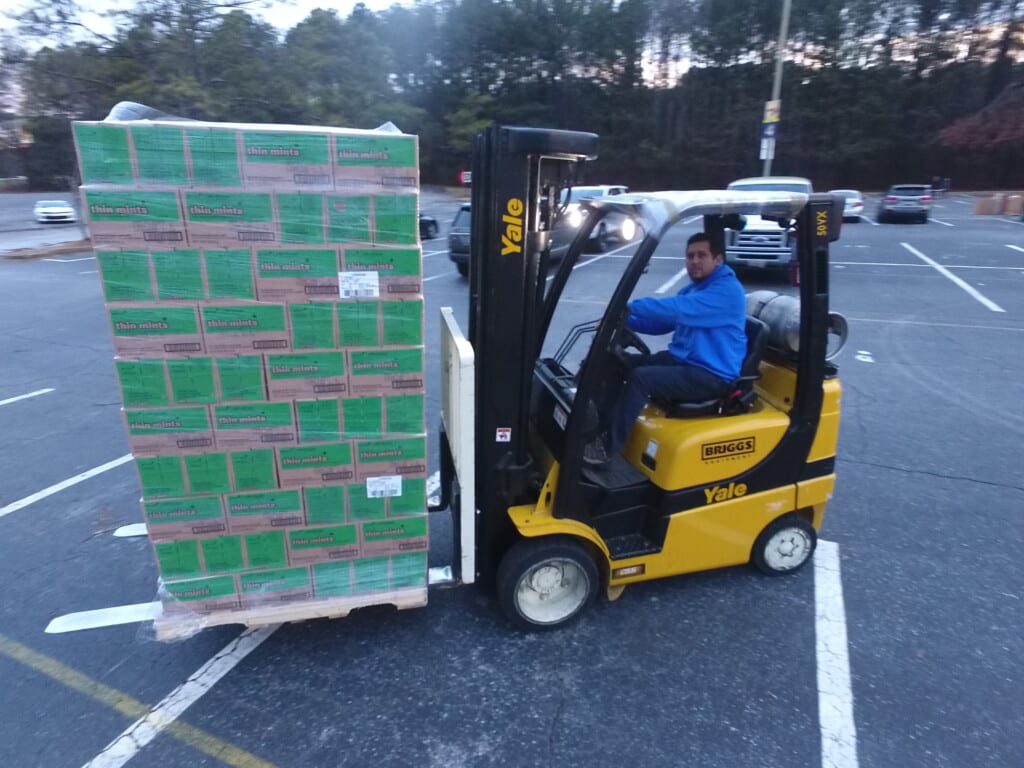 Pallets of Thin Mints, the most popular Girl Scout cookie type, were unloaded from our trailers and organized into "pods" for further distribution. A total of 346 Girl Scout troops later arrived to pick up cookies from Atlanta's distribution site.
---