Barry Dodson Retires After 44 Years with Hilldrup
From the expansion of our fleet and our branch locations, to onboarding new technologies and growing revenue, the advancements and success of…
From the expansion of our fleet and our branch locations, to onboarding new technologies and growing revenue, the advancements and success of Hilldrup over the past 44 years have no doubt been in thanks to Barry Dodson, Executive Vice President and Chief Financial Officer. After an impressive career with us, Barry is retiring at the conclusion of 2019.
"The time went fast!" said Barry with a laugh. Barry joined our team in 1975 after graduating from the University of Richmond and was hired as an Accountant under then-Chief Financial Officer, Pete Marshall.
"When I first started with Hilldrup, we were making $3 million in revenue annually," explained Barry. "Next year, we're looking at upwards of $120 million." But revenue isn't the only thing that Barry has seen increase and transform while he's managed so many aspects of Hilldrup throughout his career. Two-way radios were replaced with mobile phones, typewriters were replaced with computers, and the standard 45ft moving trailer quickly became the 53ft trailers we see on today's roadways. All of which, as Barry noted, gave us the opportunity to move more at one time – and faster – than we ever had before.
During his tenure, Barry also had the unique opportunity to not just see our assets and revenue grow, but also our future leadership. "I've known Charlie [Charles W. McDaniel, President and CEO of Hilldrup] since he was 10 years old. When he first started helping out here, sometimes he'd give me a hard time that I didn't stop him from making a mistake before he'd realize it himself. But you learn more from your failures than you do your successes."
The dedication and passion for all things Hilldrup certainly runs in the Dodson family as well!
Eventually, Barry encouraged his son, Matt Dodson, now Vice President and General Manager, Capitol Heights, to work at Hilldrup during Matt's summers between college before joining us full-time after graduation.
"From our service crews to our office employees, Hilldrup employees just want to do the right thing," Barry explained. "It's why we're so selective with who we hire and who we work with. We want to be, and work with those who are all just trying to do the right thing – both inside and outside of our organization."
To celebrate Barry's career and legacy at Hilldrup, a retirement dinner party and celebration was held at La Petite Auberge Restaurant & Lounge in historic downtown Fredericksburg. Here, Barry's family, friends and colleagues, both past and current, all came to celebrate. Throughout the night, guests stood up and shared stories about how they met Barry, stories from his employment and what he meant to them as a boss, colleague and friend in the moving and storage industry and on a personal level.
Barry's retirements plans including fishing, enjoying his family – including his four grandchildren, and relaxing. It's more than well-deserved!
Congratulations, Barry, and thank you for your service to our organization and customers for the past 44 years!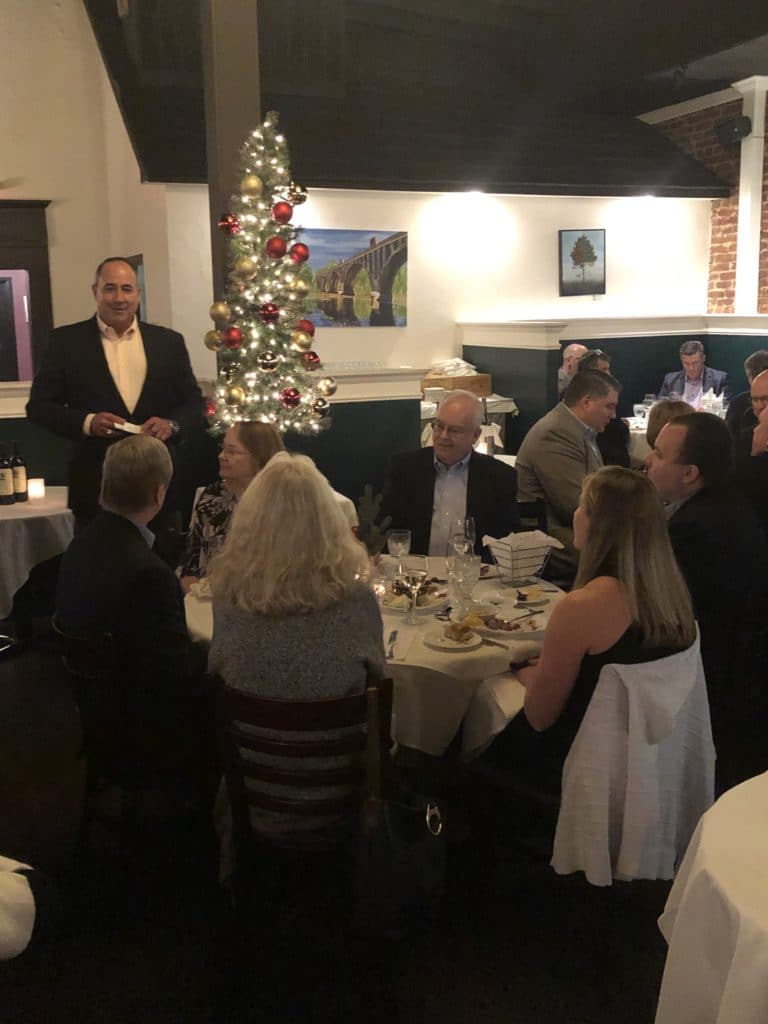 Charles W. McDaniel, President and CEO of Hilldrup (standing), welcomes Barry Dodson, Executive Vice President and Chief Financial Officer (center), along with family, friends and colleagues in attendance to Barry's retirement dinner party at La Petite Auberge in downtown Fredericksburg.
Many of those in attendance stood to share a story of Barry. Pete Marshall (standing) gives a toast to Barry – who he originally hired to be an Accountant for Hilldrup in 1975.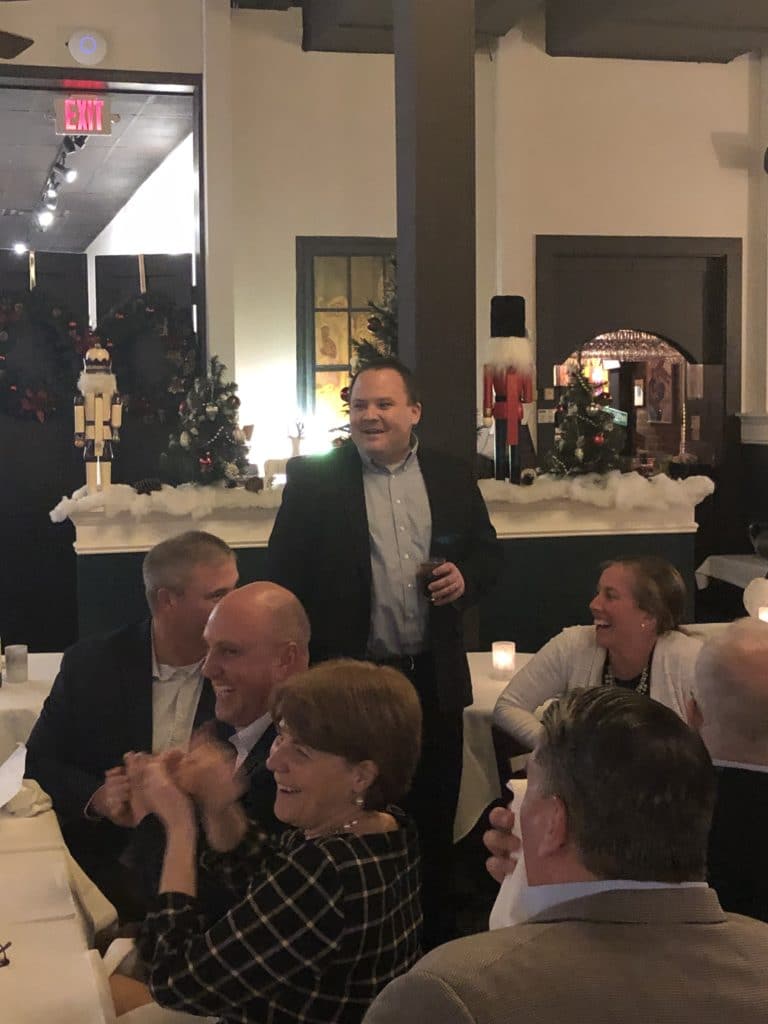 A passion and dedication to Hilldrup runs in the family! Here, Matt Dodson, VP and GM of Hilldrup – Capitol Heights, toasts Barry, his father, during the retirement celebration.
Colleagues at one time and friends for a lifetime. Pictured from left are Don Papke, former General Manager, Hilldrup Stafford; Randy Rantz, Senior Vice President, Operations; Harold Wood, Senior Vice President, Risk Management and Safety; Barry Dodson, Executive Vice President and Chief Financial Officer; Phillip Atkins; and Pete Marshall, former CFO, who all attended Barry's retirement celebration.
Thank you to the Dodson family for their dedication to Hilldrup throughout the years! We appreciate you all so much!
---