Move to One of the Best Places to Work
Hilldrup has been moving people for more than a century, and that can be largely credited to our amazing staff. From our…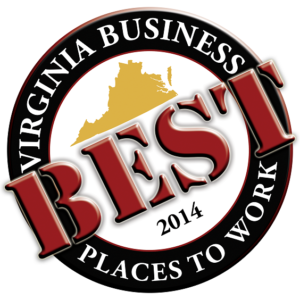 Hilldrup has been moving people for more than a century, and that can be largely credited to our amazing staff. From our van operators to our move counselors to our accounting department, everyone at Hilldrup is committed to helping each other because we know the best way to serve our customers is as a team, working together.
And sure, a lot of companies might say the same thing about their organization, but this belief was recently affirmed when Hilldrup was selected as one of the best places to work by Virginia Business magazine in its annual Best Places to Work competition, which ranks the 100 best businesses in the state.
The listing was determined by a two-part survey, 25% of which is based on an evaluation of a company's workplace policies, practices, philosophy, systems and demographics. The remaining 75% is derived from employee feedback. The combined scores determine the top companies and the final ranking.
This was a tremendous honor, but one we weren't entirely surprised by. If you ask nearly any Hilldrup employee why they love working here, you'll quickly hear, "my co-workers" as one of the top answers. Not only do we support each other in our day-to-day work, we also have fun with office celebrations like our summer kick-off barbeque, annual water balloon toss and chili cook-offs. And we also know it's important for us to serve our local communities as team, so Hilldrup also is heavily involved with the Rappahannock United Way, Move for Hunger and other various local fundraising events, which all get incredibly high turn-out from our staff.
If you've ever talked to or interacted with our staff, we hope you've noticed this excitement they have for being part of our team, and in turn, serving you.
---