Better Business Bureau celebrates 100 years, A+ relationship with Hilldrup
A hundred years of continued operation is a tough accomplishment for an organization. It requires both a service and management that can…
A hundred years of continued operation is a tough accomplishment for an organization. It requires both a service and management that can span multiple generations. This achievement is something we at Hilldrup take great pride in as we continue our 109th year of service. Reaching the century mark is a call for celebration, and an organization of which we're a member is doing so this year – the Better Business Bureau (BBB).
The BBB was founded in 1912, and since then, it's been a leader in advancing marketplace trust by fielding concerns and complaints about businesses. All Hilldrup branches are recognized as accredited businesses and have retained an A+ rating.
Maintaining an A+ rating means consistent fulfillment the BBB's Standards of Trust, which are:
Build trust
Advertise honestly
Tell the truth
Be transparent
Honor promises
Be responsive
Safeguard privacy
Embody integrity
These ideas should be commonplace for all businesses, but unfortunately that's not the case. The BBB helps you separate the good ones from the bad, and based on our branches' ratings, it considers Hilldrup among the best. We hope the BBB's endorsement is another reason you can trust Hilldrup to provide uncompromised service for your next move.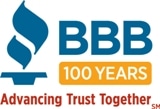 ---