Brenda Harless Retires After 59+ Years of Service to Industry | Q&A
Congratulations and thank you for an incredible career, Brenda!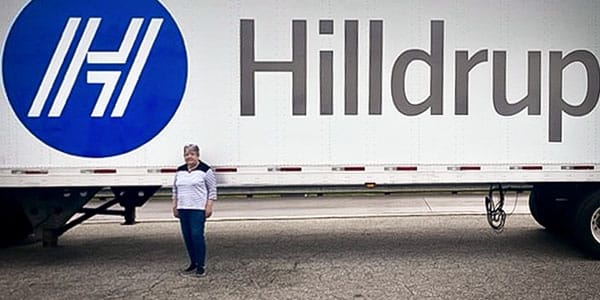 If you've successfully moved with Hilldrup Richmond anytime since the early 1990s, you likely have Brenda Harless to thank. Brenda, who most recently served as Hilldrup Richmond's Administrative Manager, is truly the mastermind and heart of our central Virginia branch. With over 59 years of industry experience that she's shared with countless customers and fellow employees over the years, Brenda retired from Hilldrup May 5, 2023.
Before her last day, we were excited to catch up with Brenda to ask her about the early days of when Hilldrup acquired our Richmond location, what her workday typically includes and her best advice to those just joining the industry.
Hilldrup: Your tenure in the industry is an inspiration! How long have you worked directly for Hilldrup, and based out of our Richmond office?  
Brenda Harless: Thirty-four years directly working for Hilldrup. On Hilldrup payroll records, my employment start date is February 24, 1964. The reason for this is when Hilldrup purchased the moving company that I was employed with in 1989, they agreed to keep the employees at their same rate of pay and seniority that they had at the time of purchase.
Since I already had 25 years in with W.G. Cosby, I started at Hilldrup with 25 years. Today, I am the only office personnel left from that acquisition. I think the only remaining piece of equipment is also gone as the last typewriter we had died in 2019!
H: You've also held a number of roles throughout your career, can you share those with us?
BH: I had gone through many job titles at my past company – warehouse clerk, assisted dispatch, claims, billing and office manager. On October 1, 1989, we became Hilldrup and I started with the title of Office Manager/Biller and was later promoted to Admin. Manager, where I assumed an active part in assisting my manager. In addition, I was responsible for the branch billing, a liaison for military moves, and I supervised three move coordinators, plus an OA/DA [Origin Agent / Destination Agent] surveyor / QC [Quality Control] person.
H: Describe what the company was like when you first joined. What is the biggest difference you feel you've seen at Hilldrup during your career with us?
BH: Hilldrup had only three places when Richmond was acquired: Stafford, Lexington Park [in Maryland] and Orlando. Since then, we have grown tremendously with the addition of the two offices in North Carolina (Raleigh-Durham and Charlotte); Greenville, SC; Atlanta, GA; Capitol Heights, MD; Dulles, VA and Forestville, MD.
We went from printing job tickets and putting them on a wall board to dispatching entirely in the computer system – just one of the many changes to make our jobs more efficient.
H: Describe what a day as Richmond's Administrative Manager typically includes.
BH: At the office, my day started at 7am and ended at 4pm or whenever I completed all my tasks for the day. Now working from home, I sign on at 6:30am to whenever the day is done – between 5 and 6pm. At the office, I pulled all the files that were working the next business day to make sure all the required paperwork was in the packet. If not, I would cut whatever was needed. I checked off each form on the hauling advice and initialed it. That told the dispatcher that any paperwork added after that which did not have my checkmarks or initials, needed to be checked before giving it to the assigned driver.
In the beginning, I was the military liaison between our Richmond office and Fort Lee. I would visit their office at least once a month with donuts in hand. I booked and registered all of the military work, including the non-temp orders, cut the paperwork required, etc. until Hilldrup established a consolidated military division. At that point, they took over the registrations and the paperwork process moved to our OA/DA desk.
I made the bank deposits and was responsible for the petty cash box and checkbook. Our branch gave up the checkbook some years ago… Steve [Norton, VP and GM, Hilldrup – Richmond] notifies me when we have money/checks to deposit and he either sends them home with my son, who also works at Hilldrup, or I go to the office to pick up the deposit, carry it to the bank, and then email the deposit slip and details to the Stafford office for posting.
In addition, I rate out all of branch 89's (Richmond's branch number) local and intrastate moves and book up the revenue. Scan all into Doc Management and send invoices and supporting docs on other agents' bookings directly to them. Since we collect monies on the COD orders, I also send a copy of the invoice and supporting docs to the coordinator and advise them if the customer owes money and why so they can collect, or if they overpay, I advise the coordinator so we can issue a refund to the customer.
I rate out the 89 perm storage shipments and forward them to be booked up and billed.  Again, I notify the coordinator advising if the customer owes money or whether they have a credit riding towards future charges. I enter the spec com charges for monies due us in the United pricing system (RORD).   Release the COD United/Mayflower orders that we haul or deliver unless they have 3rd party pending. 
Every household goods file, regardless of type, comes to me for processing and scanning.
Up to this point, I enter all start/stop times for the hourly employees into GenPro and keep track of all PTO for 89 (Richmond branch) employees.
When new bulletins come from United, I pass them onto Steve Norton to keep him up with changes.
I pull the contractor jobs by contractor from the dispatch manifest and follow them to make sure that the contractor's paperwork is processed timely and that they are paid for what they do in their respective pay periods.
I track military hauling docs and send them with our packing docs to the base or booker, whichever is applicable.  In addition, I do all the SIT conversions for military, COD, or National Acct. interstate moves.
There are so many things I do from habit since I have been doing it so long that I am sure I have missed something. At one time, I was asked to travel to train other branches as they were acquired by Hilldrup – I loved it.
H: What will you miss most about Hilldrup?
BH: I will miss everything about Hilldrup. I am sad to be leaving as I love my job and the people, but at 81 with health issues, it is time. Everyone at Hilldrup is like my extended family. I have many friends at Hilldrup from Maryland to Florida as I try to help them with whatever they need and treat everyone with kindness and respect.
H: If you could describe each generation of McDaniel leadership that you worked under in one word, what would you say?
BH: Charles G. McDaniel: Experienced
       Charles W. McDaniel: Motivator
H: What advice would you give to someone just starting out in this industry?
BH: Don't be afraid to ask questions and be willing to change with the times and company's growth. The more you know, the more valuable you become to the company and that opens your opportunity for advancement. Always apply yourself.
H: What are your plans for retirement?
My goal is to spend more time with my children, grandchildren and great-grandson making memories. Turning 81 in May, you do not know what tomorrow will bring so my goal is to make every day count. Hopefully, I will be able to volunteer a couple days a week at a local hospital and maybe go to schools to read to the younger kids.
H: Amazing! Is there anything else you'd like to add or share that we didn't discuss?
BH: Just want to add, it is my pleasure to have worked with all of you and I consider you all family. I will greatly miss each and every one of you. My wish is that Hilldrup continues to thrive and prosper not only in 2023, but all the years to come.
I shared my personal email so that when corporate or any branches are nominated for "Best Mover" or "Best Place to Work," I still want to be able to vote for Hilldrup as they always have been, and continue to be, the best moving services company, period.
. . .
Brenda's career with, commitment to and pride in our organization's success is truly an inspiration. We appreciate her unwavering commitment to our brand, customers, legacy and internal employees and contractors each day!
On behalf of all of us at Hilldrup, thank you Brenda. Your leadership, mentorship and friendship has meant so much to so many over the years. We wish you health and happiness in your retirement, and we hope you know that you will always be a large part of why Hilldrup is so successful today!
---