Charlotte Participates in Girl Scout Cookie Rally Event
Hilldrup Charlotte has assisted with the warehousing and distribution of Girl Scout cookies for Girl Scouts, Hornets' Nest Council and recently participated in an event with these future leaders!
It's one of the most wonderful times of the year: Girl Scout cookie season! Beyond the sales of these delicious treats, there's plenty of additional work that goes on behind the scenes to ensure that orders arrive safely and on-time for further distribution. Hilldrup's Charlotte professionals have been honored to assist the Girl Scouts, Hornets' Nest Council during their busiest time of the year, and recently participated in an event with the girls and their families.
The vendor event, hosted by the Girl Scouts, was cleverly titled "Cookie Rally." It entailed approximately 570 Girl Scouts from troops across the Charlotte, NC area coming together and exploring different vendors who partner with them during the Girl Scout Cookie season. The girls had the opportunity to learn new skill sets such as finance, budgeting, plan management, sales, safety and more. Our Charlotte team was excited to present on the logistics and warehousing component of our business, specifically.
As part of the fun, Ashley Gatewood, Workplace Solutions Account Manager, and Michael Byers, Hilldrup Driver, presented an activity for the girls, aged 4 to 13, to participate in, which included how to successfully stack and unstack a pallet of Girl Scout cookies.
"A full pallet wasn't used of course, but speaking with them regarding the metrics and weight of a typical pallet and how we support them during the season with deliveries and pick-ups from our warehouse really amazed them and their parents," shared Ashely. "The activity challenged their strength, and they stepped up to the challenge with some impressive girl power!"
Thank you to all the Girl Scouts and their families for joining us and allowing us to be a part of your sweet success!
Michael Byers, Hilldrup Driver, and Ashley Gatewood, Workplace Solutions Account Manager, participated in a "Cookie Rally" supporting Girl Scout troops in the local Charlotte, NC area. The event encouraged Girl Scouts to learn about vendors, like Hilldrup Charlotte, who partner with them for a successful Girl Scout cookie season each year!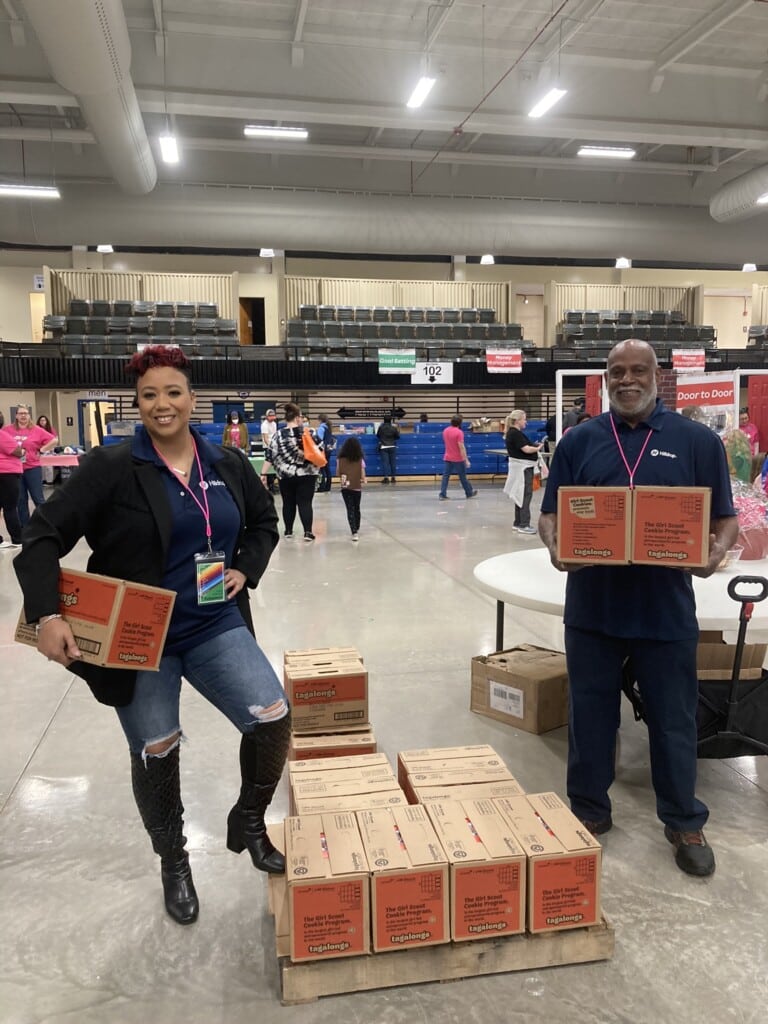 Girl Scout cookies are so much more than a delicious treat! The business of selling these cookies involves lots of warehouse coordination and delivery logistics to ensure that all boxes are delivered safely, on-time and to the correct destination.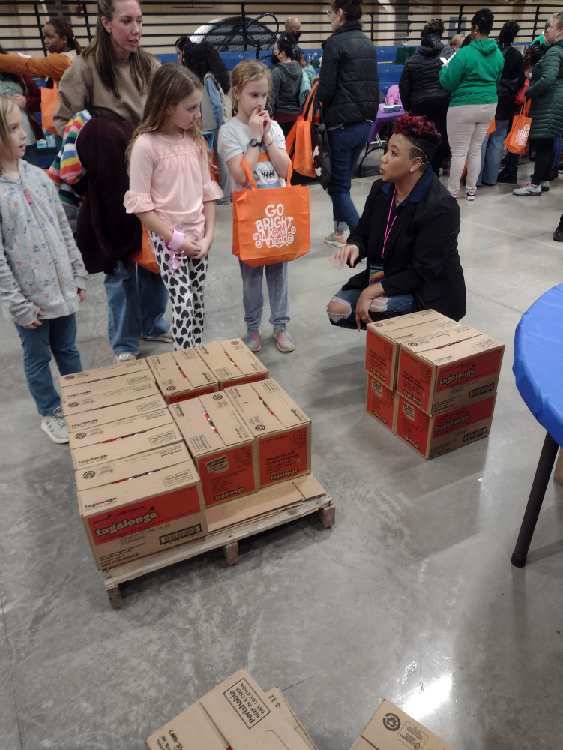 Ashley Gatewood, Workplace Solutions Account Manager, speaks with local Girl Scouts about the palletizing and warehousing of Girl Scout cookies that takes place at our Charlotte office.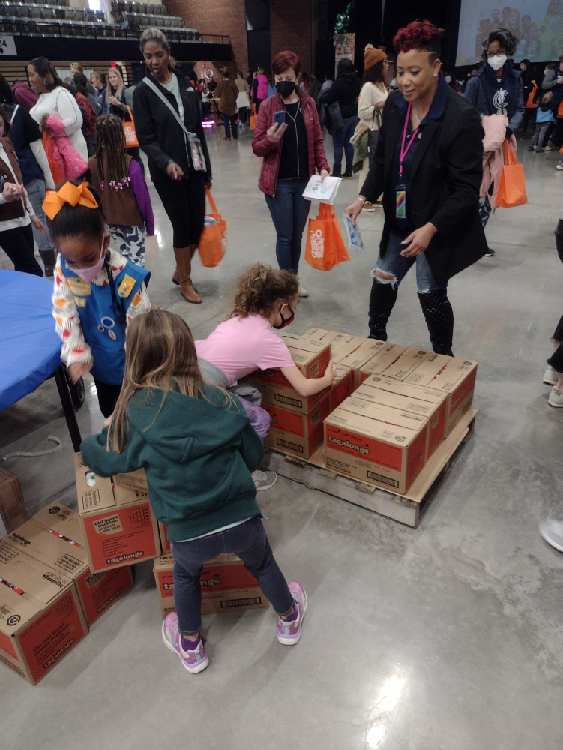 A successful business, including selling Girl Scout cookies, takes teamwork! We loved showing how palletizing boxes of cookies takes time, labor and teamwork.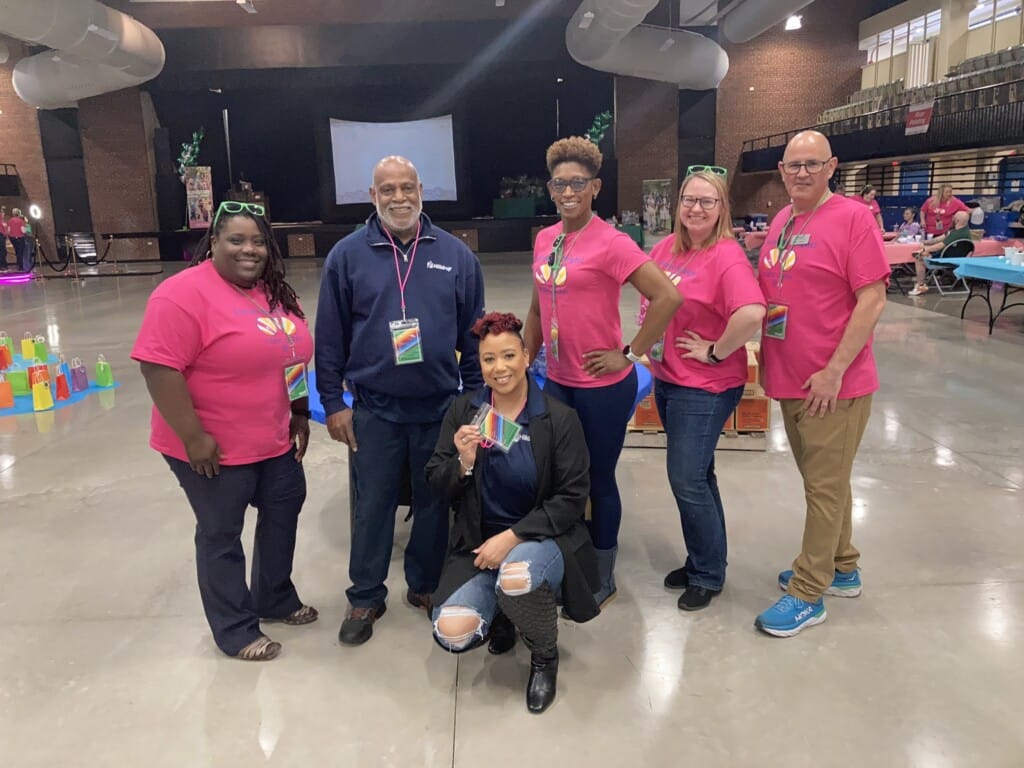 What a sweet day! Thank you to all who made this event possible and for allowing our Hilldrup professionals to be a part of it – we had a blast!
---