Moving Offices without Losing Productivity
Most people take time off from work whenever they move. Now imagine your entire company doing that. Few companies can sustain that…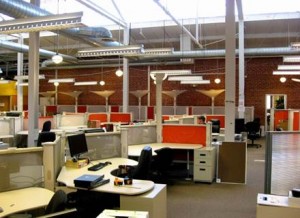 Most people take time off from work whenever they move. Now imagine your entire company doing that. Few companies can sustain that break in revenue when it's time to relocate.
So how do companies manage office moves without suffering a sharp loss in productivity? First off, don't do it alone. That might seem like a foregone conclusion when you look around at all the office furniture and equipment your company has, but we can't overstate it enough how important it is for your company's productivity to bring in a professional moving company to assist with everything.
Even when hiring professional commercial relocation solution providers, like Hilldrup, there are some best practices to keep in mind.
Project Management: Establish a project manager or team. At Hilldrup, we provide each client with a professional Move Manager who is responsible for the relocation from start to finish.
Define the Scope of Work and Budget: Furniture services, space layout and design and data center relocation are just a few of the things you may have to think about with your relocation. Our experienced Move Managers work hand in hand with our clients to clearly define the scope of work, perform a comprehensive cost analysis and establish time tables.
Planning: Develop a comprehensive time table. Our integrated approach to workplace services uses established vendor relationships, the industry's best technology, equipment, and a global network of skilled employees – all of which adhere to established operating principles to offer customers exactly what they need: greater efficiency, reduced downtime, and exceptional attention to detail.
Scheduling: One reason Hilldrup commercial moves are successful is because of our Proactive Quality Management (PMQ) Process. Our PQM process was established to allow clients to focus on their core responsibilities while we handle the move. We set the timeline to fit your schedule and manage the service providers for maximum efficiency, which helps maintain productivity.
Whether you're a small company or a large corporation, no business should attempt a move themselves. We understand every organization is different and has unique needs; our proactive approach is designed to address those diversities while providing comprehensive upfront pricing and a flexible move plan that eliminates downtime and delivers a seamless move.
---