Helping UVa and UNC Get to the Game
Saturdays in the fall are often synonymous with college football – especially for our President Charles W. McDaniel! And four of our…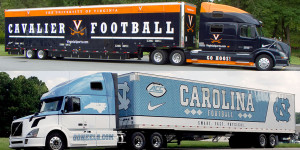 Saturdays in the fall are often synonymous with college football – especially for our President Charles W. McDaniel! And four of our employees have quite literally been a driving force behind both the University of Virginia and University of North Carolina's football teams.
Ricky Overman, Bernard Magatals, Pete Fillis and Chuck Mills drive the universities' football equipment trucks to every away game. Their trucks haul helmets, uniforms, snacks and important equipment – which are packed and unloaded by each team's equipment managers and assistants.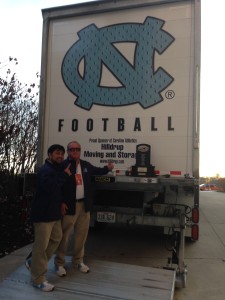 Ricky and Bernard are the truck drivers for UNC's football team. This season they've driven an estimated 4,000 miles – with the longest drive being from Chapel Hill to Pittsburgh for the team's big win over the Pittsburgh Panthers – to ensure that the team has what it needs for away games.
Pete and Chuck are the drivers for the Wahoos. They've driven an estimated 10,000 miles – with the longest drive being from Charlottesville to Pasadena, California (4,800 miles round trip!). Pete has been driving for UVa football for more than 20 years. His first year, he drove the truck to the 1994 Independence Bowl in Shreveport, La. where UVa beat TCU 20-10.
These four drivers are made to feel like they're a part of the team. They stay in the team hotel for games that are far away from home and also watch away games from sidelines, standing right next to the coaches and players. Ricky even had the chance to celebrate with UNC when they clinched the ACC Coastal division back in November.
Ricky and Bernard will both be driving the truck to the ACC Championship game in Charlotte this weekend and they'll also be going to the Tar Heel's bowl game.
We've set up the @TeamHilldrup Twitter account to keep fans updated on when and where the trucks are traveling this season. We're also sharing the truck drivers' experiences behind the scenes. If you'd like to follow the trucks next season or on UNC's journey to the ACC Championship and bowl game, follow @TeamHilldrup on Twitter!
---