Hilldrup Awarded FAIMPLUS Quality Assurance Certification
Hilldrup is pleased to announce our successful, early completion of the FIDI – Accredited International Mover (FAIM) Internal audit. In addition, Hilldrup…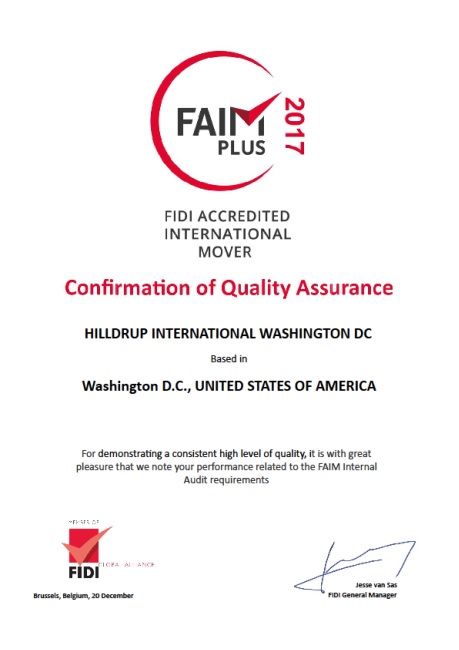 Hilldrup is pleased to announce our successful, early completion of the FIDI – Accredited International Mover (FAIM) Internal audit. In addition, Hilldrup was proudly awarded the FAIMPLUS Quality Assurance Certification based on our performance related to the audit.
The FIDI-FAIM certification program requires international moving companies to complete an assessment of their inter-continental moving activities every three years. The audit is led by an independent, external auditor, Ernst & Young, who conducts an on-site visit to Hilldrup. Nearly every aspect of Hilldrup's operations and administration is assessed, to include customer service procedures, performance of vehicle equipment, facility and technology capabilities, transit insurance and claims.
The goal of this process is to ensure that Hilldrup, as a FIDI company, maintains the highest standard for managing and performing our moving services at all times.
Pre-requisites of Hilldrup's renewal included:
Operating inter-continental moving services for the past 3 years
Performing a minimum requirement of inter-continental moves per year as the booker
Maintaining appropriate and adequate insurance
Signing the FIDI Anti-Bribery and Anti-Corruption Charter (FIDI ABC Charter)
Conducting FAIM Audits to determine whether practices meet current FAIM requirements
"The project team's focus and efforts in not only completing the audit, but doing so ahead of schedule is no small accomplishment," said John Warlick, Executive Vice President and Managing Director of International for Hilldrup. "All departments work together to ensure that we exceed the highest level of quality for our customers, consistently."
The success of the audit and the FAIMPLUS Quality Assurance Certification is a testimony to Hilldrup's extensive industry knowledge, expansive resources and global commitment to excellence.
Congratulations team!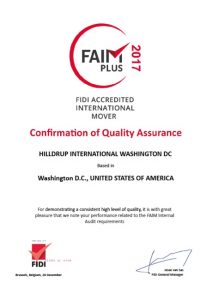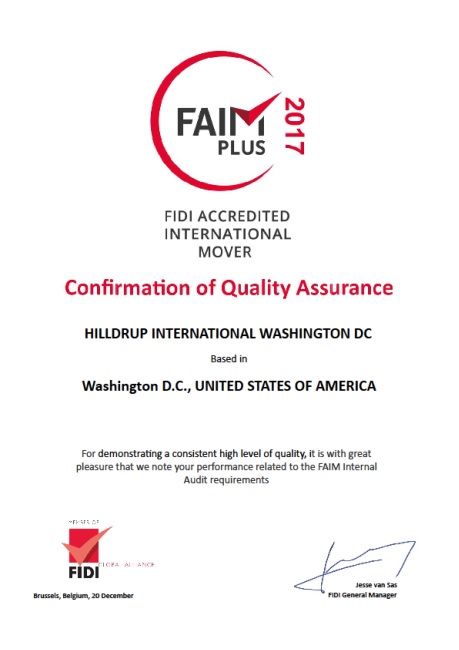 ---