Hilldrup Hosts Game Day Fun in Greenville, SC
Our team was happy to host several of our valued clients and their families at the Greenville Drive baseball game!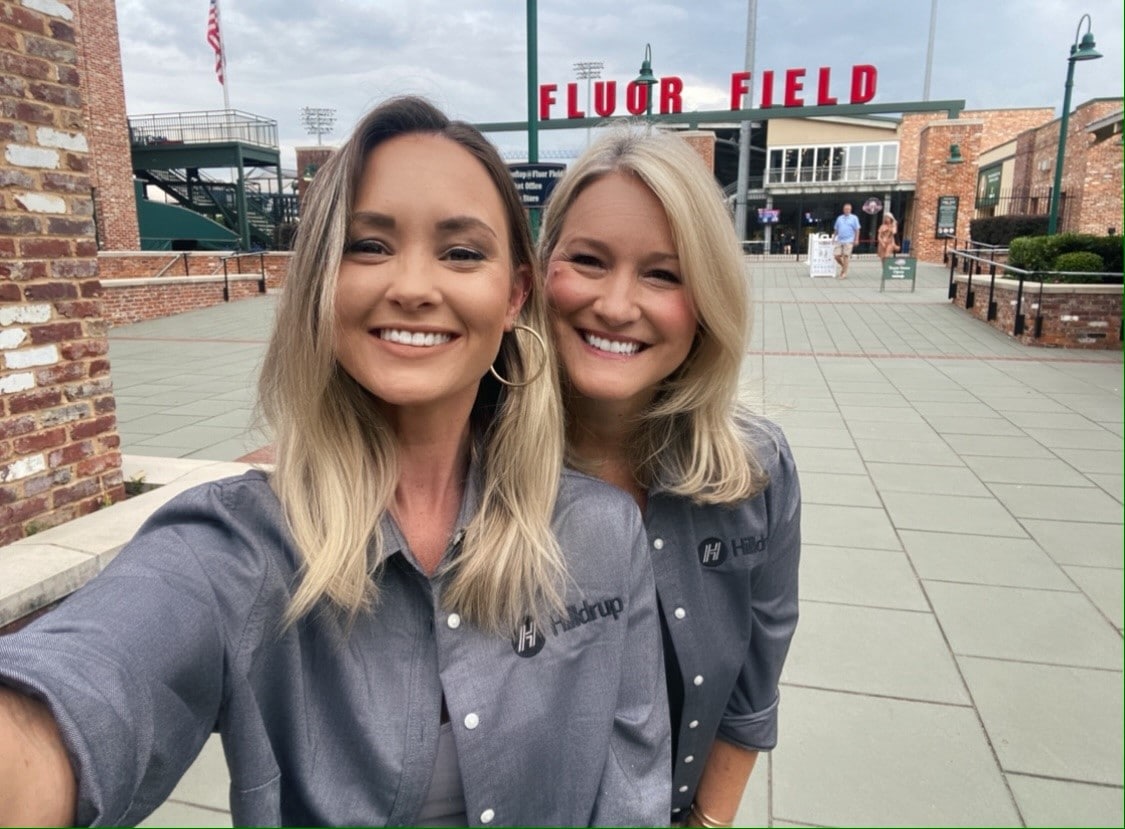 "Take me out to the ballgame!" That's exactly what Hilldrup Greenville did to kick off summer and host a fun networking event to get to know various Greenville businesses that truly make the city a great place to work and live. The baseball event was the perfect way to enjoy the beautiful weather, support the local minor league Greenville Drive team and get to know Hilldrup!
We were excited to host around 20 people for the Greenville Drive's baseball game at Fluor Field, home of the Greenville Drive baseball team, for their June 3rd game. Hilldrup invited several companies to attend and encouraged them to bring their friends and family for a game on us. Hilldrup's name was announced and shared on the jumbotron as a warm welcome to our team and newest friends who were joining us for that evening's game. We enjoyed being able to meet so many organizations across the Greenville area and share a little bit more about who we are – all outside of a typical office setting!
The event was a total hit with the option to enjoy the outdoor stadium seating or stay cool in Fluor Field's luxury suite. Either way, there was no end to the fun and food involved! Everyone enjoyed classic ballpark food – from hotdogs and burgers, to peanuts and desserts – throughout the event. We even got a special visit from an exciting visitor, the Greenville Drives' beloved mascot Reedy Rip-it the Frog!
Molly Vickery, Corporate Sales Executive and Onie Girton, Senior Vice President, Sales and Client Services, worked together to brainstorm the idea of the networking event to ensure that everyone had a great time!
"We really wanted to host an in-person event in June and create a fun, networking environment for everyone who could attend," explained Molly. "Our goal is to have an event like this every few months – hopefully quarterly! – to get to know other businesses throughout Greenville to share more about who we are and how Hilldrup can help support their organization's mobility programs."
We look forward to hosting events for our Greenville friends and fellow businesses in the future! We appreciate everyone who came out to meet and join us for some game day fun, and we can't wait to get together again soon!
If you're interested in learning more about Hilldrup's mobility services or how we can help support your organization's needs, contact Molly Vickery today at [email protected].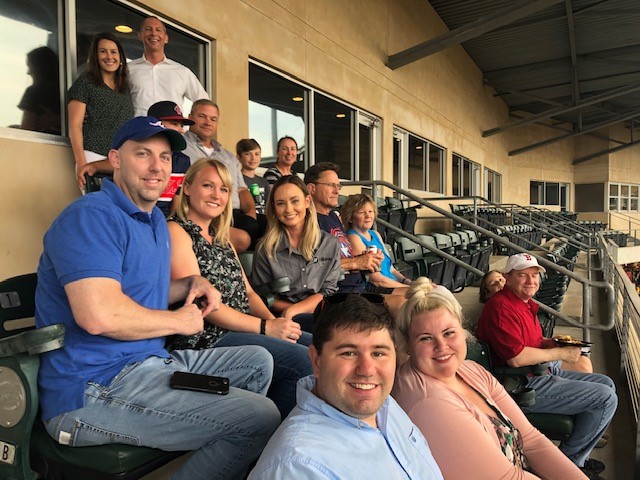 Thanks so much to our newest friends and fans for coming out to enjoy the game with Hilldrup! We loved being able to host a fun event and take advantage of enjoying Greenville's beautiful weather and hometown team.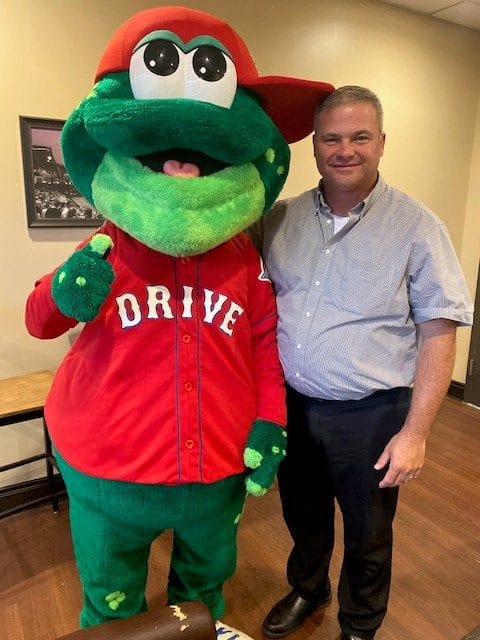 Billy Morrison, Regional GM of Hilldrup Greenville and Charlotte, takes a photo with Greenville Drives' beloved mascot Reedy Rip-it the Frog during the event.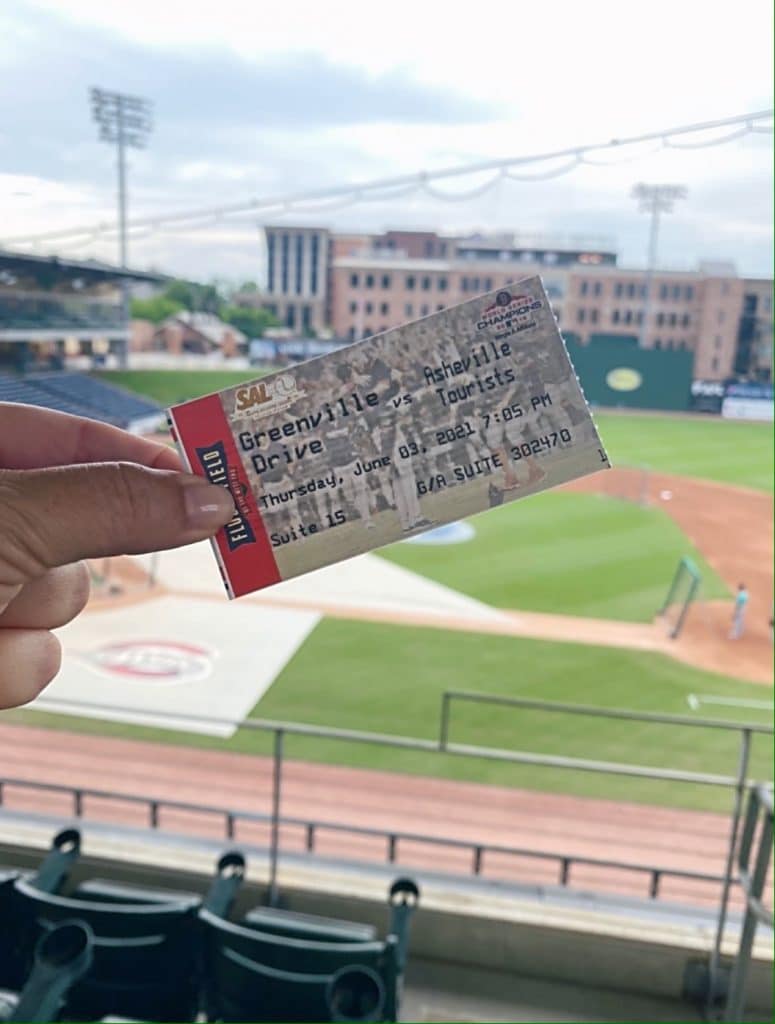 A ticket to the game meant a ticket to a fun, nail-biter of a game! We loved cheering on the Greenville Drives as they faced the Asheville Tourists while enjoying a great view of the park.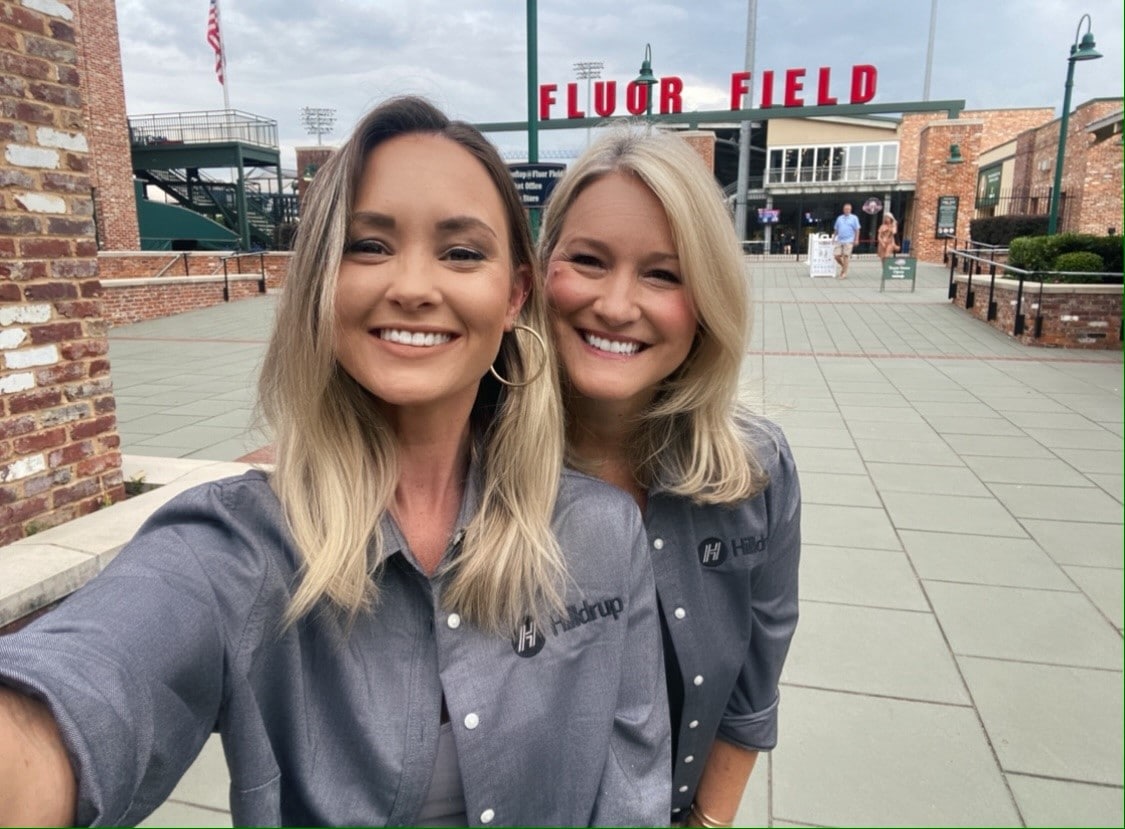 Molly Vickery, Corporate Sales Executive (left) and Onie Girton, Senior Vice President, Sales and Client Services, take a photo together outside the main entrance of Fluor Field just before the game. This event wouldn't have been possible without their hard work. Great job, ladies!
---