Hilldrup Joins ABC7 On Your Side
"Hello, this is Seven on Your Side," answered Mary Katherine Wood, Residential Relocation Specialist for Hilldrup, into the phone receiver. From the…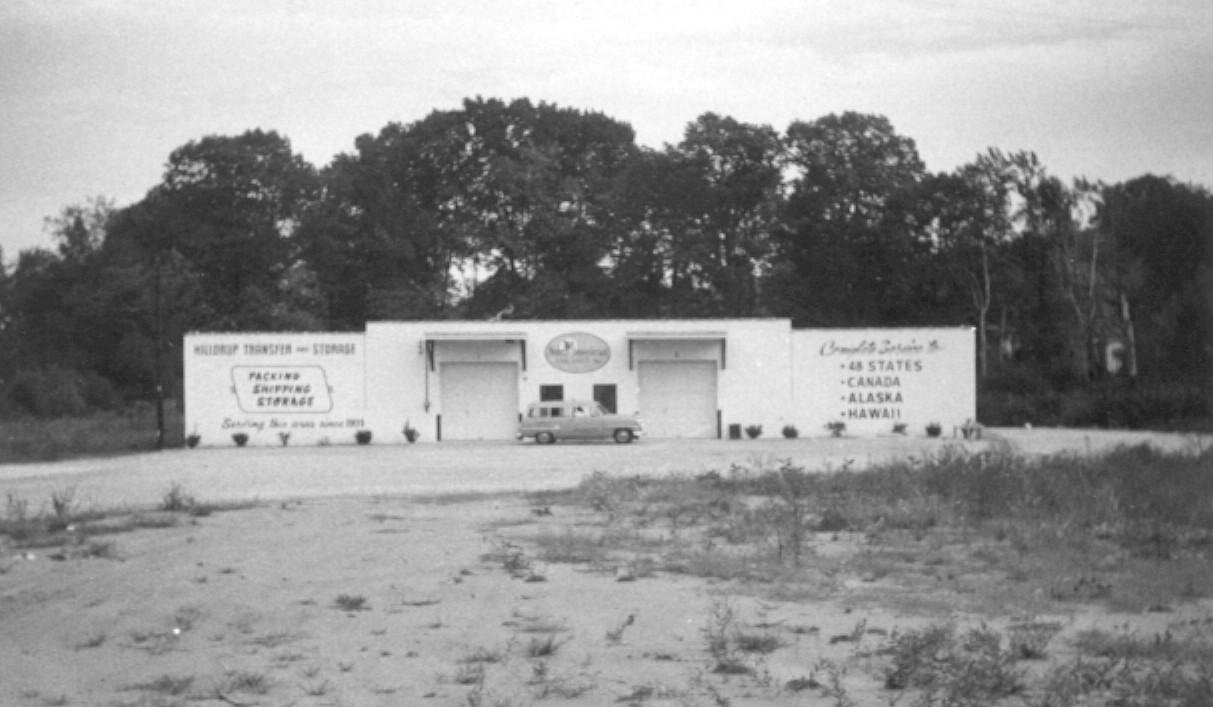 "Hello, this is Seven on Your Side," answered Mary Katherine Wood, Residential Relocation Specialist for Hilldrup, into the phone receiver. From the multiple cameras to the bright camera lighting throughout the room, one thing was obvious – this was not her typical work day! Recently, Mary Katherine participated in the ABC7 On Your Side Call for Action Phone Bank that took place at their offices in Arlington, VA. The topic? What Hilldrup knows best: all things moving and storage!
The unique opportunity to take part in the 2-hour event came from the American Moving & Storage Association (AMSA), who invited nine local AMSA members to send one customer service or sales representative from their company to take part in the phone bank. The candidate would need to answer questions from the public on moving issues like how to find a reputable mover, what to look for when reviewing a contract and much more.
Right away, Hilldrup knew the perfect person with the knowledge and experience to answer all these questions – our very own Mary Katherine Wood. Mary Katherine is known to colleagues and customers for being an award-winning relocation specialist for Hilldrup, conducting personalized in-home surveys for many of our customers. In fact, as the largest producer of residential sales, she was recently recognized as our Top Line Haul Producer for 2017 and was a President's Club Award recipient!
Most callers, Mary Katherine explained, were seniors with unique concerns that focused mostly on one of the most daunting tasks prior to moving: downsizing. Many questions related to cost, logistics and how to go about finding a reputable mover were discussed. She credited the segment's popularity to the fact that at one point or another, most people will move in their lifetime.
"Moving can be emotional for many reasons – life events trigger a move," explained Mary Katherine. "The happier side of that is things like graduation, a new job, marriage or a baby. On the harder side is the loss of a job, divorce, a death in the family or a sick relative who can no longer live alone. It's important to remember that most people's comfort zone is inside their home."
Her best advice when it comes to planning a move?
"Start early, interview 3 reputable movers and get prices in writing!" she advised.
"This was a great opportunity to provide a positive image for the industry," said Michael Keaton, American Moving & Storage Association's Senior Director of Communications. "There were more than 160 consumers helped and it was one of their most popular phone banks ever. We could not have done it without everyone's help!"
You can read more about this event and AMSA in their recent issue of AMSA Today here!
Thank you, Mary Katherine, for sharing your knowledge and advice with others as part of this event; and thanks so much to ABC 7 News for having us – we had a great time!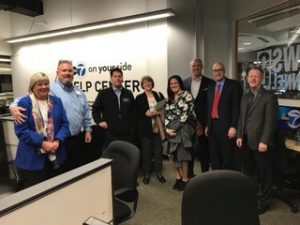 Mary Katherine Wood, pictured fourth from left, joined others in ABC7's Help Center for the On Your Side Phone Bank segment to answer the public's questions about moving and storage.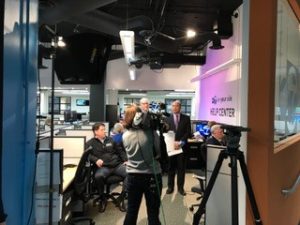 The cameras were rolling! The phone bank was featured on-air during the network's newscast to help viewers and callers to be prepared for their next move.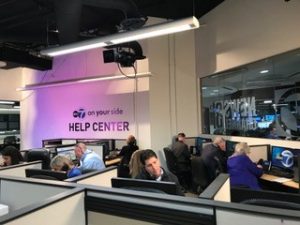 The lines were busy throughout the segment with the majority of questions focusing on cost, logistics and how to find a reputable mover.
The public was encouraged to call in and ask the professionals whatever questions or advice they were seeking to prepare for an upcoming move.
---