Hilldrup moves college football
Hilldrup is responsible for getting the University of Virginia (UVA) and the University of North Carolina at Chapel Hill (UNC) football programs…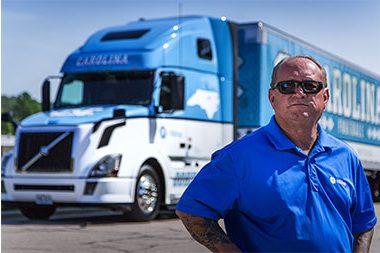 Hilldrup is responsible for getting the University of Virginia (UVA) and the University of North Carolina at Chapel Hill (UNC) football programs to each and every away game.
The drivers haul uniforms, equipment and all other gear from the schools to every away game destination, sometimes as long as a 50-hour road trip across the country and back! Even though our drivers remain behind the scenes, they are still a vital part of the team, ensuring the players have all they need. When on the road, they can be spotted in their Volvo VNLs and 53-foot trailers covered in the schools' colors and logos.
The combination of reliable trucks and dedicated drivers keeps the season moving forward. Earlier this season, Volvo sent a crew to Charlottesville and Chapel Hill to spotlight the work we're doing with both universities and what it takes to make game day happen. From loading twenty thousand pieces of equipment to driving cross country on a strict schedule, the video captures how Volvo and Hilldrup's teams work together for UVA and UNC players, coaches, staff and fans.
---