Hilldrup Orlando Highlights Outstanding Employees
It's no secret that Hilldrup's award-winning service is all thanks to our greatest asset, our people. From our Van Operators to our…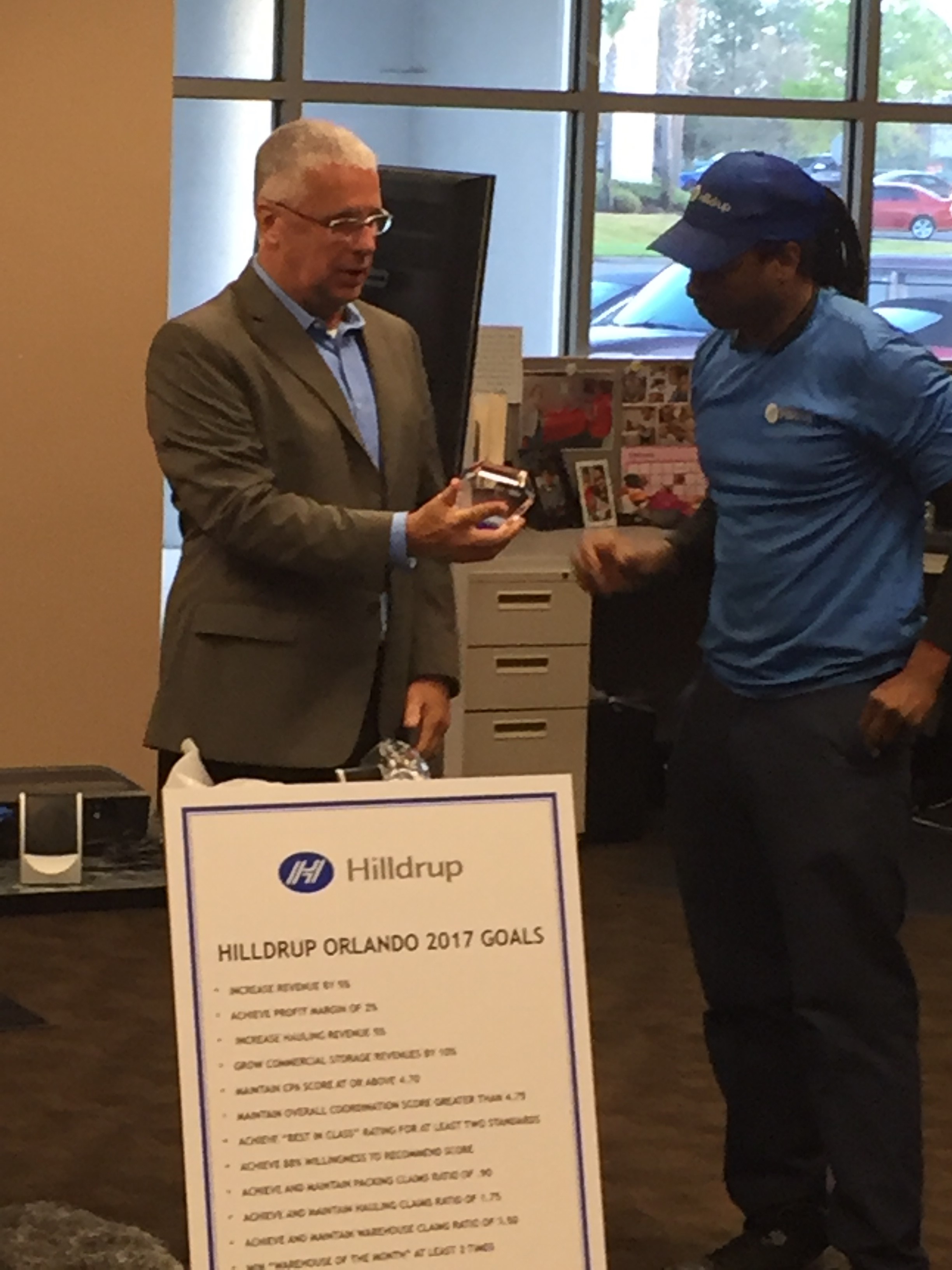 It's no secret that Hilldrup's award-winning service is all thanks to our greatest asset, our people. From our Van Operators to our Move Coordinators, it truly takes a team to provide the highest levels of customer satisfaction consistently. And that's exactly the success story for Hilldrup's Orlando branch. During a recent employee meeting, Ed Fitzgerald, Vice President and General Manager of Orlando, took the opportunity to recognize the best of their best in the Orlando branch: Long-Distance Van Operator, Tom Reilly and Local Contractor, Roy Carroll.
Tom Reilly was awarded Orlando's 2017 Van Operator of the Year for delivering impressive and consistent scores for quality, safety and claims prevention throughout 2017. Tom is an industry veteran with over three decades of experience and has been part of the Hilldrup family for the past 11 years. To rate a move experience, customers will submit surveys to Hilldrup based on a scale of 1 – 5, with 5 being excellent. Throughout 2017, Tom received an outstanding 232 survey questions with a perfect "5" score. Last year, Tom drove 61,900 miles with zero safety infractions which earned him a perfect performance rating. In addition, his claims ratio was a 0.75 at year's end based on claims dollars and linehaul revenue hauled over the past 12 months. Impressively, Tom well exceeded UniGroup's standards in both categories.
"It's very impressive to maintain scores at that level for a year," explained Ed Fitzgerald. "We were excited to present these recognition awards as a way to show our appreciation and share their impressive performances with the greater Orlando team."
Orlando's Quality Award was presented to Roy Carroll from Orlando's local crew. A Local Contractor, Roy services work in the central Florida area by doing everything from driving a straight truck for moves to handling weekly shipments for our customers. He received a whopping 314 survey questions that ranked his quality service a perfect "5." In fact, Roy received the most "5s" throughout 2017 for his work.
"Roy truly represents delivering quality service in our industry," explained Ed Fitzgerald. "In 2017, we received the highest number of emails from satisfied customers about Roy's work specifically."
And while it's obvious to Hilldrup and our customers that they deserve this recognition, Tom and Roy were certainly caught by surprise.
"They're both very honored by these awards," said Ed Fitzgerald at the conclusion of the meeting. "In fact, Tom said he's going after another one already! Gotta love it."
Congratulations Tom and Roy; thank you both for all that you do for the Hilldrup organization and for those we serve. Job well done!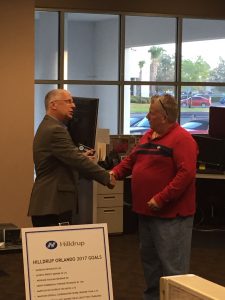 Tom Reilly accepts his award for 2017 Van Operator of the Year for Orlando from Ed Fitzgerald, Vice President and General Manager of Orlando, during an employee meeting on February 22, 2018.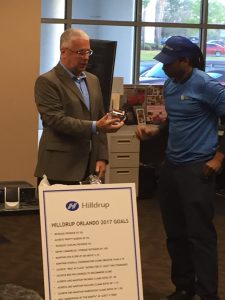 Roy Carroll, Local Contractor, is presented with Orlando's Quality Award for his consistent, outstanding service throughout 2017.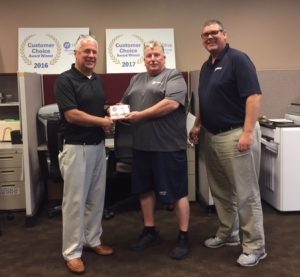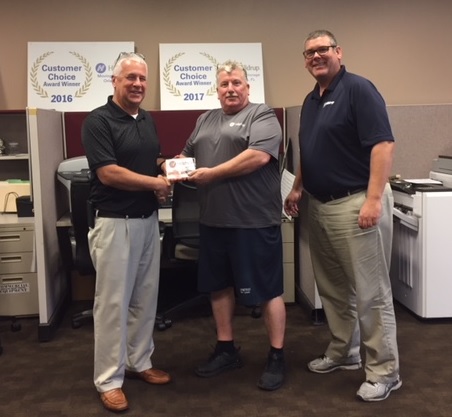 Tom Reilly, Long-Distance Van Operator for Hilldrup (center), received a cash bonus in addition to being awarded 2017's Van Operator of the Year for Orlando. He was recognized by Ed Fitzgerald, Vice President and General Manager of Orlando (left) and Jeff Swim, Operations Manager for Hilldrup Orlando (right). 
---