Hilldrup Richmond Assists Garden Club of Virginia
Hilldrup's Richmond team recently assisted our long-time friends and neighbors at the Garden Club of Virginia with moving and storage services for…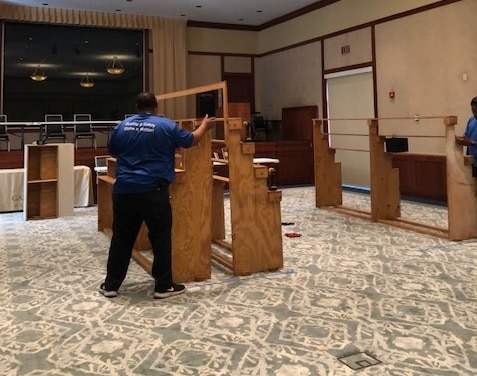 Hilldrup's Richmond team recently assisted our long-time friends and neighbors at the Garden Club of Virginia with moving and storage services for their highly anticipated Daffodil Show. The Daffodil Show features hundreds of beautiful, prize-worthy daffodils on display at the Lewis Ginter Botanical Gardens Education Center in Richmond, VA.
Our Richmond team stores all of the Garden Club of Virginia's display items, and two or three times a year will deliver the displays and all other necessary items to the Lewis Ginter Botanical Gardens Education Center for various shows. Shows can include the Daffodil Show, Rose Show, Lily Show and even a Fall Symposium throughout the year. Items for transport included vases and stands, risers, pedestals, tables, staging materials and two award risers. During the two-day event, admirers from all over Virginia and beyond visited the local area to enjoy the Daffodil Show. After the show concluded, our Richmond team returned to load and transport everything back to storage.
Hilldrup's crew consisted of Carlos Bailey, Terence Carter, Alvin Faison, Akeema Davenport and Gary Doctor for the delivery and pick up was successfully handled by Carlos Bailey, Terence Carter, Tony Cherry and Tayvon Orr. Special thanks to Ron Irby, Commercial Project Manager, as well!
"They absolutely love Ron who keeps track of all their items and assists them by answering questions they may have during the year," explained Leah Abbey, Commercial Coordinator / Biller for Hilldrup Richmond.
We're proud to assist an organization in our local community that celebrates the beauty of Virginia and whose mission is to conserve Virginia's natural beauty for future generations.
"I want to thank you and Hilldrup for all of the help and support you have given us over the past many years," wrote Jean Gilpin, on behalf of the Garden Club of Virginia, in a letter to Hilldrup President & CEO, Charles W. McDaniel. "Thank you for your help with Daffodil Day and thank you in advance for helping us with Lilies in Bloom."
We look forward to continuing to support and assist the Garden Club of Virginia's shows in any way we can!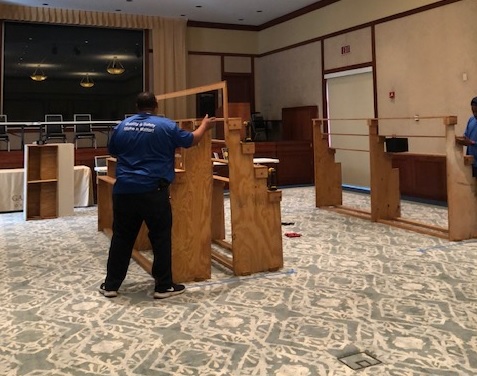 Carlos Bailey, Service Team Member, helped lead and ensure that all displays for the Garden Club of Virginia were transported safely and on time for the annual Daffodil Show.
Photo Courtesy of Lynn McCashin, Executive Director, Garden Club of Virginia.
---