Hilldrup Stafford Gets Vibin' for the 80s for RUW Campaign
Hilldrup's annual giving campaign to the Rappahannock United Way (RUW), an organization we've been proud to support, was kicked off in a…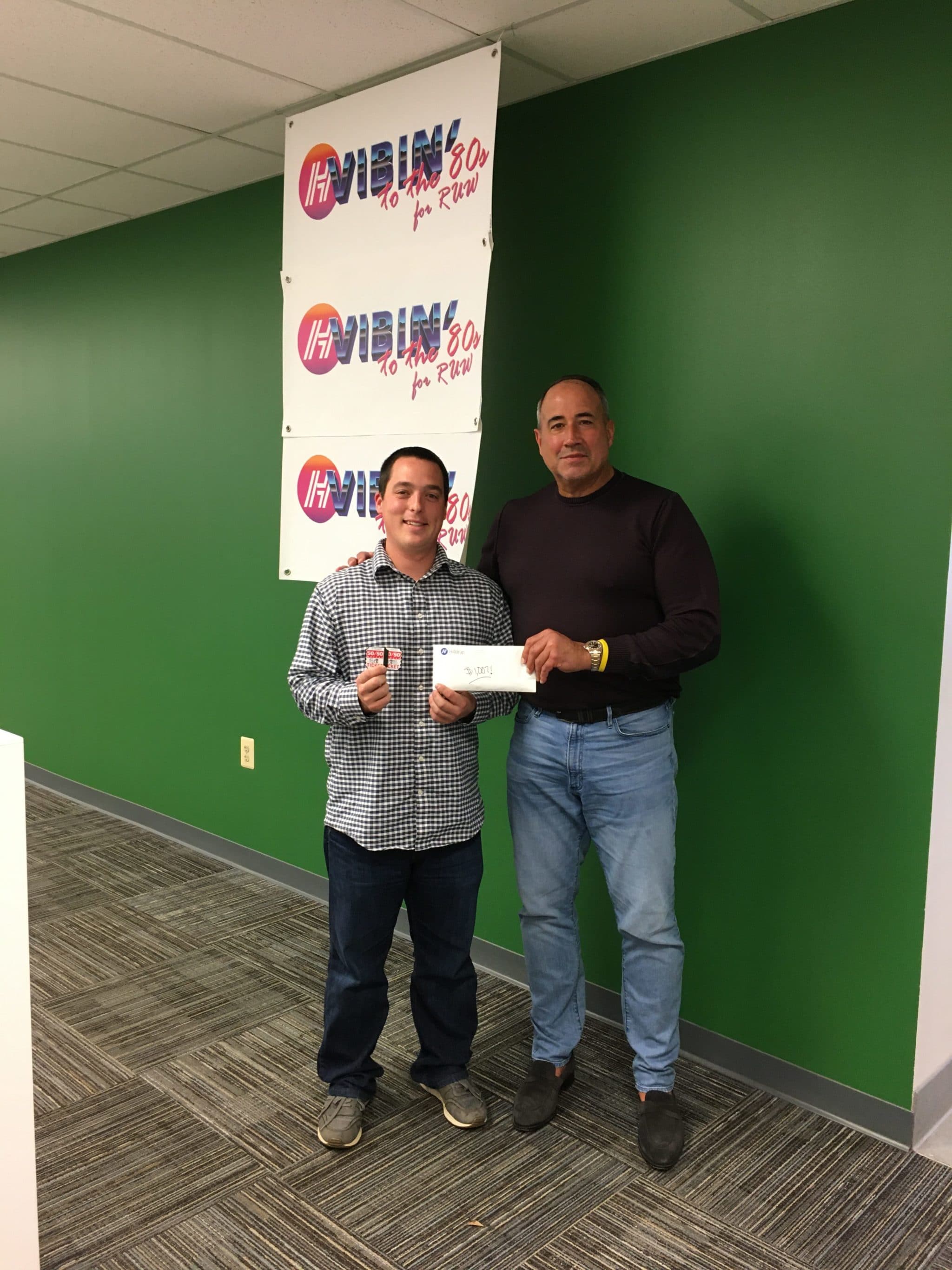 Hilldrup's annual giving campaign to the Rappahannock United Way (RUW), an organization we've been proud to support, was kicked off in a fun, new way at our Stafford Corporate Headquarters.
At Hilldrup, we're proud to Live United and support RUW's efforts to create and support programs in the local area that support and improve the lives of those in our community. The annual campaign demonstrates Hilldrup's value of Unwavering Commitment to our social responsibility of supporting the communities where we live and work.
This year's campaign theme, in a nod to RUW's 80th anniversary, was Vibin' to the 80s! And there's no doubt that our dedicated team went all out! Each day, our 80s theme inspired an activity that encouraged employees to donate to RUW; below is what each day entailed.
Monday – Rad and Righteous RUW Kick-Off
Stafford employees were invited to come to the RUW carnival, which was set up in our Center for Training and Employee Development and was decorated in the spirit of the 80s with fun games and throwback tunes. Here, we could pay to play games such as corn-hole, balloon darts, water pong, wheel of fortune and purchase 50-50 raffle tickets. A variety of popcorn was also available to sample! All access passes were available for $25 as a donation to RUW and granted access to the week's activities for a flat fee. Employee pledge forms were accepted throughout the day as well.
Tuesday – Sooo Wicked Foodapalooza & Virtual Bingo
Breakfast items were for sale with monetary donations going towards RUW. At lunchtime, Big Bad BBQ food truck was on-site to serve up their delicious menu items with 10% of proceeds donated to RUW. Later, for a pick-me-up, an ice cream sundae station was set-up in the office kitchen. Virtual bingo took place throughout the day with the chance to win "bodacious" prizes; congratulations to our winner of virtual bingo – Karen Tate!
Wednesday – Totally Tubular Silent Auction
A silent auction took place with prizes including an Apple smartwatch, AirPods, Men's and Women's Bicycles, a Fitbit Smartwatch, a Samsung Galaxy Smartwatch, massage package, a weekend getaway and more! Congratulations to our winners, and thank you to our team's generosity in supporting RUW!
Thursday – Who's Bad??!! Halloween Special
In the spirit of Halloween, Hilldrup's senior managers participated in a 80s themed costume contest where employees had the opportunity to vote for their favorite 80s-outfitted senior manager via a cash donation. The senior manager with the most donated cash in their jar was our winner. Congratulations to our winner, Barry Dodson, EVP and Chief Financial Officer, who dressed up as Robert Palmer!
An employee Halloween costume contest also took place with prizes for individuals and groups based on the scariest, funniest, most original and best 80s costumes. We even had a cubicle-decorating contest! Check out more about our Halloween fun and our winners here!
Friday – 80s Vintage Candy Sale Cowabunga Dudes!!!
On Friday, our team sold vintage candy with all donations going to RUW. Since we were at the week's end, the winner of the 50-50 raffle ticket winner was also announced. Congratulations to the winner of the 50-50 raffle, Jason Cox, Senior Quality Assurance Coordinator/Van Operator Liaison!
We're thankful for everyone's participation and generosity to make our RUW Kickoff Campaign Week such a success. In total, we raised $4,961 for RUW, and this is just the start of the campaign!
Special thank you to Hilldrup's HR team and our RUW Ambassadors who helped to coordinate and make all of these events possible – great job, team!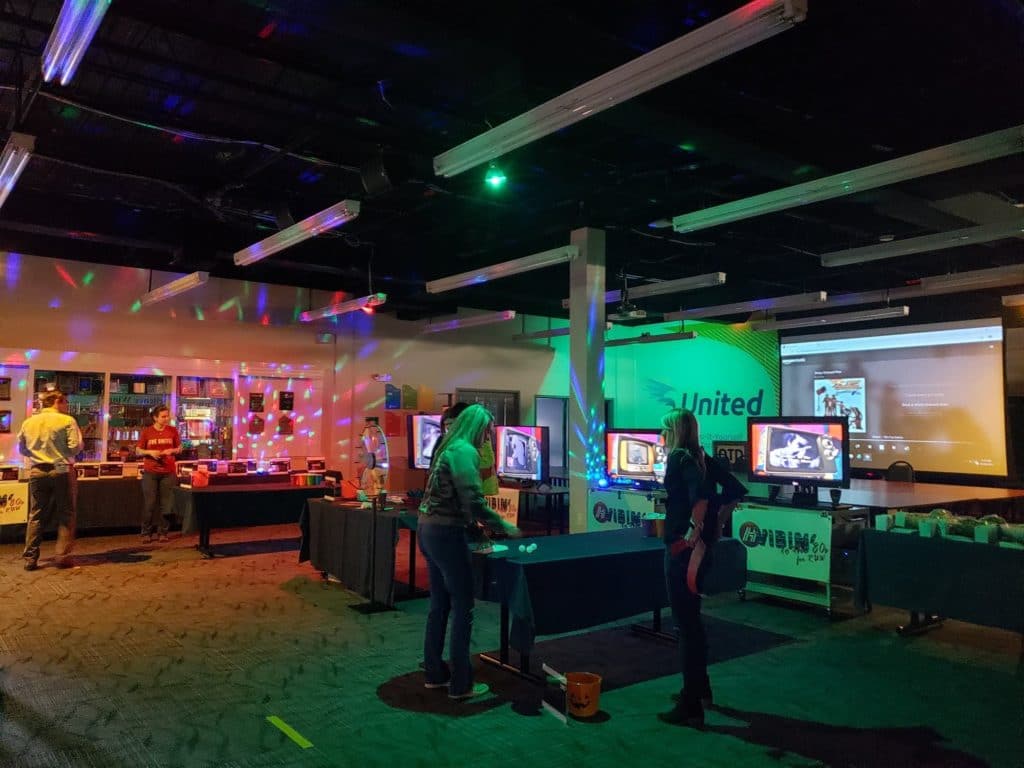 Hilldrup's Center for Training and Employee Development was transformed into a "totally tubular" 80s-inspired experience! Employees could pay to play games that would benefit our campaign to support RUW!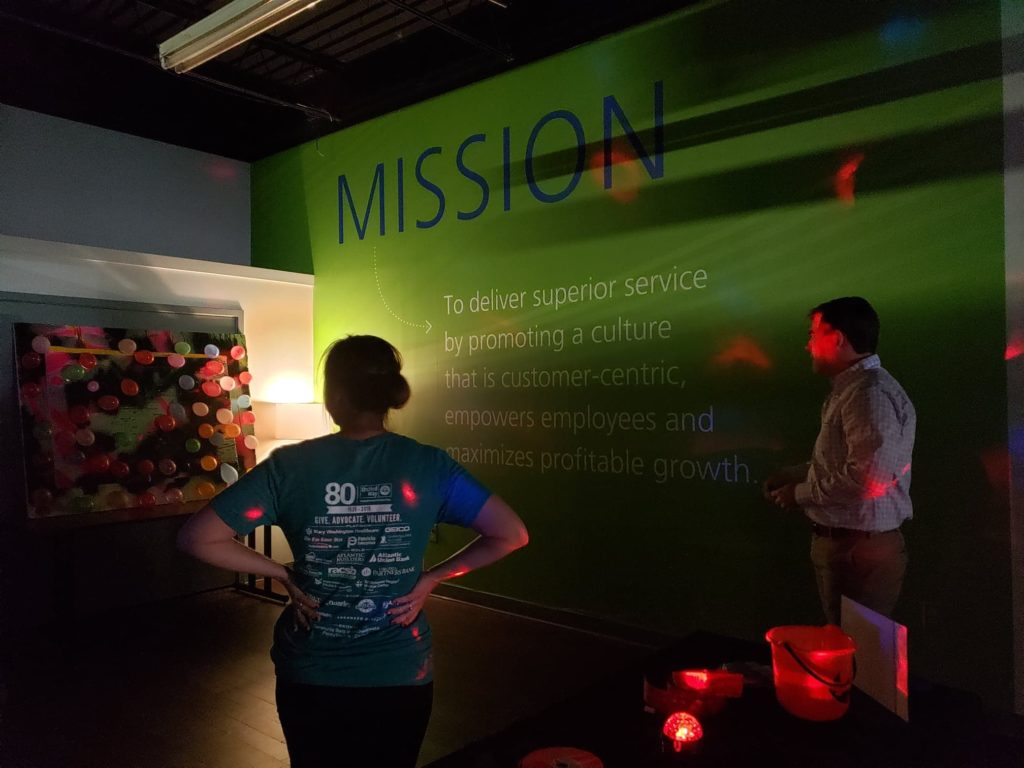 Balloon darts were one of the most popular games at Hilldrup's carnival. RUW Ambassador and Hilldrup Claims Counselor, Darcy Duxbury, watches as Matt Caler, Manager, Client Services, takes a throw.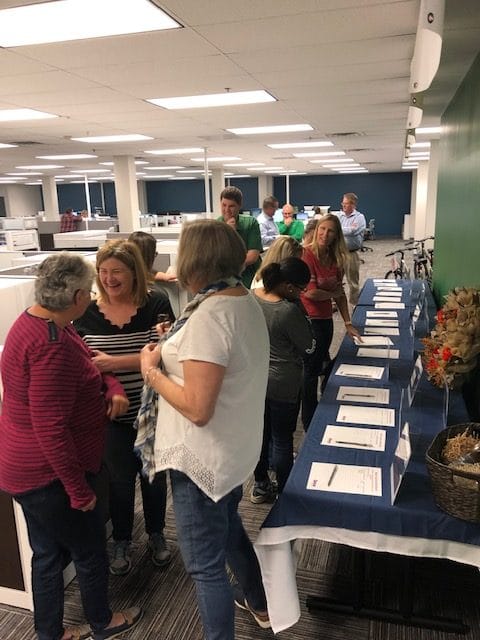 Some friendly competition happened during Hilldrup's silent auction on Wednesday. Prizes ranged from a weekend getaway, an Apple smartwatch, AirPods, men's and women's bicycles, and more! Congratulations to our winners and thanks to all who bid in their support of RUW.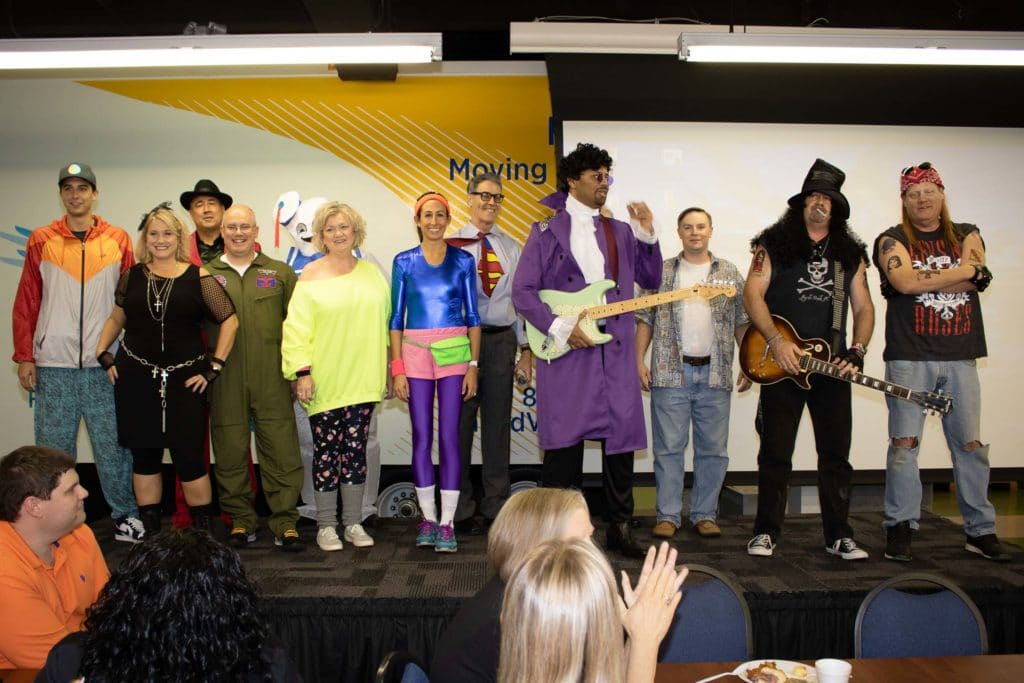 Do you recognize Hilldrup's senior managers in 80s costumes? We barely did! Employees could donate to vote for their favorite senior manager's 80s costume with all donations going to RUW.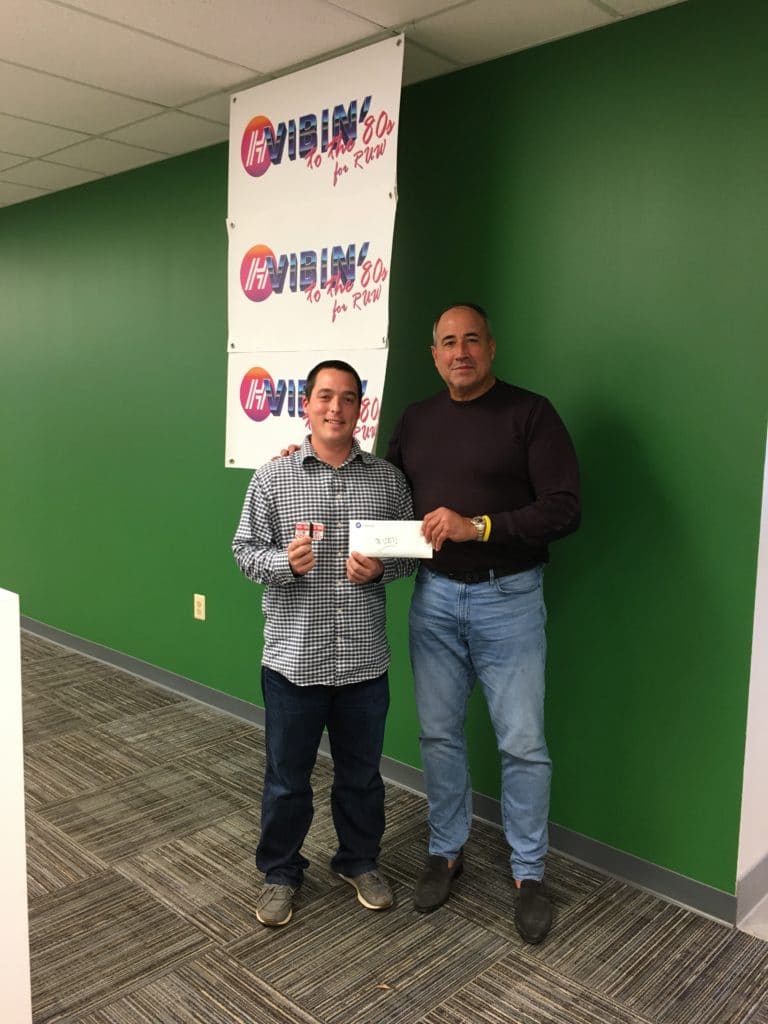 Congratulations to our 50-50 raffle winner, Jason Cox, Senior Quality Assurance Coordinator/Van Operator Liaison, who was presented his winnings by Charles W. McDaniel, President and CEO of Hilldrup. Thank you for participating, Jason!
---