Hilldrup Stafford Hosts Local, Student Artists at Corporate Headquarters
At Hilldrup's Stafford Corporate Headquarters, we're proud to welcome a range of visitors to our offices – from UniGroup executives, to domestic…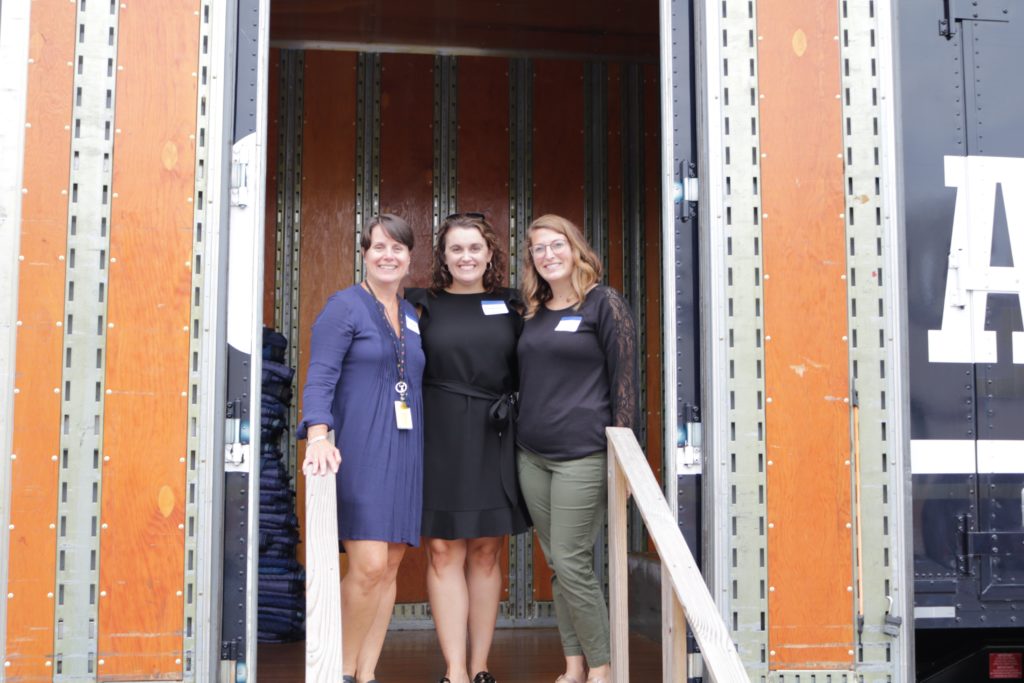 At Hilldrup's Stafford Corporate Headquarters, we're proud to welcome a range of visitors to our offices – from UniGroup executives, to domestic and international clients. But most recently, our visitors included some of our youngest guests: students of Stafford County Public Schools (SCPS).
As part of Hilldrup's renovations to our Stafford office, our freshly painted but bare hallways were in need of artwork to truly bring the space to life. Our team didn't need to look any further than the artistic talents of Stafford County's most creative and talented elementary, middle and high school students.
The artwork was selected by a small team of art teachers in collaboration with the SCPS Fine & Performing Arts Facilitator. Now, a total of 25 pieces of art hang in one of Hilldrup's most trafficked hallways. The artwork will remain for one year until each is returned to its original artist and a new spread of artwork is considered for display.
On August 26, 2019, the artists whose work is featured in our offices were invited with their families to enjoy an art gallery open house in their honor. Upon arrival, students and their families were checked in, invited to enjoy their choice of grape juice or ginger ale – in a champagne flute of course! – and browse through our office to find their very own masterpiece on display.
We were also proud to show our young, local students an up-close look at Hilldrup's operations – from a tour of our 10,000 square foot training center, to stepping into one of Hilldrup's custom designed tractor-trailers! We loved seeing and celebrating these wonderful local artists and their families – we're proud to support them and our local community and are so thankful for their beautiful work!
Check out photos of the fun and of course, meet the artists!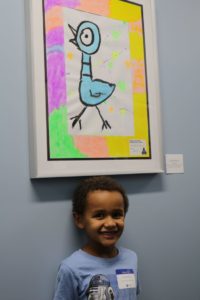 Drake Williams, age 6, created his masterpiece titled "Pigeon Going to Outer Space" in just one day! "The pigeon and all of the hearts," is what he described as his favorite parts of his artwork. There's no doubt this piece is one of our favorites!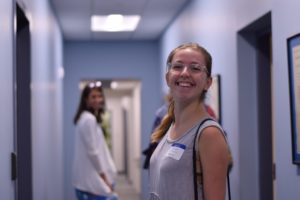 We loved welcoming Maria Wiss, pictured above, whose photography is displayed in our office. Maria, who was a senior at Stafford High School when she originally submitted the image for her art class, is now a freshman at the University of Mary Washington in Fredericksburg, VA.
Photo credit: Stafford County
Janice Sheaff (left), who teaches kindergarten at Widewater Elementary School in Stafford, VA, celebrates her student, Grace Richards, now a first grader, with a "clink!" Grace's artwork was one of 25 pieces chosen to be displayed at Hilldrup. She said of seeing her work on display, "It makes me happy!"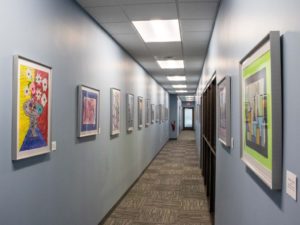 Hilldrup Stafford's hallway proudly displays the artwork of some of our youngest guests; we could not be happier with the colors, designs and talent that are here for our employees and visitors to enjoy every day!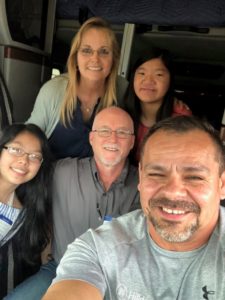 There was more than art to discover at Hilldrup's art gallery open house – there were also tours of our trucks! One of our featured artists, Olivia Coulson (bottom left), got a selfie with her family and Hilldrup Van Operator, Felix Sanchez, as part of the visit to Hilldrup. Thank you all for stopping by!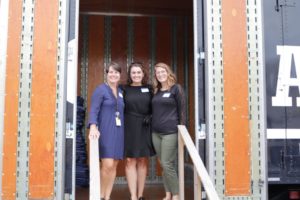 The success of this event would not have been possible without these ladies and the support of many other SCPS art teachers who attended! From Stafford County Public Schools, we'd like to thank Anne Mamon, Art Teacher at Hartwood Elementary; Annamarie Bollino, Teaching & Learning Facilitator – Fine & Performing Arts; and Erika Butler, Art Teacher at Anthony Burns, for each attending our art gallery open house!
---