Hilldrup's Inaugural Corporate Social Responsibility Report
At Hilldrup, we've always prided ourselves on being more than a moving, storage and logistics company. We are a mission-driven organization with…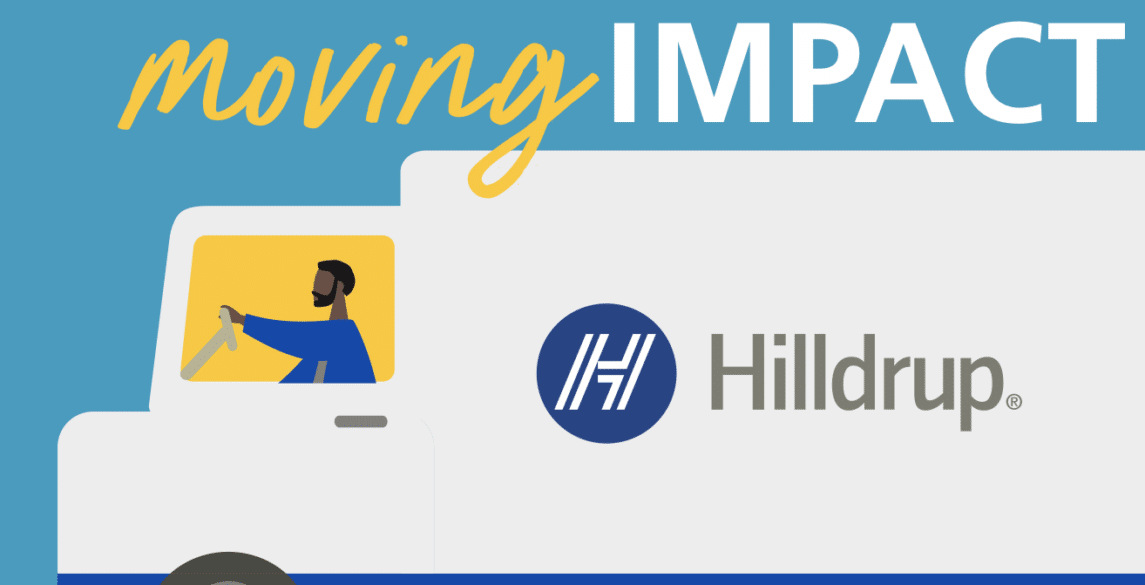 At Hilldrup, we've always prided ourselves on being more than a moving, storage and logistics company. We are a mission-driven organization with strong values and a commitment to family and community. Both as a company and individuals, our team is constantly working to improve the world around us in all kinds of ways.
While many of these stories are told through our team, our social media channels, and our website, we're excited to share our inaugural Corporate Social Responsibility (CSR) report, which highlights all the ways in which our company lives out these values.
The following is a summary of this endeavor, but we hope you'll also explore the full CSR report to see the entire scope of Hilldrup's impact on our community, colleagues and partners, and the environment.
Hilldrup's Approach to CSR
A Shared Commitment
When it comes to Corporate Social Responsibility (CSR), leadership may come from the top, but it is absolutely a team effort. Our company's success is measured by more than our bottom line. Having a team that believes we can and should have impact beyond our walls — and our trucks — means a greater chance of making a difference.
Listening To Learn
Our employees are on the phone with customers, in homes and workplaces making moves, servicing equipment and managing our warehouses – their insights into what we can do more, better and different are crucial to continuous improvement. We are also looking at industry best practices — what are other companies that have proven themselves leaders in CSR doing that we can learn from and build upon?
Organizing For Change
As our CSR program evolves, we are identifying owners and champions for that work to ensure we maintain the momentum. Do we have work to do? Absolutely. Are we committed? Absolutely. We are working on how to better educate and engage our teams consistently, as well as how to update our customers and other stakeholders on our efforts and seek new opportunities for partnership.
Hilldrup CSR in Practice
Moving for Inclusion
At Hilldrup, we champion the success of our team—and the individuals that drive our work forward. We recognize that the whole is greater than the sum of its parts and that when we collaborate effectively, we all achieve more.
A Culture of Learning
To ensure our employees understand — and live — our values, Hilldrup provides annual training for all team members and managers — regardless of tenure. All Hilldrup employees must complete an array of online DEI courses on topics such as Valuing Diversity in the Workplace, Prejudice and Discrimination, Retaliation, and Understanding Harassment.
Building a Talent Pipeline
To cultivate a pipeline of talent for sales and operations positions, Hilldrup is working to develop meaningful, mutually beneficial relationships with top colleges and universities. In addition to establishing a trainee program to cultivate future employees, our partnerships will also provide students and faculty with practical, relevant experiences in sales, supply chain, and logistics, among other areas. Hilldrup's plans for the college program are multi- faceted and will continue to expand. The initial launch began in September 2021, and we will continue to expand internship opportunities, on-campus lectures and interviews, and financial support.
Opportunity Across the Supply Chain
Hilldrup annually spends nearly a quarter of our controllable expenses on certified and qualifying Minority, Women, and Disabled- Owned Businesses (MWDSBE). Hilldrup's internal DEI team, comprised of senior leaders, strategizes ways to bring more MWDSBE businesses into our subcontractor and business partner network. In Virginia, we consult the Department of Small Business and Supplier Diversity (SBSD) directory to identify small, women- or minority-owned businesses that meet the needs of our internal and external customers. As part of our internal procurement process, we ask potential business partners about their commitment to DEI and their efforts to ensure a more diverse workplace and client base.
Moving Green
As we move customers and their belongings from coast to coast and even country to country, we understand the importance of creating a healthier home for people and wildlife. At Hilldrup, we help protect our environment in a myriad of ways, big and small. It's all part of our commitment to excellence and customer service. Here are just a few of the ways in which we reduce our impact on the earth.
Finding the Best Route
We continuously look for ways to minimize our emissions through carefully chosen vehicles and equipment, and the use of technology that can reduce our time on the road.
The first step to reducing emissions is to supply our fleet with fuel-efficient vehicles and equipment. Currently, 100 fleet vehicles are equipped with pre- emission exhaust systems that meet or exceed current emission standards. Once on the road, we employ several techniques to conserve fuel and motors. Our drivers use GPS fleet technology to determine the fastest and most efficient route to their destination.
Minimal Waste, Maximum Innovation
Hilldrup's movers take great care to pack and transport our customers' belongings safely and securely—so sturdy packing materials are a must. We carefully select products that are long-lasting, reusable and, whenever possible, made from recycled materials.
For office, campus and workplace moves, we employ reusable plastic totes and computer crates, reducing the need to use and recycle cardboard.
In workplace settings, we use plastic Masonite sheets instead of wood boards to protect our customers' floors. When cardboard is necessary, we source corrugated products made from recycled cardboard that reduce paper consumption and save trees. What can't be reused is always recycled. Last year, we recycled more than 1,410 tons of materials across our 10 locations.
Moving for Community
Giving back to the communities where we live and work has been part of our corporate culture throughout our 120-year history. As a moving and logistics company, we've helped countless people settle into new homes and offices. We want to ensure everyone in our community has a place to call home, and access to the resources that make it a place of comfort and security.
Move-Up Fund
In 2019, we launched the Hilldrup Move-Up Fund in partnership with The Community Foundation of the Rappahannock River Region. Working with local nonprofits, Hilldrup provides funding to help families maintain secure housing and meet other urgent needs.
Caring for CARITAS
Last year, Hilldrup's Richmond office participated in the first-ever RVA Design Community Furniture Drive to support CARITAS, a nonprofit that helps people break the cycles of homelessness and addiction. During the drive, local community members could drop off furniture and household items for the CARITAS Furniture Bank. As a corporate sponsor, we accepted donations at our Richmond warehouses and transported them to CARITAS.
Move for Hunger
For over eleven years, Hilldrup has partnered with Move for Hunger to collect non-perishable food items from customers who are moving and transport them to local food banks. Twice this year, we participated in a fun twist on a food drive to support the Atlanta Community Food Bank.
Caring for the World
While Hilldrup is dedicated to local organizations in the cities where we work and live, we also recognize our place in the broader global community. We're proud to support several international philanthropies in their efforts to improve the world:
Operation Smile: A medical nonprofit that provides free, life-changing cleft surgery to thousands of children every year.
Techo: A youth-led nonprofit that works to overcome poverty in informal settlements of Latin America and the Caribbean.
Waterboys: Professional athletes, coaches, and sports fans team up to bring life-sustaining drinking water to communities in need.
Where Do We Go from Here?
Moving forward, we are looking to expand our inclusion education offerings, promote diversity in hiring, enhance our conservation and sustainability efforts and continue to give back through time and dollars across all Hilldrup's branches.
---