From Low Tech to High Tech: Innovative tools for your next move
Making your next move simpler is a specialty of ours that we take great pride in. This isn't limited to providing the…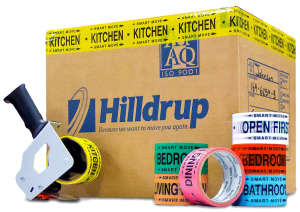 Making your next move simpler is a specialty of ours that we take great pride in. This isn't limited to providing the movers and truck to pack up, ship and unpack your belongings; we're also constantly looking for other tips and tools that can help lead to fewer headaches as you prepare and recover from your move.
Here are some innovative tools to help you stay organized with your next move:
Smart Tape: If you've moved before, you know how many boxes it takes to pack up all your belongings. While it's common practice to write the corresponding room name on the box in permanent marker, when piled together, it can be difficult to easily identify which room they should go. Smart Tape helps avoid this confusion. Each ream of tape is brightly colored for a specific room (in addition to having the room name printed in bold letters on the tape as well). You can pick up Smart Tape at most packing and home improvement stores.
Move Pro: Our iPhone and iPad app Move Pro is another great tool to help track nearly all aspects of your move. We're especially proud to say that Move Pro was recently selected as the top smartphone application at the Virginia Public Relations Awards. We wanted to provide an app, which can track shipments, store pictures of high value items for insurance purposes and create QR code labels to keep boxes organized. "Being able to manage those details on a mobile device is something we felt our customers would value, and I feel we are right on target based on the amount of customers that have downloaded Move Pro to date" said Onie Girton the vice president of client services for Hilldrup.
Hopefully these tools can help take some of the stress off your next move. Hilldrup provides a wide range of services to help our customers get in their new home, so if you need help planning your next move, give us a call.
---