Jose Espinal & 24 Hilldrup Van Operators Honored by United Van Lines
Congratulations to Jose Espinal, Hilldrup Van Operator, for being honored nationally as United Van Lines' Van Operator of the Month Runner-Up for July!
Congratulations to Jose Espinal who was recently announced as the Runner-Up to United Van Lines' Van Operator of the Month for July 2022! Jose was recognized out of hundreds of Van Operators, across the UniGroup network, specifically for Household Goods in the Great Lakes/Southeast Region. With Jose, 24 additional Hilldrup Van Operators were recognized by United in July. Not only does this account for nearly half of all Hilldrup Van Operators but the fact that it occurred during one of the busiest months of peak moving season is an impressive feat!
Jose has been a professional driver with Hilldrup since 2005 and has been in the industry for over 20 years. In 2022, Jose was the winner of Hilldrup's Van Operator of the Year during our annual Best of the Best Awards as well.
"Each move brings its own challenges, whether it is the concern of a child seeing their bed and toys being disassembled or moving a piece of furniture that has a lot of sentimental value to the family," explained Jose. "What I love most about the job is meeting interesting people and being able to overcome those challenges."
To qualify for Van Operator of the Month, a Van Operator must meet or exceed a range of statistical criteria that encompasses the Van Operator's performance.
To be eligible for this accolade, the Van Operator must:
Be qualified in the UniGroup system, the parent company of Mayflower Transit, for the previous 12 months;
Log more than 25,000 miles in the previous 12 months;
Must be a 1-Rated van operator at time of selection;
Earn a Safety Performance Rating (SPR) rating of at least 10,000;
Have no more than 6.0 total points in VTOP, or Van Operator Total Performance, as part of an online system that keeps track of Van Operators SPR points and overall rating and
Have zero Compliance, Safety and Accountability (CSA) points in last 12 months and less than 30 CSA points for past two years.
In addition, the 24 Hilldrup Van Operators were listed as Honorable Mention are as follows: 
Chuck Hays
Giovanni Ynoa
Henry Kubicek
Hugo Barbosa
Jody Kuhns
Joe Carter
Joe Santos
John McCaslin
Jordan Farkaschek
Lonnie Orf
Moses Martin
Paul Todd
Ray Jensen
Robert Miner
Ronnie Sims
Wallace Wyatt
Congratulations, everyone! We couldn't be more excited for Jose to be honored as Runner-Up and for all of our professionals who were named as Honorable Mention during one of the busiest months of the year for both Hilldrup and our industry. The success of our Van Operators is truly a testament to their professionalism and unwavering commitment to the customers they serve every day. Job well done, all!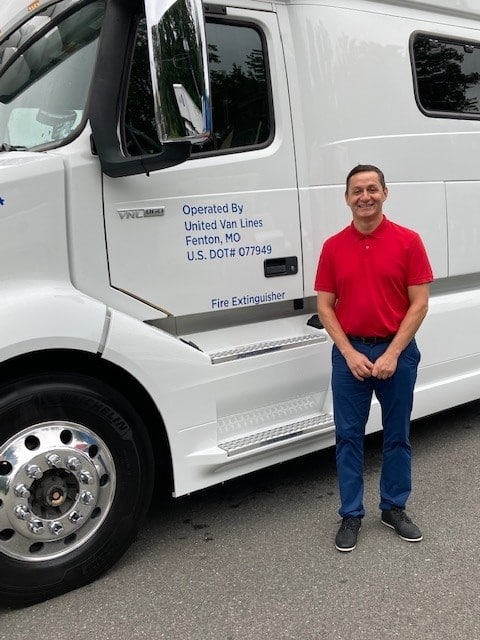 "It's always a privilege to move those who have served our nation," explained Jose Espinal. "I'm able to say, Thank you!, by providing the best service possible to them." Congratulations, Jose, on being awarded Runner-Up to United's Van Operator of the Month for July 2022.
---