Mobile Hilldrup.com – Get moving while moving about
A recent study showed sixty percent of people with cell phones regularly use their devices to access the Internet, and it's fair…
A recent study showed sixty percent of people with cell phones regularly use their devices to access the Internet, and it's fair to say, this includes our customers. But have you ever visited a website on your smartphone that wasn't optimized for mobile traffic? It's frustrating to say the least. And the last thing we want to do to our customers in the middle of a move is give them a reason to be annoyed. All this is why we developed a mobile version of our website – Hilldrup.com.
Part of our approach to moving is to make it as easy and simple for our customers as possible. This is the same approach we took when developing the mobile version of Hilldrup.com. While we think this simplicity and ease of use is hard to miss, we'd still like to give you a quick tour of the site for whenever you need to look us up while you're out and about.
On the main page, you will find the following tabs – each one expands to include more information:
Home
About Hilldrup
Services
Locations
Request a free quote
Contact Us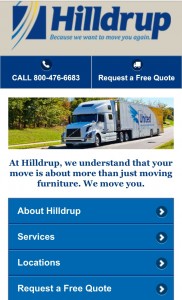 To make things even simpler, at the top each page, you'll find two buttons: a call button that will prompt your phone to call Hilldrup, and one to request a free quote. Should you need to, you can access the full website at the bottom of the page.
The success of our mobile app Move Pro made it abundantly clear how much our customers use their smartphones when moving, and we didn't want to overlook those who might just need to look something up without downloading Move Pro. We hope you'll find the mobile Hilldrup.com as simple and easy to use as we do.
---