What to know before you move: Items we can't transport
We're here to help your move go as smoothly as possible and to ensure that your items make it safely to your…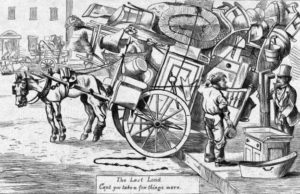 We're here to help your move go as smoothly as possible and to ensure that your items make it safely to your new home. Even though we've moved our share of interesting items such as a 130-year-old grandfather clock, historical pieces for the Ringling Brothers and even a 3,000 year-old sarcophagus, there are certain items that should stay off of our trucks. Most of these non-allowable items cannot be shipped due to safety reasons.
Here are some questions to ask yourself to determine if items should be transported by you during your move:
1.     Will it spoil? Perishable items — frozen foods, produce, refrigerated foods, open foods and plants.
These items can attract pests and are prone to spoiling. If you are moving a short distance you may be able to transport these food items yourself in coolers to your new home. Plants may have a tough time surviving a long-distance move with limited sunlight and no access to water.
2.     Will it explode, catch fire or is it toxic? Hazardous materials — gasoline, fireworks, cleaning solvents, liquid bleach, kerosene, motor oil, propane tanks, lamp oil, lighter fluid, matches, charcoal, household and car batteries, cleaning solvents, ammonia, paint thinner, paints, aerosols, nail polish, nail polish remover, chemistry sets, ammunition, loaded guns and pesticides.
Transporting these materials can also pose a danger to our drivers and to those who are unloading your boxes. Law prohibits transporting these items because they may explode, catch fire or are toxic. You should develop a plan prior to your move to either transport these materials safely yourself or dispose of them properly. Learn more about disposing of these hazardous materials properly here or use earth911.com to find recycling programs in your area.
3.     Can this item be replaced? Will I need this item before all of the boxes are unpacked? Irreplaceable and sentimental items — keys, cell phones, checkbook, currency, insurance policies, jewelry, professional files, deeds/titles, photo albums, financial documents, medical records and medications.
We can transport these items, but we would rather you take them with you. Shipments can be delayed due to unforeseen circumstances, and you'll want to have easy access to these items during your move so you don't have to search through dozens of boxes to find what you need.
If you have questions about specific items and whether or not they can be transported by us, please contact your move coordinator before your move.
---