One Last Stop: Joe and Sue Dean's Retirement Luncheon
Saying goodbye is never easy and for Joe and Sue Dean, it's bittersweet. But that's only natural when your commitment to a…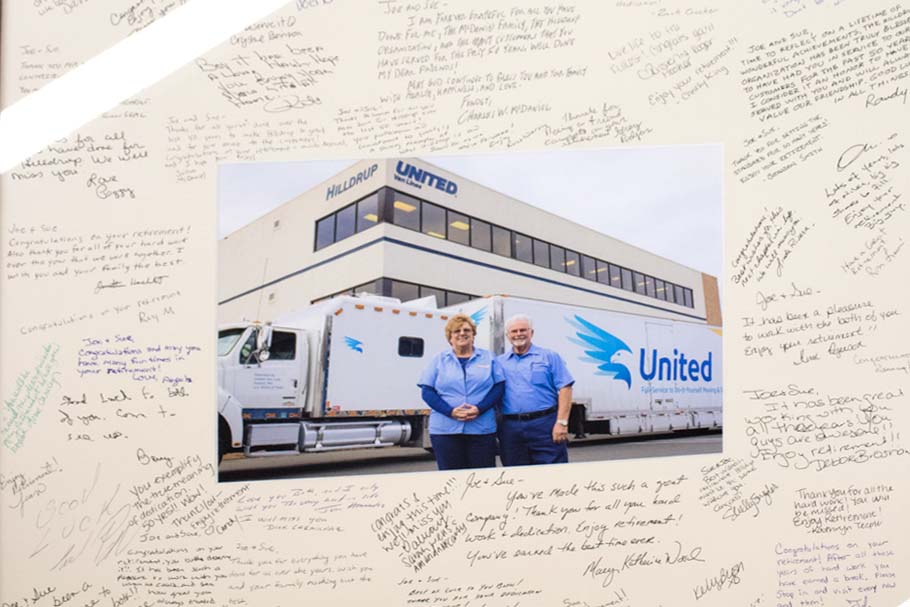 Saying goodbye is never easy and for Joe and Sue Dean, it's bittersweet. But that's only natural when your commitment to a business and truly, a home away from home, has been part of your life for the past half-century. The husband-and-wife team, Joe as a Van Operator and Sue who has assisted him on the road and with inventory, recently retired after an unprecedented 50 years of service with Hilldrup.
We celebrated Joe and Sue's retirement with a catered luncheon held at Hilldrup where they enjoyed lunch provided by Vinny's Italian Grill, a congratulatory cake, a framed photo of their truck signed by Stafford employees and an achievement award presented by Hilldrup President and CEO, Charles W. McDaniel. Oh, and let's not forget: a cruise of their choice, worth up to $2,500, to enjoy – well deserved!
With friends, family and of course, co-workers past and present in attendance, Joe and Sue were honored for their commitment, service to those we move and for truly leaving their mark on Hilldrup.
"Joe and Sue are the epitome of what Hilldrup stands for," said Charles W. McDaniel. "Their commitment to our team, to each other and to those we serve is unparalleled. We wish them the very best in their retirement and thank them for all that they've done for the Hilldrup organization."
Congratulations Joe and Sue on a wonderful career and journey. From everyone at Hilldrup, you will both be truly missed!  
Want to know more about Joe and Sue? Read more or watch their interview with Hilldrup on YouTube!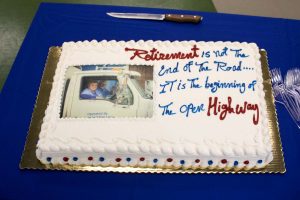 Joe and Sue Dean enjoyed a luncheon catered by Vinny's Italian Grill and a personalized cake to celebrate their 50 years of service to Hilldrup.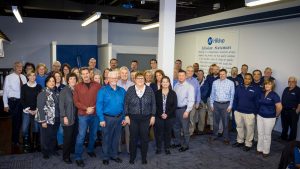 Joe and Sue Dean (center) enjoy their retirement luncheon surrounded by family and Hilldrup employees both past and present.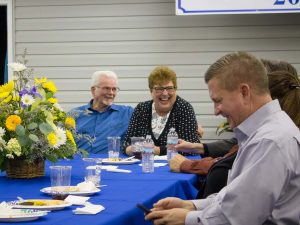 Joe and Sue Dean laugh with guests while sharing stories about their years on the road with Hilldrup.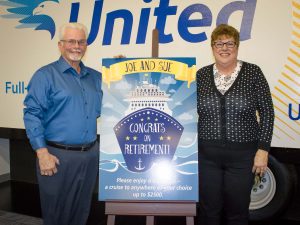 Joe and Sue were awarded a cruise of their choice during their retirement luncheon – enjoy!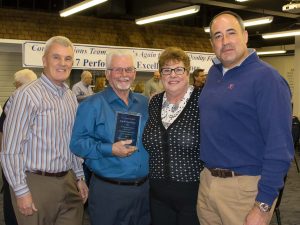 Joe and Sue Dean are pictured with Randy Rantz, Senior Vice President of Operations (left), and Charles W. McDaniel, President and CEO of Hilldrup (right), after being presented with their achievement award.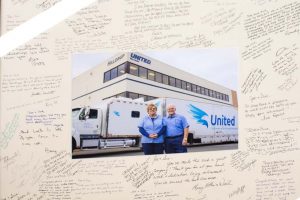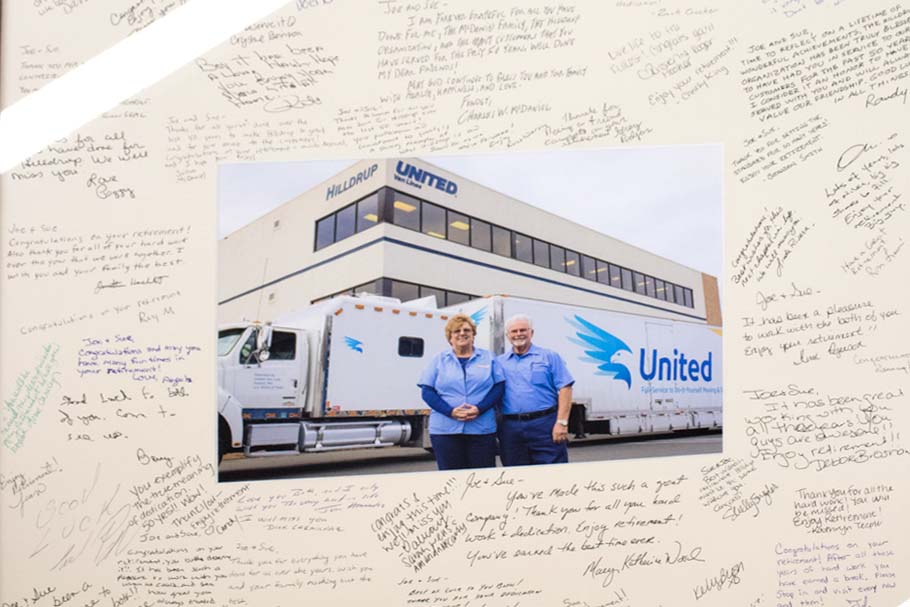 A personalized photo of Joe and Sue with their truck at the Stafford branch was signed by employees.
---