Peggy Crocker, Manager, Domestic Billing, Retires From Hilldrup
In 1976, a young woman just shy of graduating high school was looking for part-time work and applied to be the Receptionist…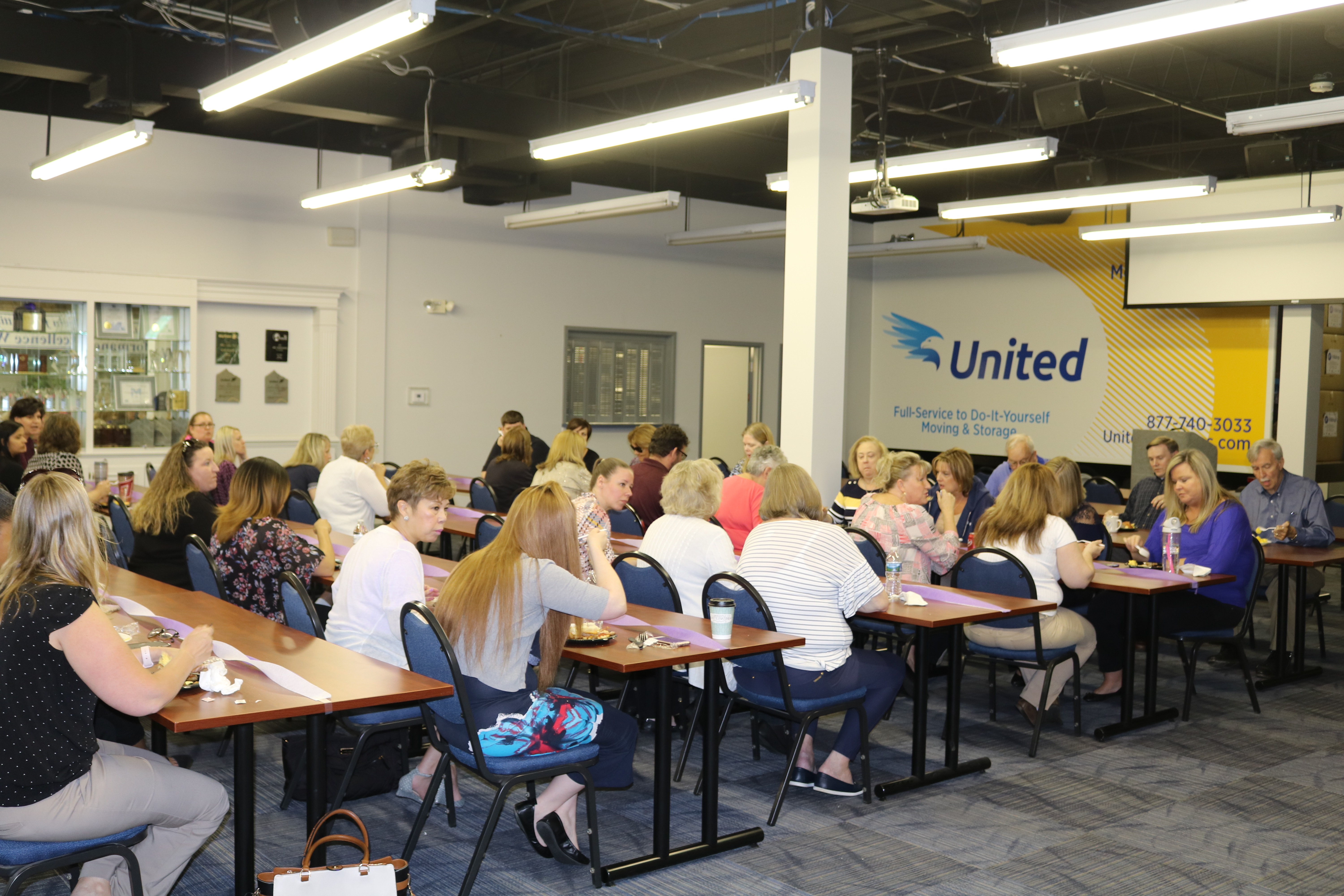 In 1976, a young woman just shy of graduating high school was looking for part-time work and applied to be the Receptionist at Hilldrup's Fredericksburg location. There, she would work next to the office of Hilldrup patriarch, C.B. McDaniel, and learn the ins and outs of the moving and storage business. Now, after the expansion of nine additional Hilldrup branches, two children and one grandson later, Peggy Crocker is parting with a heartfelt farewell to Hilldrup.
"I'm very passionate about Hilldrup," said Peggy, who serves as Manager, Domestic Billing, for Hilldrup's corporate headquarters in Stafford, VA. And there's no doubt about it. Peggy took a short break during her career with Hilldrup to raise her son, but before and ever since, Peggy has tirelessly served the Hilldrup organization and its customers. Peggy worked in Operations and Loss Prevention and Safety before working in Hilldrup's Billing department where she was promoted to Supervisor and later, Manager.
"We always have to take the time to not only get orders billed quickly, but accurately. A lot of accounts have specific billing requirements," explained Peggy on the importance of billing's role to our customers. "Each of us here are in the customer service business. We're not part of a huge corporation where the individual's goal is to bring home a million dollar paycheck every two weeks; we're here to help people navigate a time in their lives that can be very stressful – emotional, in fact."
And as stressful as tight payment deadlines can be, Peggy knows that she can rely on and trust her team.
"They're my favorite part of working here. Hilldrup's Revenue Analysts – they're the reason I can do my job," she explained. "Each of them are so dedicated, they know and live out Hilldrup's Mission, Vision and Values, and they go out of their way each day to make sure that everything they're processing is correct and completed."
The trust and confidence Peggy has for her team is almost like family. Which isn't too far of a stretch across our corporate headquarters! Both of Peggy's adult children work at Hilldrup: Chrissy Gregath, Manager, Customer Service and Zack Crocker, Administrative Assistant, International, in addition to a niece, Carrie Chewning, Sr. Billing and Revenue Analyst, and cousin, Carolyn Cunningham, Billing Supervisor. It's this love and commitment to family that inspired Peggy to take the leap of faith and retire.
"The older you get the more you realize the important things – spending time with your family and enjoying your grandkids. I'm looking forward to taking it easy – maybe I'll go fishing too!" she said with a laugh.
So what's her advice to future Hilldrup employees? "My advice is the same advice I gave to my children and family when they started: always do your best. Do your best whether your job is sweeping the floor, loading the trucks or supervising a staff of 25 people. Put your heart in it and just give whatever it is that you're doing your honest best."
Thank you for always giving us your best Peggy – we appreciate the dedication, leadership and friendship you've shown to us all at Hilldrup. We wish you the very best for a relaxing, well-deserved retirement!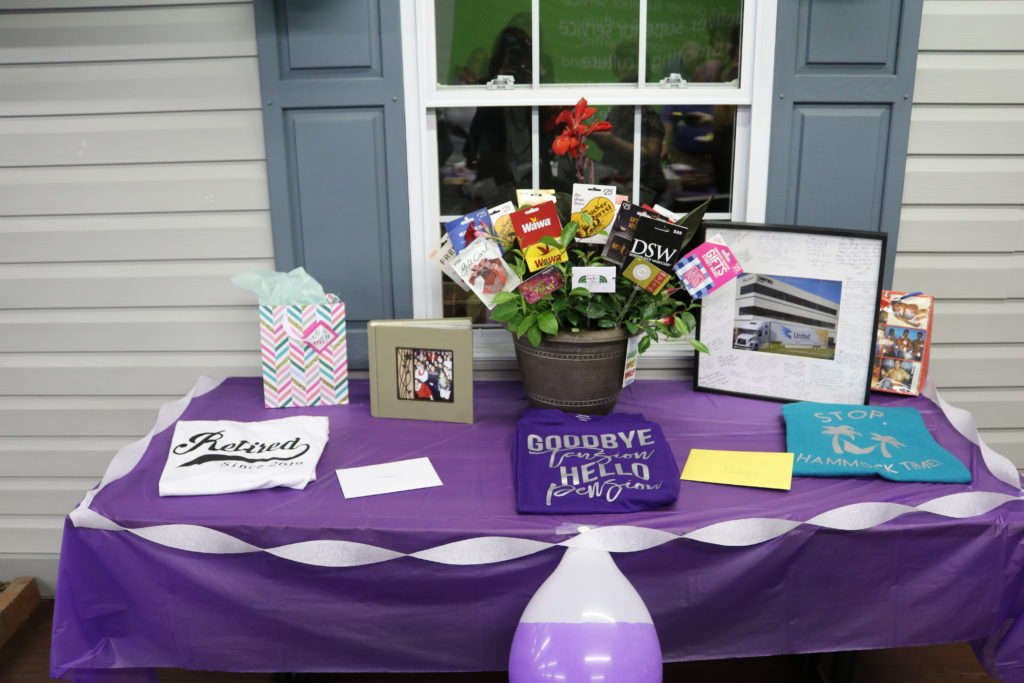 "Goodbye tension, hello pension!" Peggy's retirement gift table was full of fun, thoughtful gifts from her team to thank her for her friendship, leadership and years of service to our organization.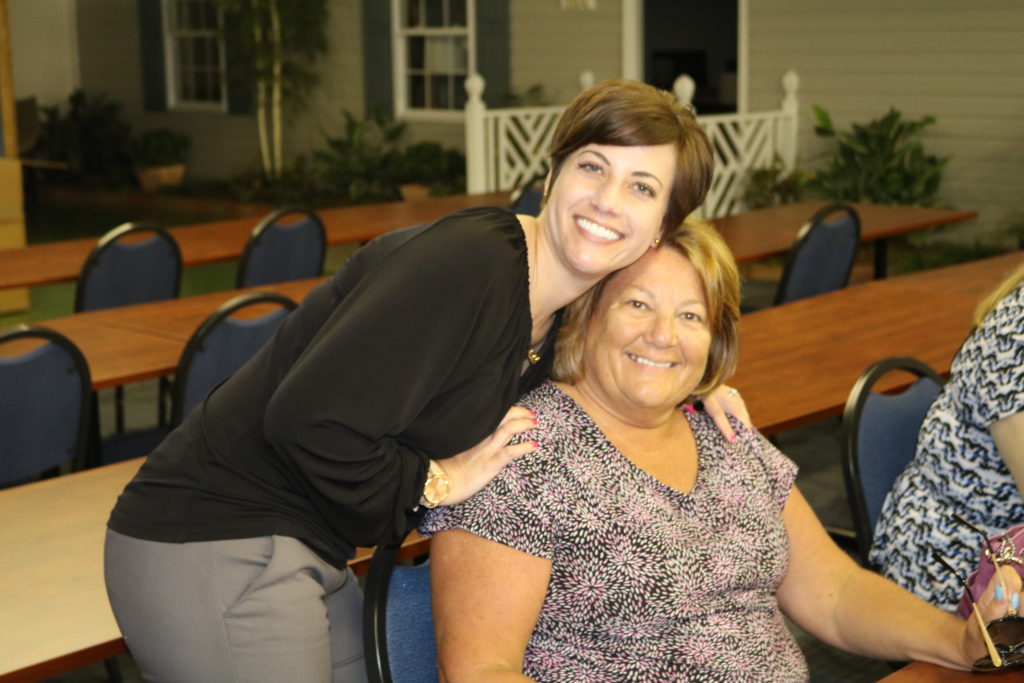 Chrissy Gregath, Manager, Customer Service, hugs Peggy, her mom, during the retirement celebration party for Peggy at Hilldrup's corporate headquarters in Stafford.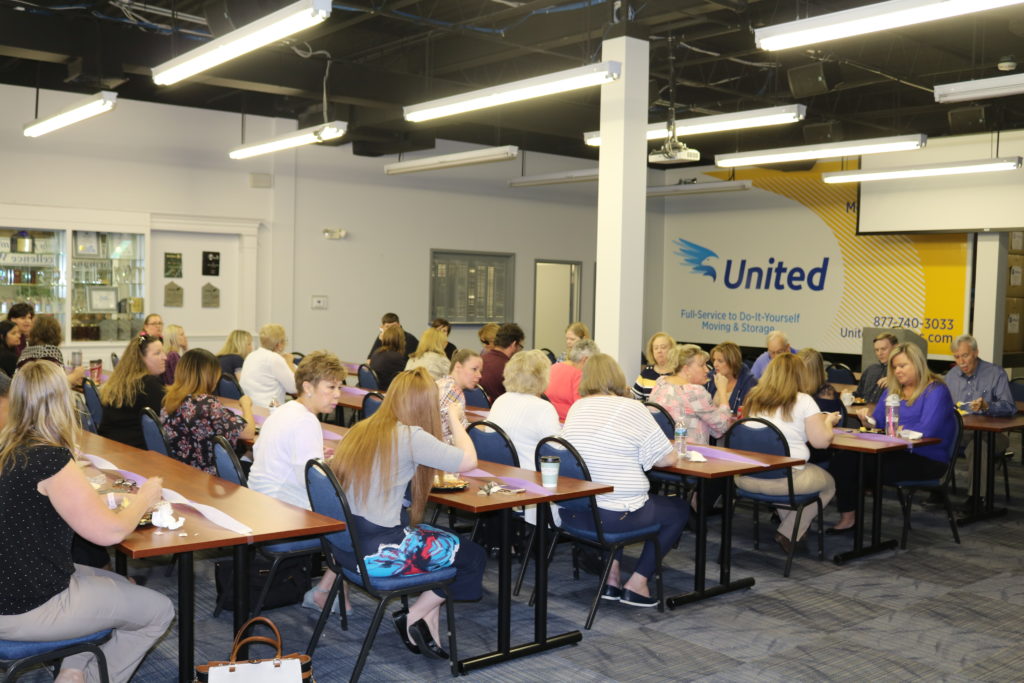 Peggy's friends, coworkers, managers and family join her for a catered brunch within Hilldrup's training center to enjoy while sharing stories and memories of her time at Hilldrup.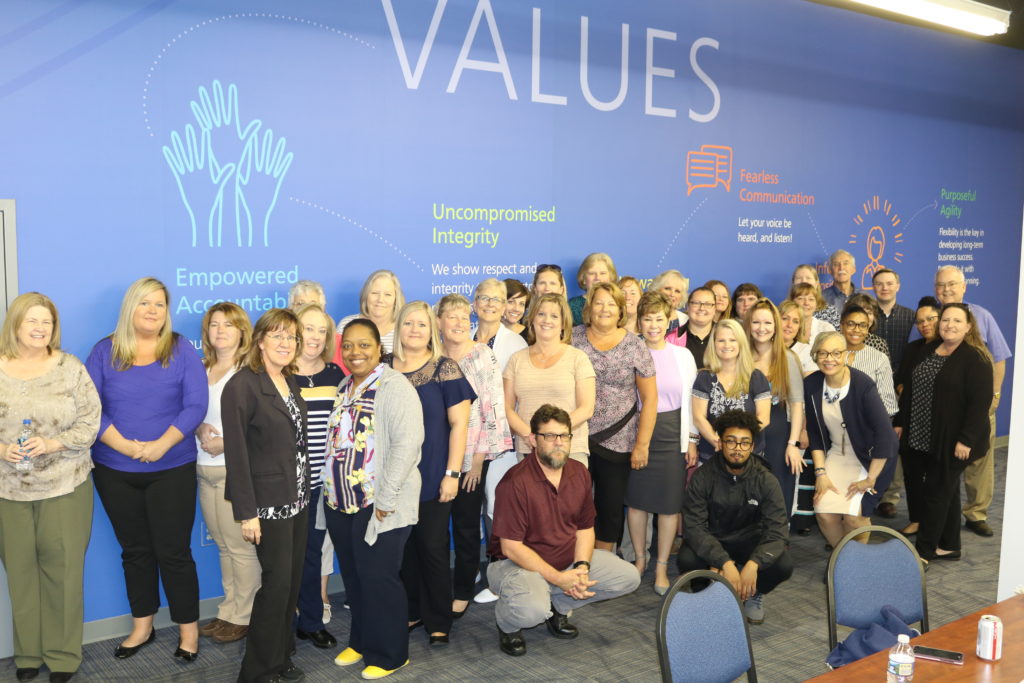 From all of us at Hilldrup, thank you Peggy for your unwavering commitment to our organization! We appreciate the hard work, supportive leadership and friendship you've given us over the years. We hope you enjoy your well-deserved retirement!
---