Preparation for Demolition: Disassembling UVA's University Hall
While maybe not as iconic as the Rotunda, University Hall (more commonly known as U-Hall) has been one of the more recognizable buildings…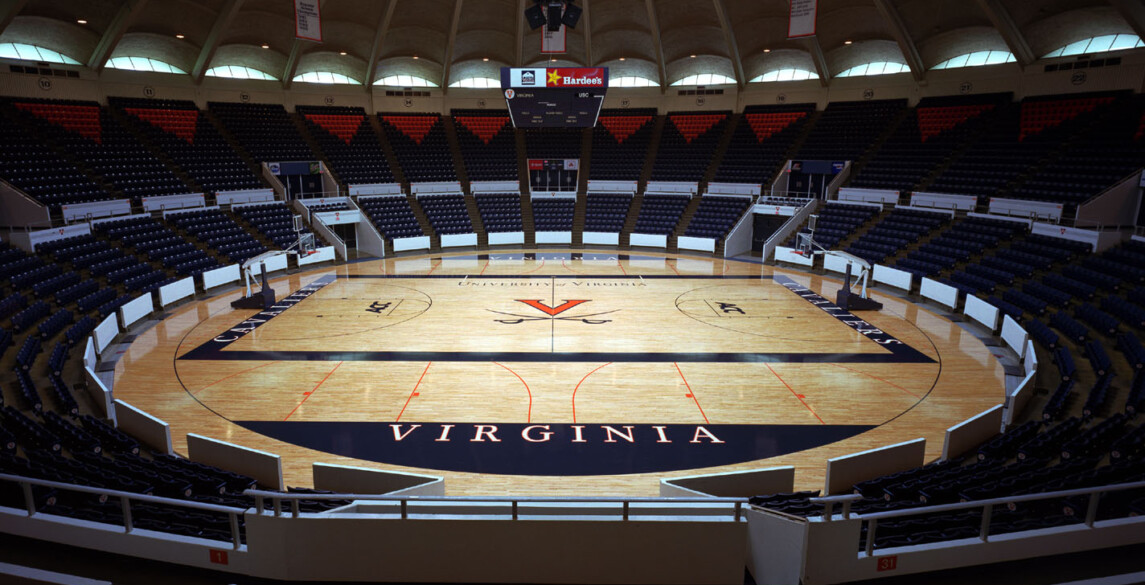 While maybe not as iconic as the Rotunda, University Hall (more commonly known as U-Hall) has been one of the more recognizable buildings on the University of Virginia's campus for generations. Along with Ralph Sampson, the facility was a defining aspect of the men's basketball team in the 1980s. Opened in 1965, U-Hall was the school's main athletics arena until 2006, when it was replaced by the larger, more modern John Paul Jones Arena.
UVA continued to use U-Hall for storage, administrative offices, weight rooms and locker rooms until last year, when the school decided to demolish the facility to make way for additional outdoor practice fields.
And that's where Hilldrup came in.
We have a longstanding relationship with UVA, routinely helping with high-profile relocations, commercial moves (ask us about handling blood samples from the 1800s for the hospital) and transporting the football team's equipment for all away games.
Like any move we're a part of, we started by meeting with their team, led by Jason Bauman, associate athletics director of facilities and operations. Ahead of the demolition, slated for later this year, the school wanted to remove and preserve as much of U-Hall as it could.
"Once I knew we would be vacating our buildings and moving into temporary facilities, one of my first calls was to Hilldrup," said Bauman.
Arguably, the most recognizable piece of U-Hall is the basketball court. Like many hardwood basketball courts, it is transportable – made up of interlocking panels. Our team carefully packaged and shipped the court to one of UVA's nearby storage facilities. The seats, collectables (e.g., framed photos, old video tapes) and other equipment like wrestling mats were transported to Hilldrup's Richmond climate-controlled storage facility.
Other items in U-Hall that needed special handling included the weight rooms used by many of the Olympic-sport teams. As you might suspect, weight rooms aren't the simplest things to move. Aside from being immensely heavy, the equipment needed to be safely broken down and carefully packaged to avoid any possible harm to the move team or other items.
As mentioned before, U-Hall had housed a number of administrative offices and locker rooms for the athletics department. Temporary structures were set up in nearby parking lots, where much of the furniture and equipment still being used was relocated by the Hilldrup crew onsite.
One of the issues behind the decision to demolish U-Hall was the asbestos used in its original construction. Like most buildings from that era, asbestos was heavily applied as insulation. Asbestos abatement can be extremely costly and is necessary even when a building is to be torn down. However, in order to meet the university's targeted demolition date, both the relocation and abatement needed to occur simultaneously. Our team coordinated with the remediator to ensure that neither team's work was impacted or delayed by the others.
"Hilldrup has been a terrific partner throughout the process," added Bauman. "The staff has been communicative, worked on our schedule for walk-throughs to develop detailed plans, and executed the moves efficiently. Hilldrup was responsive to our needs, cost effective, and super flexible. We would not have accomplished this big job without Hilldrup's experience and willingness to address the complexities of this project. We had a true partner to deliver a successful project."
It's never easy to say goodbye to a place with so many treasured memories as U-Hall, but with Hilldrup's help, UVA can preserve and relocate many of the relics and old equipment to help U-Hall's legacy continue on long after its demolition later this year.
---