Raleigh, NC City Profile
Raleigh is a wonderful city and community for families and businesses alike. We break down what to know about the city here!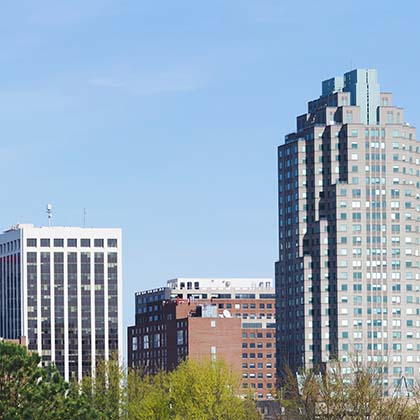 Raleigh, NC routinely makes the list of best places to live and work. This should be no surprise to anyone familiar with the area. It boasts a wide variety of neighborhoods, amenities and business opportunities. Here's an overview of the Raleigh area's residential moving, business and commercial real estate trends that are driving the city's popularity.
Raleigh Overview
Raleigh and its surrounding area are commonly known as the Research Triangle, or simply, the Triangle. The Triangle represents the metropolitan area between Raleigh, Durham and Chapel Hill. Each of these cities is home to several Tier 1 research universities – North Carolina State University, Duke University and UNC-Chapel Hill, respectively. Since the 1950s, the area has established a strong international reputation for being a great place for tech students, workers and companies alike.
Residential Trends in Raleigh, NC
Who's moving to Raleigh and why?
A quick search of "best places to live" will turn up more than a few lists that include Raleigh. In fact, U.S News & World Report recently named Raleigh-Durham as the second best place to live in the United States. Earlier this year, it was reported 5,000 people were moving to the Triangle each month.
The region has a unique mix of big city offerings and idyllic small-town charm thanks to several local communities like Chapel Hill. Further, the state of North Carolina does not tax social security benefits, nor does the state have an inheritance or estate tax, all of which are appealing benefits for those moving to the area.
Despite its reputation as a premier tech city, Raleigh doesn't have an exorbitantly high cost of living like other areas such as San Francisco or Seattle. This is a significant draw for people who want to work for world-class research and tech businesses while also enjoying a calmer metropolitan area with lower housing costs.
The area also is a popular city for those who've retired from the workforce. According to SmartAsset, Raleigh was listed as one of the top-10 cities where people are retiring. The Raleigh-Durham area is a wonderful place for young families to flourish too, with a diverse mix of neighborhoods to accommodate any family style.
Raleigh Business Trends
In addition to being one of the best places to live, North Carolina recently was named the second best state to do business by CNBC. Some of the factors that drove this distinction include a strong pool of skilled workers, business-friendly state legislators and a strong state economy.
As noted earlier, the area is often called the Research Triangle, drawing its name from Research Triangle Park (RTP), an office and laboratory development park that's home to more than 250 companies and 50,000 employees. Originally founded in 1959, RTP has been the driving force behind the area's reputation as a research and technology destination for some of the world's biggest and most innovative companies. Apple recently announced plans to build its first East Coast campus in the Triangle, which will bring 3,000 jobs and a total investment of more than $1 billion to the city.
Top Industries in Raleigh, NC
The Raleigh area supports a diverse mix of industries, but among those, manufacturing, information technology (IT) and biotechnology are some of the top ones driving the city's job market.
Manufacturing: The Raleigh area is home to the Southeast's largest manufacturing workforce, supported by low state taxes and lower-than-average energy costs.
IT: Pulling from local universities, CBRE named the region as one of the best markets in the country to find talented tech workers. The number of IT jobs in the Triangle has increased 17% since 2013.
Biotechnology: The Triangle has the largest number of bio manufacturing jobs in the country, a sector that has grown 25% since 2010.
Commercial Real Estate Trends in the Research Triangle
Similar to its perks for job seekers, the Raleigh area also has significantly cheaper office space per square foot than other tech cities. The average sale of commercial real estate space in 2020 was $308.70 per square foot, compared to $976.94 in San Francisco and $848.55 in Seattle. Despite rising vacancy rates because of the Covid-19 pandemic, Raleigh's commercial real estate vacancy rates remain relatively low, especially for industrial facilities.
With many businesses considering hybrid or full remote work arrangements, some Raleigh offices are being converted to laboratories. According to The New York Times, more than 20% of new lab spaces in the area are built from former office space. Retrofit projects generally take less time than new construction, but they do present logistical hurdles such as complicated building codes and specialized equipment that need to be accounted for.
Without question, the Raleigh area offers considerable benefits for people of all ages and businesses of all sizes. If you or your business are planning a move to the area, check out our Raleigh-Durham move guide!
---