Randy Rantz, Senior Vice President – Operations, Retires from Hilldrup
After 40 years with Hilldrup and 50 years in the industry, we thank and congratulate Randy Rantz on his well earned retirement.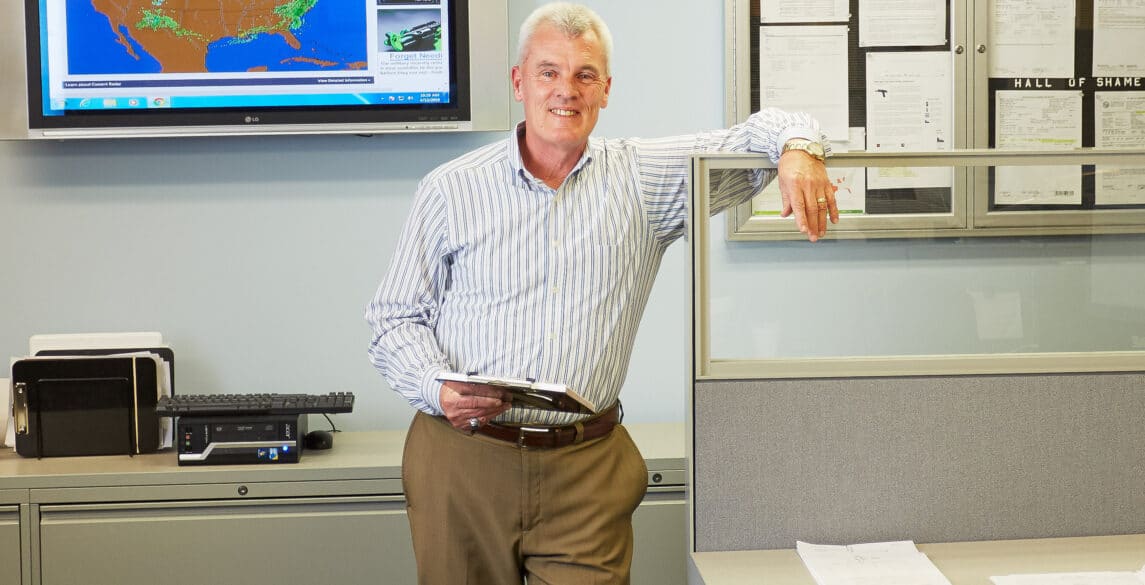 Spend any amount of time talking with Randy Rantz, Senior Vice President – Operations, and you'll immediately see why he has been a pillar of Hilldrup's leadership and operation success for decades. From how he passionately talks about his love for Van Operators and the customers we serve, to how his friendly demeanor greets everyone he comes into contact with both in the office and across our Operations division – Randy simply embodies what Hilldrup is and stands for.
Now, Randy, who has served our organization for nearly four decades, is retiring.
"Randy's commitment to our Operations department, from our Van Operators to our service team members, and to each of our customers and to the greater Hilldrup team – no matter our department or branch – is unmatched," said Charles W. McDaniel, President & CEO, Hilldrup. "It's been an honor to work with Randy and to see his impact, both personally and professionally, propel our organization to truly be the best in the industry."
Recently, we caught up with Randy to talk about his early years at Hilldrup, the most rewarding moments of his career and his plans for how he'll spend summers – the peak months of the year for moving – going forward.
Hilldrup: When did you start working in the industry?
Randy Rantz: April of 1972 – I went to work for an independent [moving company] – Zenith Van and Storage – out of Springfield, VA, and I very quickly started driving after about six months. I drove for them for 12 years. I started out locally and regionally and then did interstate on the East Coast. I was a company driver, I was never a contractor. We were independent, we didn't have a van line affiliation, and we did a lot of military.
H: When did you start working at Hilldrup? Do you remember the various positions you have held throughout the years?
RR: May 14, 1984 – I remember it like it was yesterday. That's when I met Charles [W. McDaniel] – he was getting ready to get out of college for the summer. He was a pistol. We hit it off from the start and the rest was history.
When I was hired, I was hired by Lester Mabe as a Quality Control Assistant and I worked for Lester for 2.5-3 years. Then Barry [Dodson, former Chief Financial Officer of Hilldrup] and several others saw some talent and thought I should be doing more so I became Local Dispatcher. I did that for 2-3 years then I became Local Operations Manager and did that for a few years. Then I moved to Long Distance Operations Manager because I needed to learn the hauling side of things. I stayed there because that's my passion – I love drivers and customers. I was promoted to VP of Operations several years later, then SVP of Ops and that's where I am now.
I've done well because I got with the right organization. Hilldrup recognizes talent. I never had to ask for a promotion – I took it. We treat everyone that way. It's been a good ride – a lot of the guys in our upper management now, I remember when they came to work and I helped mentor them.
H: What will you miss most about working at Hilldrup?
RR: I think just the interactions with the team. I've always enjoyed working obviously closely with the Ops team and the branches and enjoy working with our sales staff. I'll miss the camaraderie and the people and the challenges that this industry has always brought me.
H: What were the most rewarding parts of your career?
RR: The absolute most rewarding parts of my career were watching and mentoring both people inside Operations and most importantly the wonderful Van Operators that I've been associated with. The absolute most rewarding times for me were the times when I could get up on stage and share the honor with the Van Operators who were named Van Operators of the Year (at UniGroup).
I've talked to every Van Operator here over the last 4 weeks and each call was 20-30 minutes long because they're going to miss me and I'll miss them. So many of those guys came to drive and work for Hilldrup when they were young men. Now they're in the fourth quarter of their careers but it's cool to see them be successful and to give them the tools to become successful businessmen. There were a few who didn't make it or who I failed with but it's been special to be part of the growth. They're all good people.
H: What do you think makes Hilldrup different compared to other moving companies?
RR: For me, without a doubt, it's the family atmosphere and camaraderie. I've been in and around many moving companies and some are just labor camps – it's not a fun place. The number one thing different for me is the family atmosphere – it goes back to Charles G. McDaniel and now Charles W. McDaniel. They perpetuate that feeling of family – we care about each other, we hate it when people get sick, we mourn when people pass, etc. That's a great atmosphere to be in and what goes along with that is the quality culture we have as a company. We strive to be the best, and in our minds we are the best. We stumble and we make mistakes but it always comes back to hard work and dedication. We're always trying to make a difference for the customers and the other people we work with, as well as to our fellow agents and the van line.
The third piece that differentiates us is the absolute chance that every individual who walks through the doors of the company has a chance to succeed and be who they want to be. All it takes is work ethic. I learned it from the guys who mentored me here. We've been good at recognizing talent, moving them up, giving them a chance, picking them up when they fall down.
I had guys working on the trucks in college [John Seal, John Warlick, George Roth and others] who are now the leadership in the company. That in itself is a testament to what's available to somebody if they want a career and they want to work hard and they want to be diligent and they have a good work ethic – it's here for the taking. In a lot of places, it's not like that. In others places, if you're not family/not kin, you won't go places – that's not true at Hilldrup. At Hilldrup, we know we won't be owners but everything else is fair game.
H: If you had to give one piece of advice to someone who is just now joining the industry, what would you tell them?
RR: I would say be prepared to put in the hours and work hard. But at the same time, work smart and always, always embrace change. Don't try to go against change because most change is good. It's scary but it's good. I think the companies that I've seen in the moving industry that have been able to maintain their success through the last decade have been the ones that have embraced the change and just rolled with it.
H: What is the biggest change you've seen in the industry (and at Hilldrup) since you started?
RR: I think for me it's the overall operating costs – the cost of trucks, the cost of equipment, the cost of insurance. Just how difficult it is with those costs continuing to rise and trying to keep pace with our pricing.
The next biggest change that has turned things around is technology. What's happened with technology, we're far from tapping it all the way, but even with what social media has done on the marketing side – every piece of technology – it's all change for the good.
The actual work, I've been doing this for 50 years – moving furniture and taking care of customers hasn't changed one bit. You need a good crew, you need to be able to pack boxes, load tiers in a trailer, drive safe, pad furniture, deliver it and do the reverse process. None of that has ever changed and none of that ever will.
H: What are your plans for retirement?
RR: That's a pretty simple concept for me – I haven't had a summer off since I was 17 years old and that was 50 years ago. I'm looking forward to my first summer off in 5 decades. I'm looking forward to getting up in the morning with nowhere to go and all day to get there. There's a whole lot of asphalt that my Harley Davidson tires haven't touched yet, a whole lot of fish I haven't caught in Virginia and a whole lot of sandy beaches I haven't yet walked on.
First and foremost and primarily, I'm going to give time back to my family. I've never neglected my family or had one bit of regret about working late in summers or in evenings because it's provided me with financial means to take care of my family and now that my family has grown to include grandkids, I want to give time back to them. My two oldest grandsons are doing travel baseball and I want to see those tournaments. I want to live life.
H: Anything else we didn't talk about?
RR: This summer was a challenge, but I've never backed down from a challenge. That not at all why I'm retiring.
I have a great amount of respect for this company and a lot of warm feelings about the opportunity – I mean when I walked through these doors in May of 1984, I had no idea what it'd turn into. I took a $175 cut in pay to come work at Hilldrup, but in the back of my mind I thought, there's an opportunity here. I truly was able to learn the moving business when I came to work at Hilldrup. I knew how to pack, load and drive [from Zenith] but we didn't do any SIT, national account work, O&I work – we were just an interstate East Coast moving company – a little small independent. So I just feel very honored to be given that opportunity and I feel like I made the most of it.
On behalf of all of us at Hilldrup, congratulations on your retirement, Randy! We appreciate all that you've done for our organization, our customers, our van line, our industry and for so many of us personally. We wish you a relaxing and well-deserved retirement!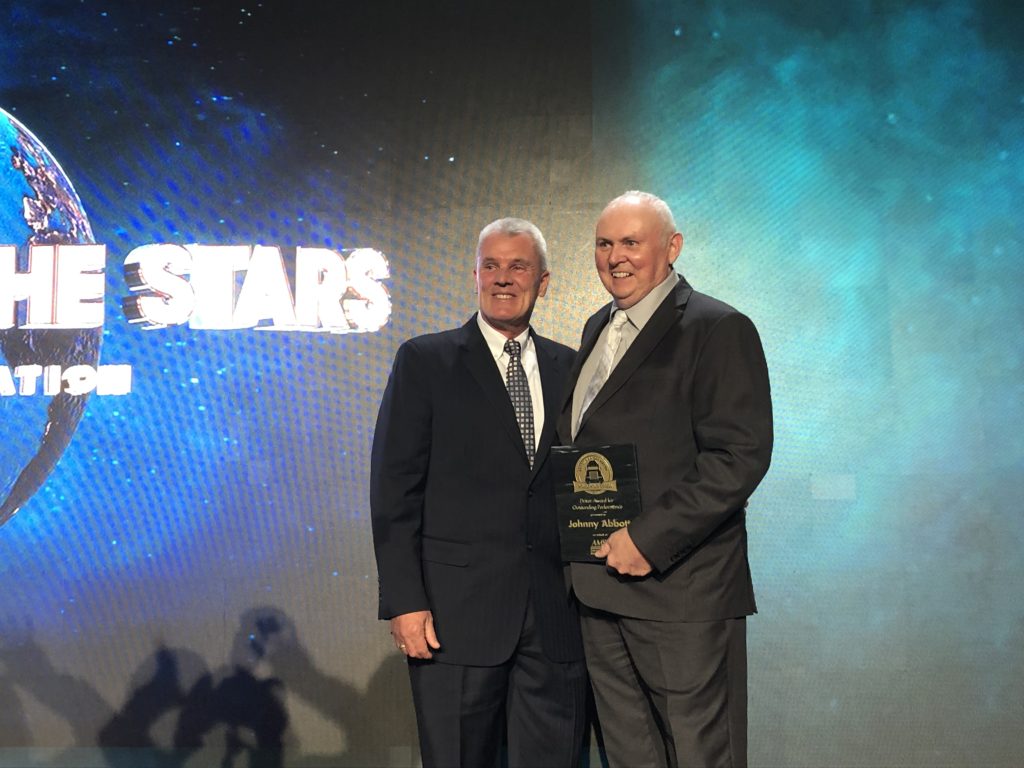 Randy Rantz's support of Hilldrup's Van Operators, whether traveling on the road or being recognized on the national stage, has been a big part of Randy's personal and professional commitment to our organization and our dedicated Van Operators. Above, Randy (left) joins the American Moving and Storage Association's Super Van Operator of the Year and Hilldrup Van Operator, Johnny Abbott, in 2019.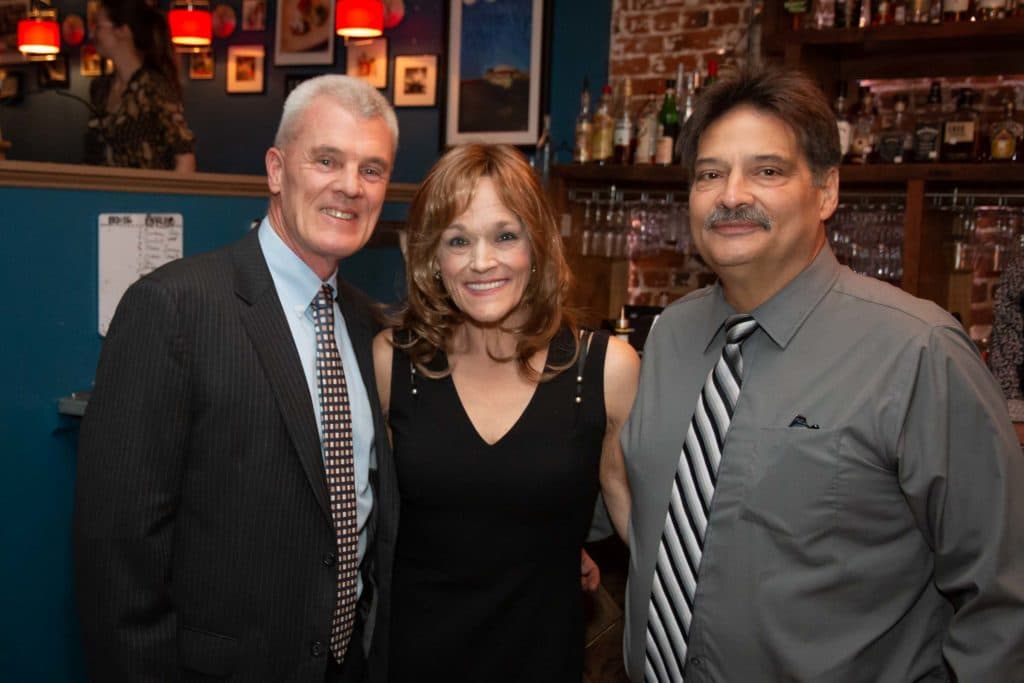 Randy's appreciation of Hilldrup's Van Operators always extended to their spouse and family at home as well, fully understanding the sacrifices they make while their loved one is driving and serving our customers across the country. Above, Randy joined Marie Poole, and her husband, William "Billy" Poole, who was honored as Hilldrup's Van Operator of the Year and Mayflower's Van Operator of the Year in 2020.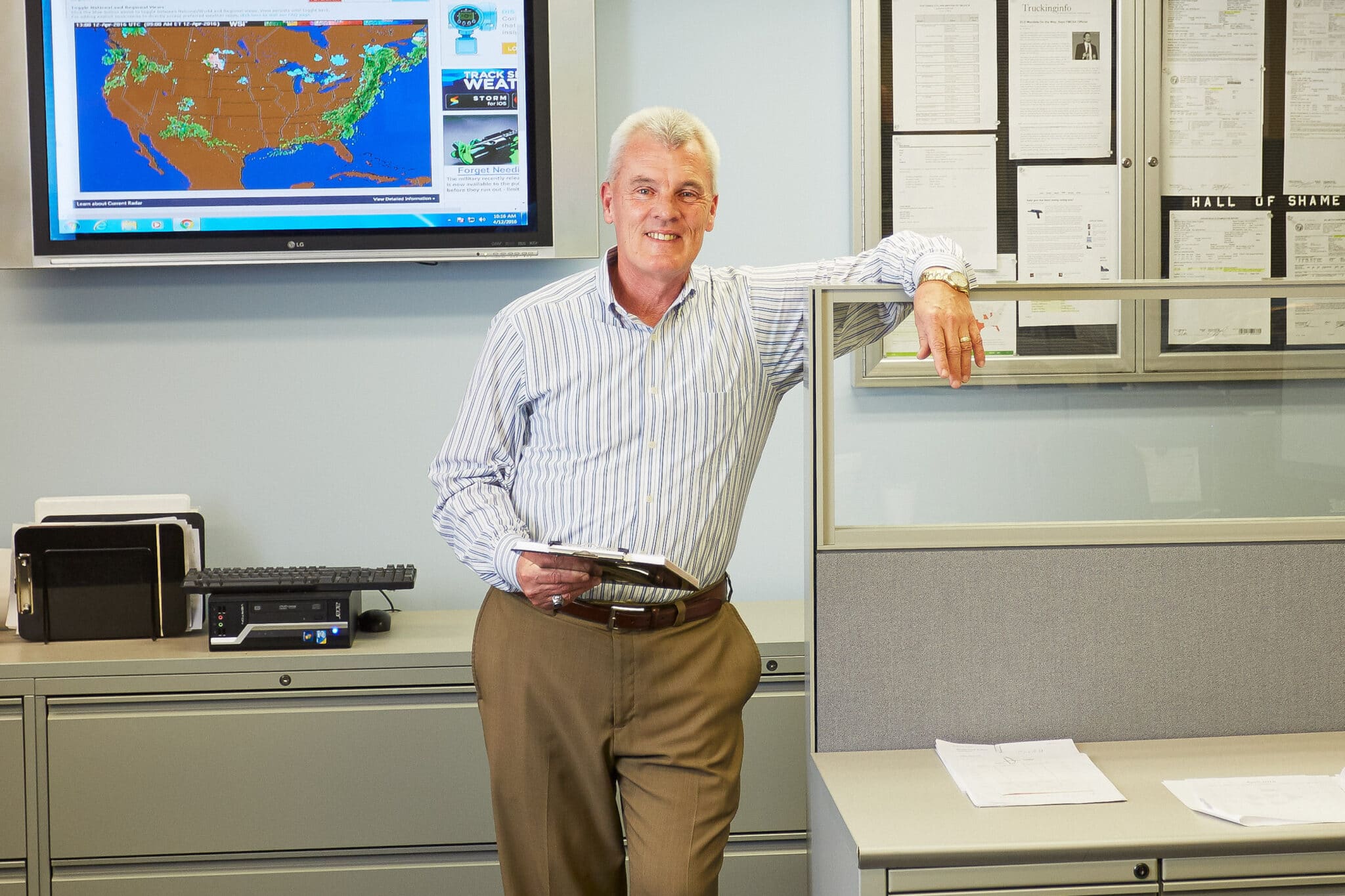 Whether around the office and in Dispatch, or in our warehouses and maintenance garage, Randy's impact and commitment to our organization is felt throughout. Congratulations on an outstanding career, Randy – we wish you all the best in retirement!
---