Sponsoring the UVA vs. Syracuse Basketball Game
Hilldrup was excited to sponsor the UVA vs. Syracuse game and witness Tony Bennett make history as Virginia's all-time winningest coach.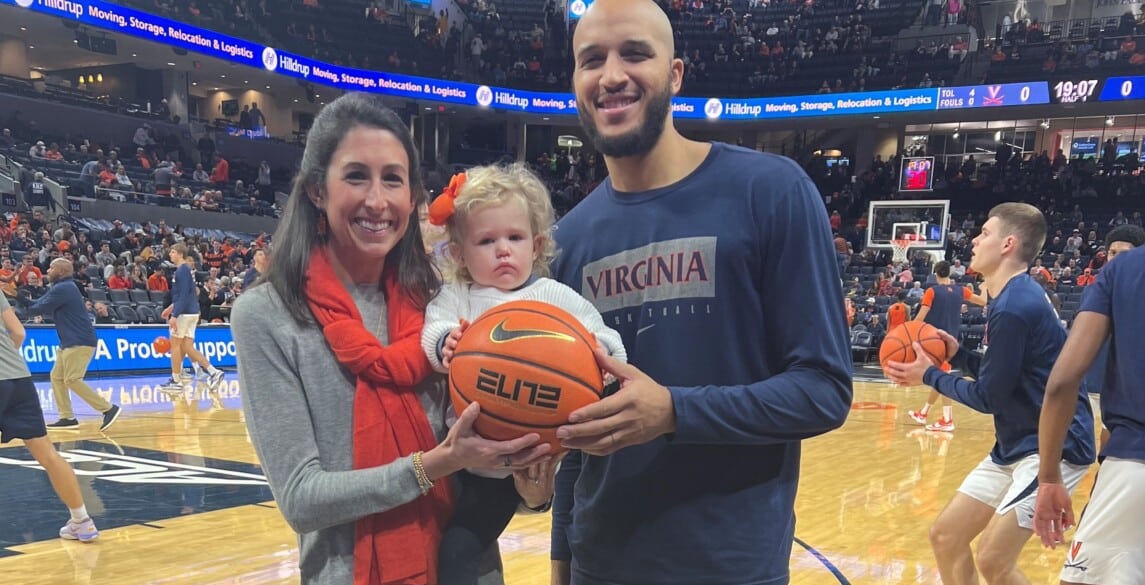 On January 7, several Hilldrup employees along with their friends and families were in attendance for the University of Virginia's men's basketball game against Syracuse, which was sponsored by Hilldrup. We have been a proud supporter of the University of Virginia (UVA) Athletics for decades and were thrilled to be a part of what turned out to be a historic night for UVA Head Coach Tony Bennett.
During the home game at John Paul Arena, the Hoos remained on top in a 73-66 win over their ACC rival, Syracuse. Just as exciting as the winning game was seeing our organization represented on the court and throughout the arena. Hilldrup's logo could be seen on the jumbotron and across the stadium while Jordan McDaniel Hinkebein, Marketing Director, with daughter, Collins, gave the game ball to UVA Graduate Assistant Coach Isaiah Wilkins before the game.
Hilldrup President and CEO, Charles W. McDaniel, participated in a halftime radio interview with UVA as well. Charles graduated from UVA in 1986 and was a team captain and record-setting linebacker for the Cavalier's football team during his collegiate career.
It was an exciting evening specifically in witnessing Coach Tony Bennett become UVA's all-time winningest coach after the win over Syracuse.
"We're proud to be a supporter of UVA Athletics, but we're especially proud to have been in attendance and sponsored the game vs. Syracuse when Tony Bennett officially became the winningest UVA coach," shared Charles W. McDaniel. "The pillars that his team believes in are a true model of leadership and we are so proud to support him and his team."
Congratulations to Coach Tony Bennett and the entire men's basketball team on their win and accomplishments during the evening's game. And thank you to our employees who attended and represented us both on and off the court!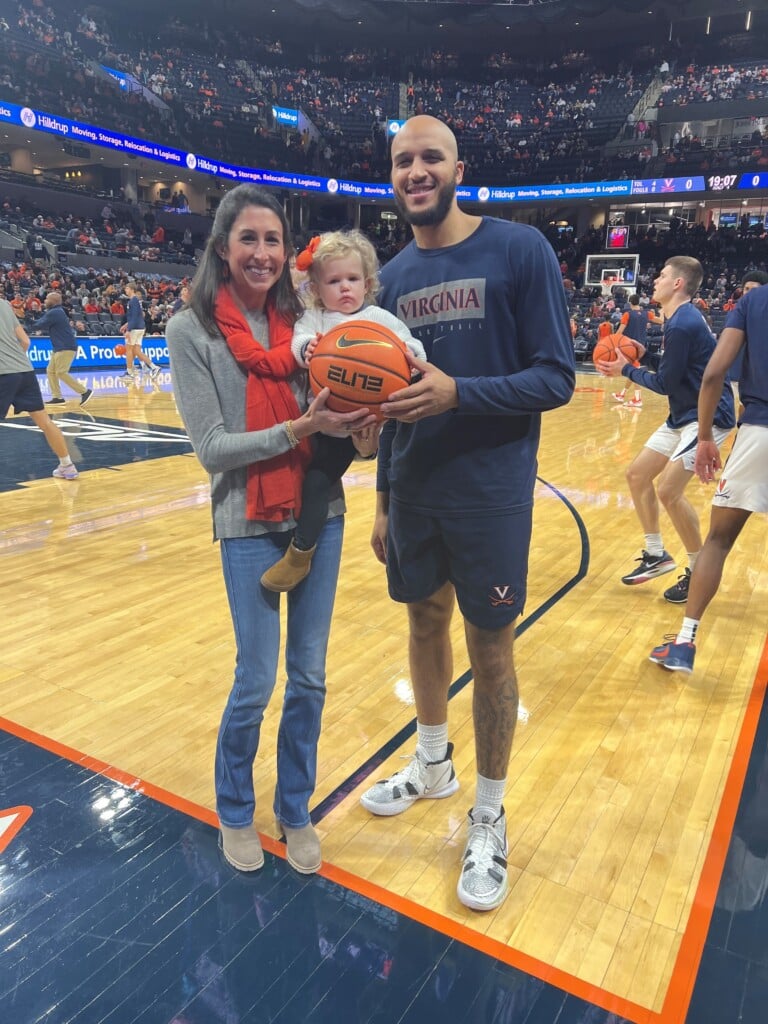 Hilldrup's Jordan McDaniel Hinkebein, and daughter, Collins, present the game ball to UVA Graduate Assistant Coach Isaiah Wilkins.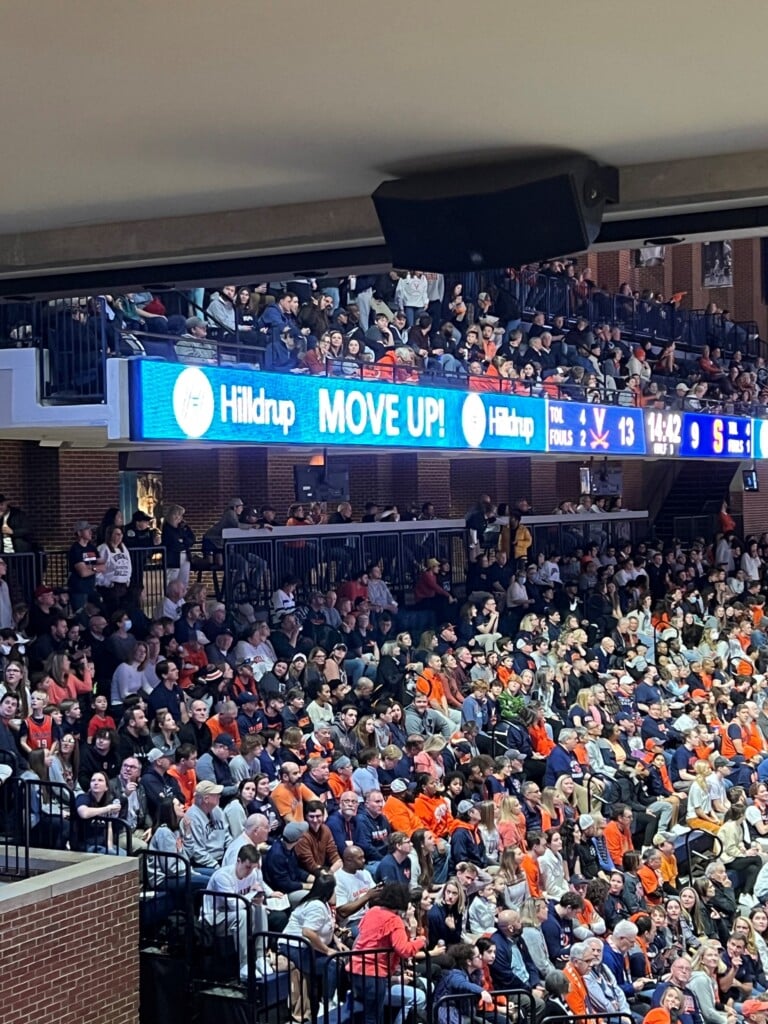 Seeing our name and logo displayed throughout John Paul Jones Arena in Charlottesville was a fun part of Hilldrup's sponsorship of the game!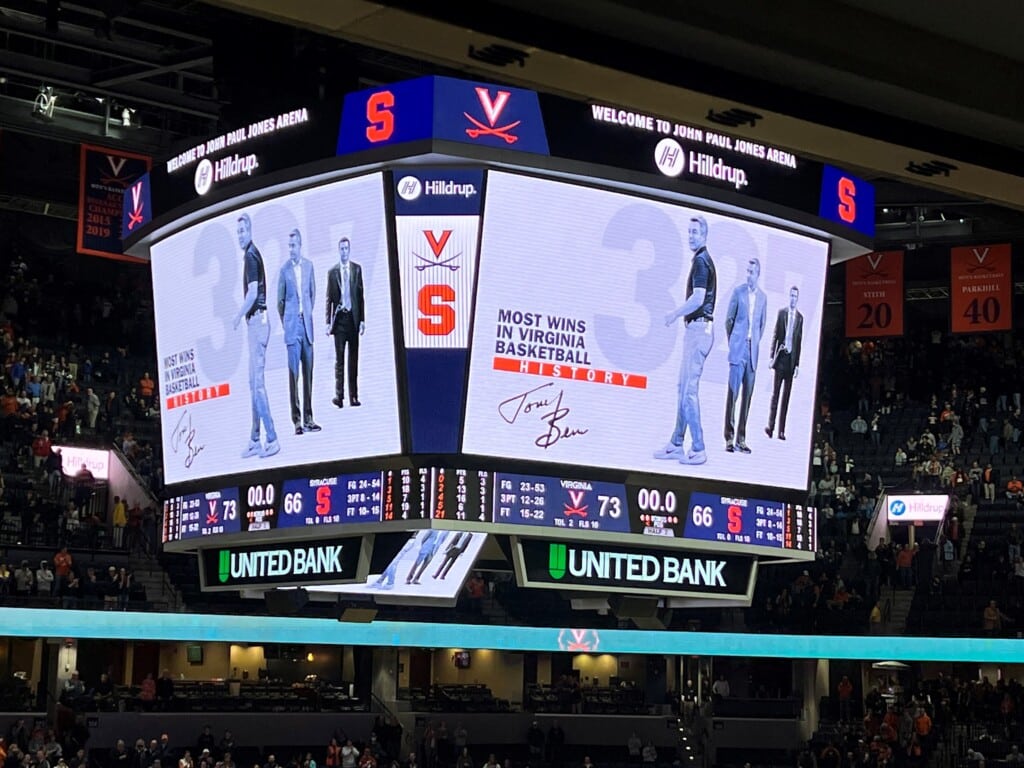 327 – the most wins in Virginia Basketball history thanks to the leadership and dedication of UVA Men's Basketball Coach, Tony Bennett! Witnessing this historic win for Coach Bennett was an incredible way to end the night's win over Syracuse at John Paul Jones Arena.
---