Team Hilldrup Attends UVA vs. Wake Forest Game at Charlottesville
Hilldrup is a proud sponsor of UVA Athletics, and our team had a blast attending and cheering on the team at the football game against Wake Forest.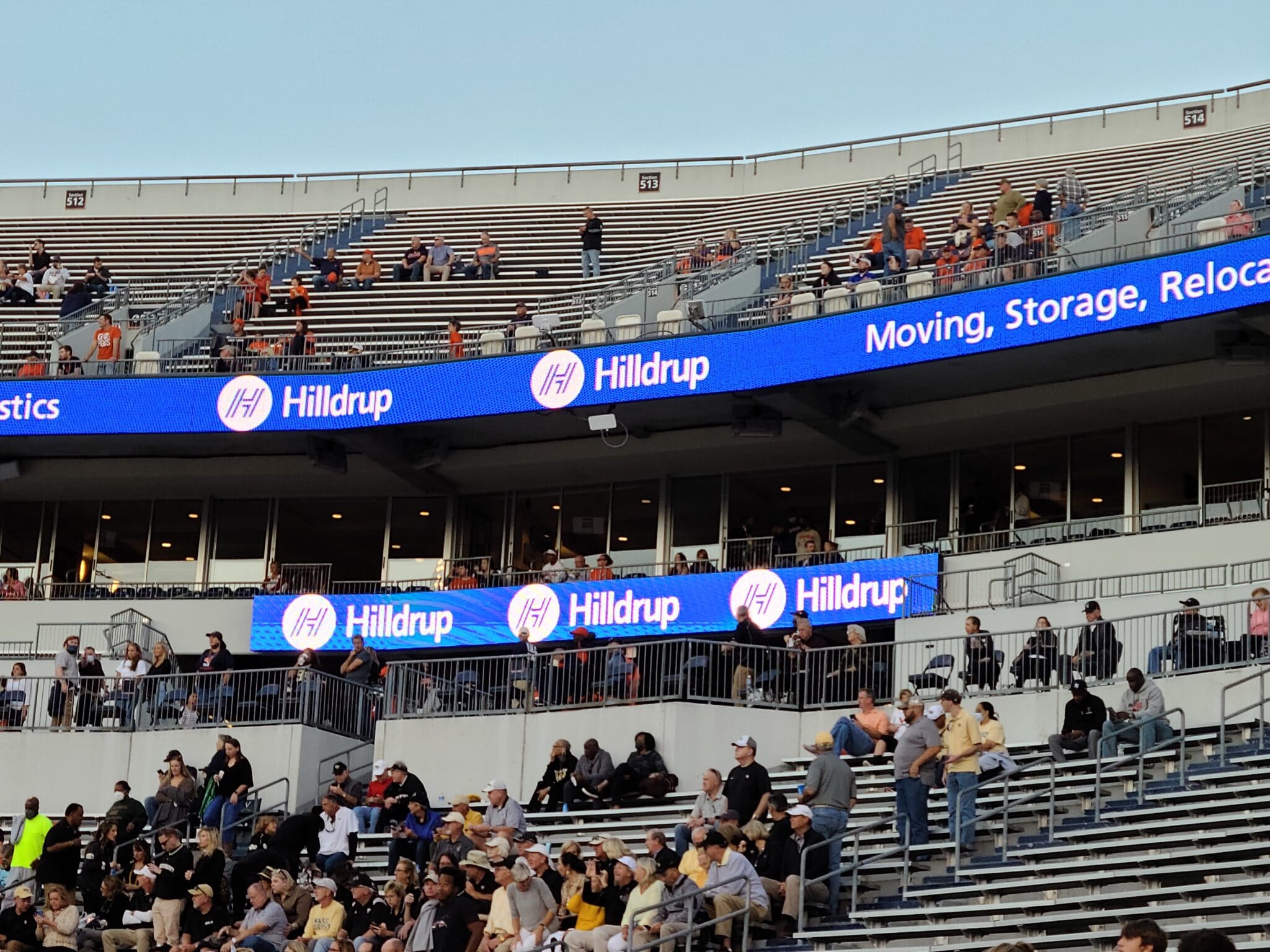 Team Hilldrup was excited to support and cheer on one of our favorite teams – the University of Virginia Cavaliers football team – by attending their September 24th home game against Wake Forest University. Hilldrup is a proud sponsor of University of Virginia Athletics, and we were honored to be the main sponsor of the evening's game. The opportunity to watch the Cavaliers in-person with our family, friends and coworkers was an exciting event for our employees!
The home game in Charlottesville, which took place at Scott Stadium, kicked off at 7PM with a private, pre-game hospitality event and food provided by Moe's BBQ. Team Hilldrup was even able to participate, thanks to our sponsorship of the event – Jason Kibbe, Van Operator, presented the game ball on the field to the referees before the start of the game. Also during the event, Chris Nelson, Van Operator, was on the field to encourage Cavalier fans to answer trivia questions about the equipment truck Hilldrup provides to UVA. In fact, if you haven't seen Hilldrup's custom UVA truck, which helps relocate new coaches to Virginia as well as getting UVA's sports equipment to away games – be sure to check it out here! As part of the trivia game, whoever answered the most questions correctly was entered for a chance to win a prize pack. Congratulations to the night's winner, and thank you to all who participated!
Although the final score isn't what we had hoped it would be by the end of the game, we loved being able to attend an in-person event safely outdoors and to cheer on the Cavaliers. From the excitement and energy of the game, to representing our organization on and off the field – we look forward to attending our next UVA game day together!
Check out photos of the fun below, and go Hoos!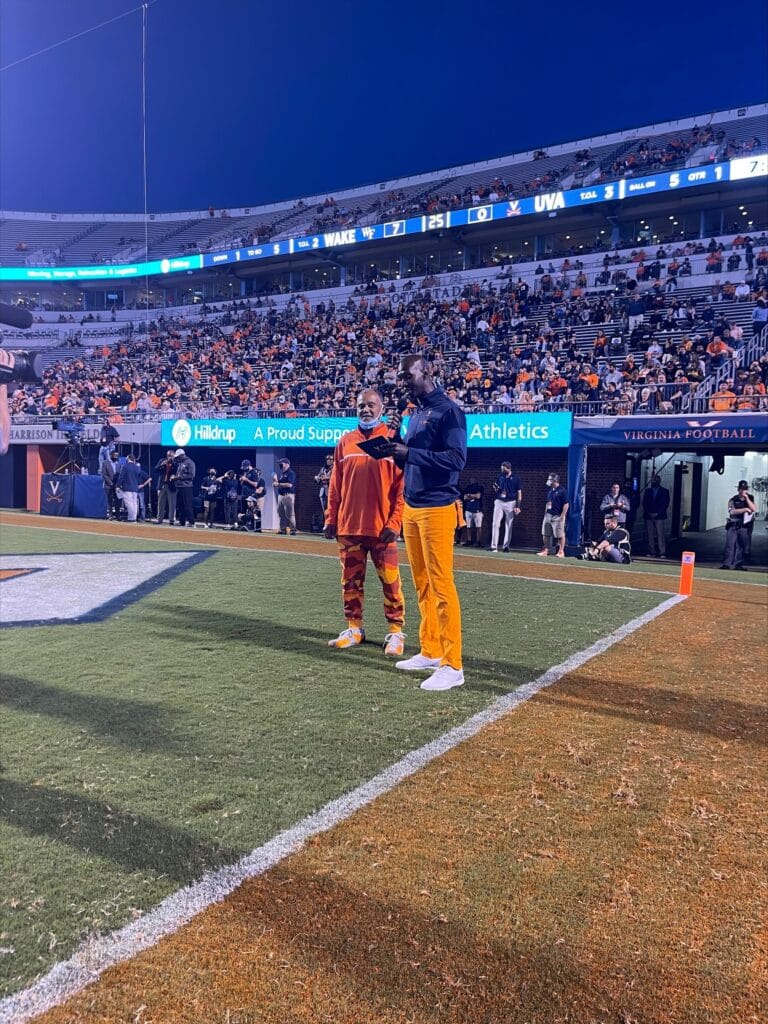 Hilldrup's Chris Nelson, Van Operator, (left) prepares to get the crowd ready for a trivia game about Hilldrup's custom UVA truck, which transports the team's gear and relocates the athletics' departments' coaches. We appreciate everyone who played along, and congratulations to our winner!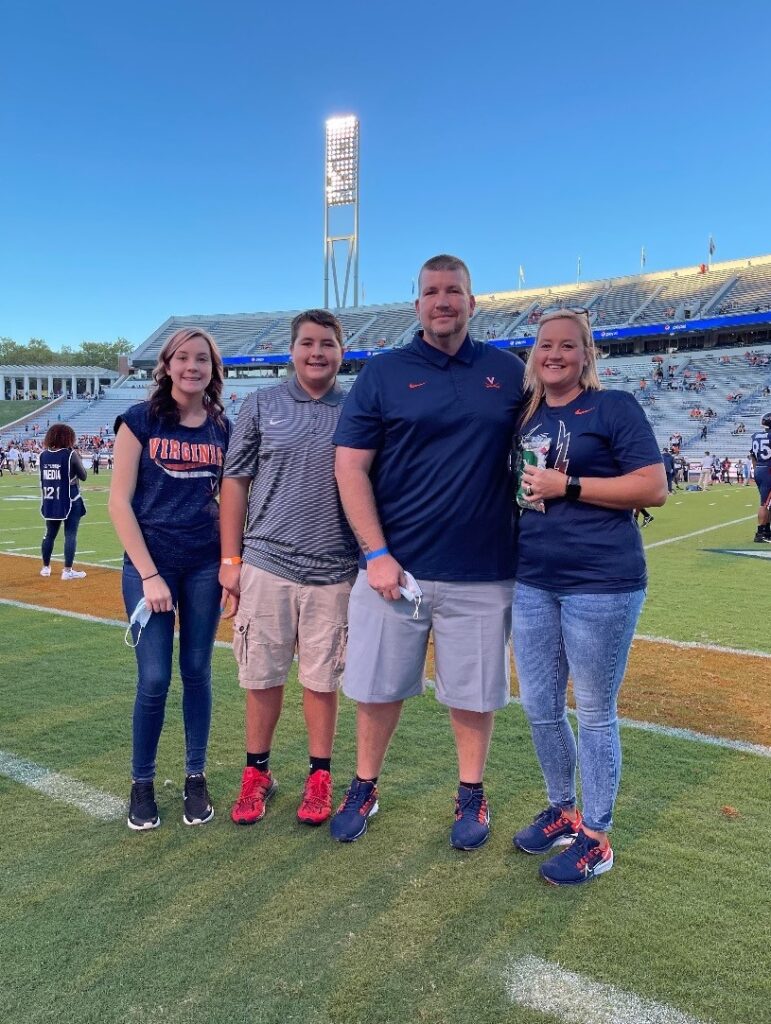 John Kibbe, Van Operator, along with his wife and children, was also in attendance at UVA's game against Wake Forest. John had the exciting opportunity to present the game ball to the referees just before kickoff!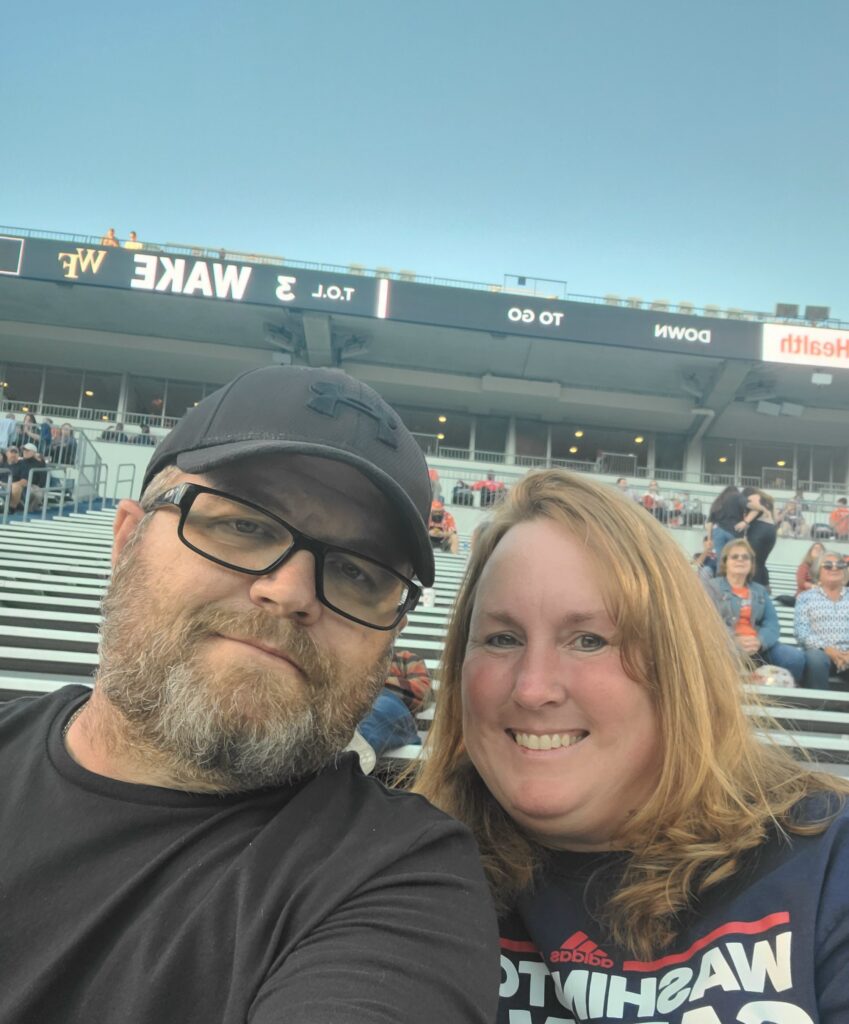 Hilldrup's Robin Allison-Jones, Billing Supervisor – Accounting, takes a photo during the game. Thank you to all of our employees and their families who came out to Charlottesville to cheer on the Cavaliers!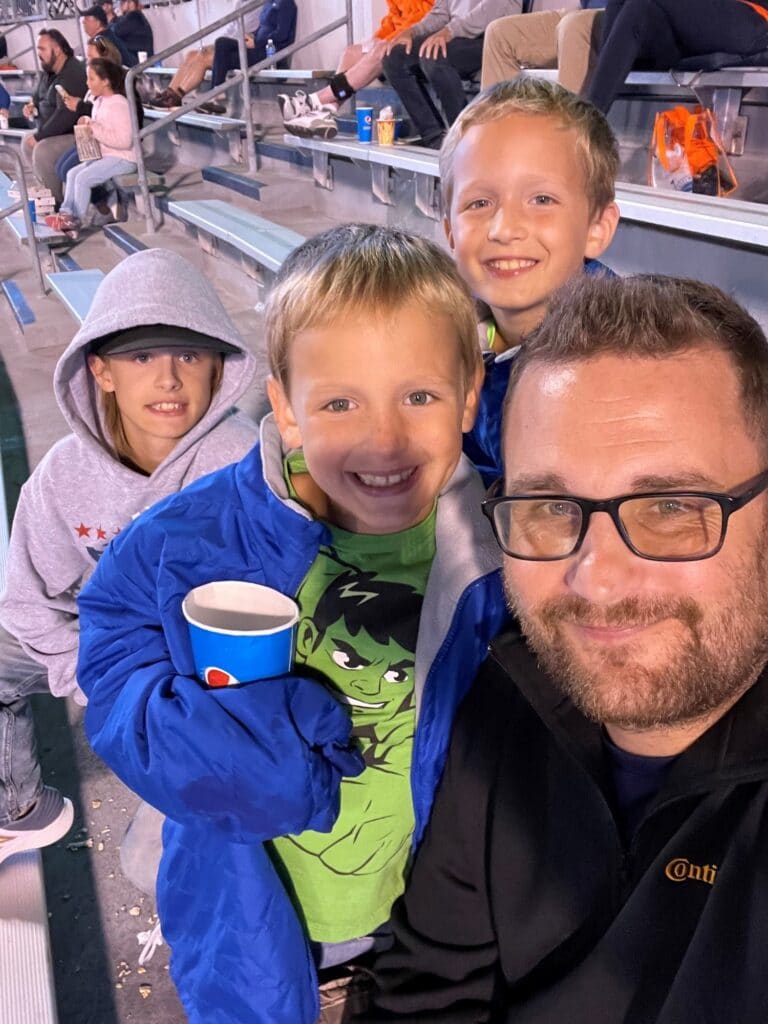 Kyle Mackenzie, Director, Fleet Maintenance, takes a selfie with his family while at the game. We were so excited to be able to attend the live game in Charlottesville, VA with our family and friends!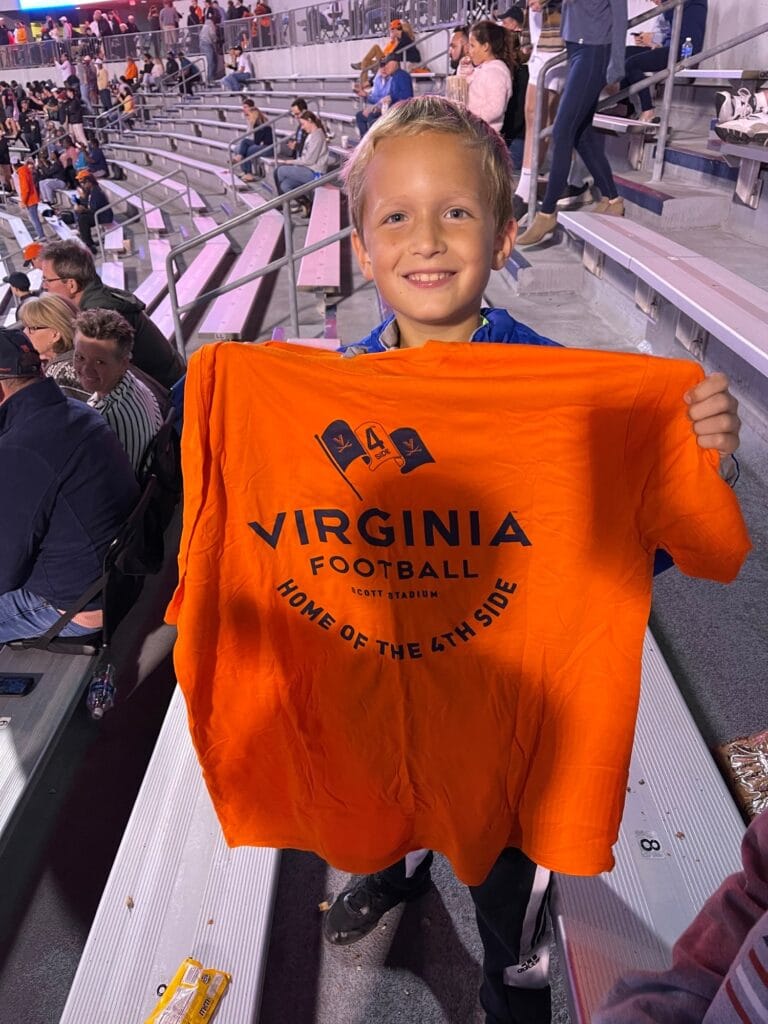 Team Hilldrup – of all ages! – came prepared to support the Cavaliers with plenty of game day attire.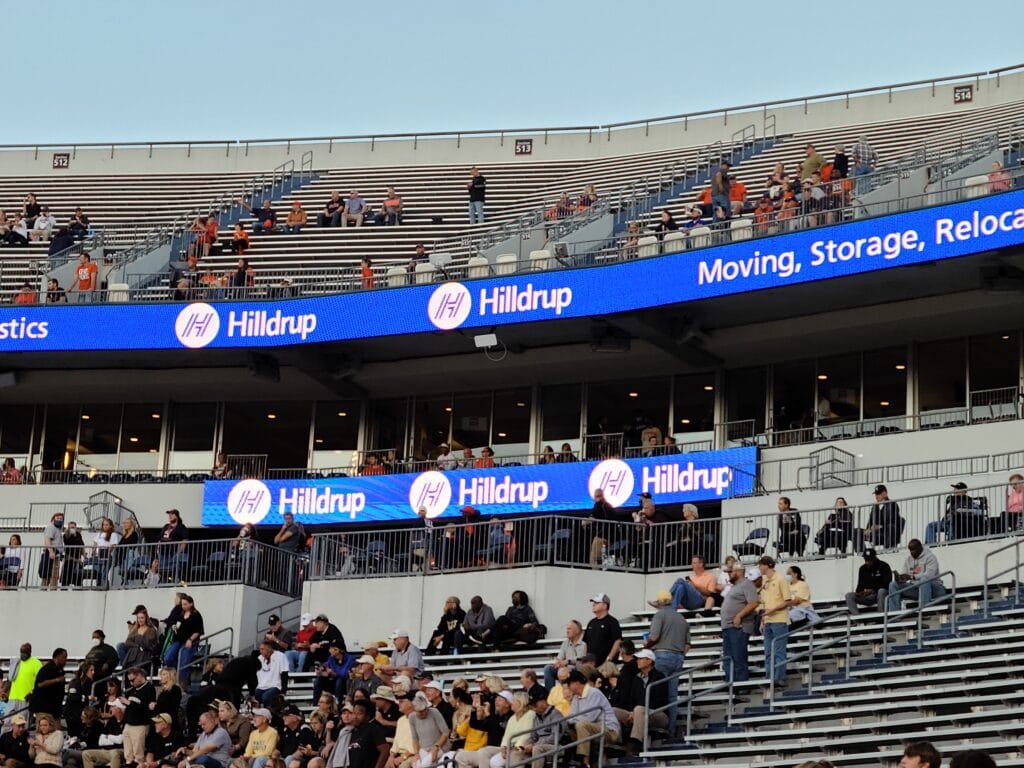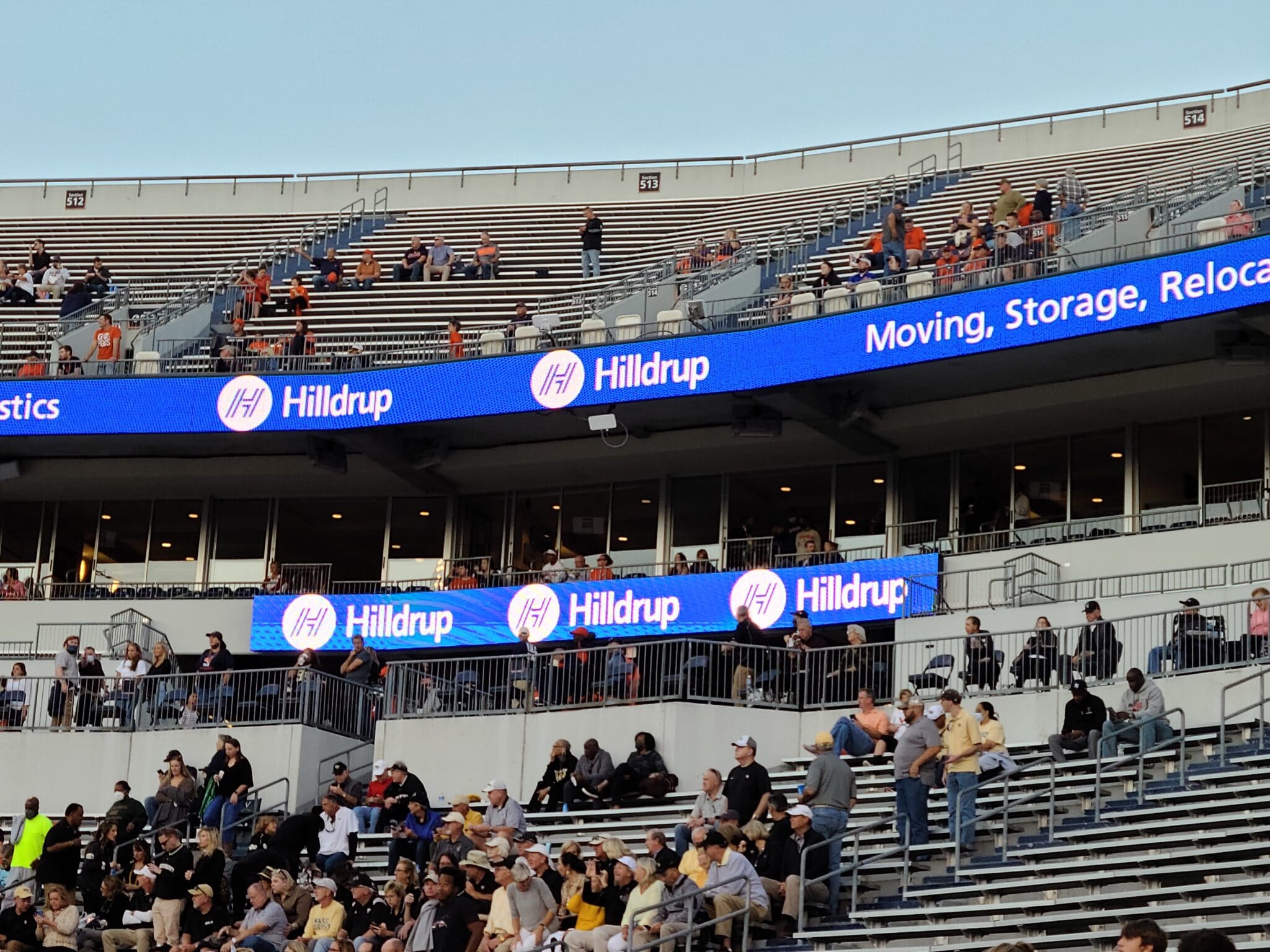 It's always fun seeing our name in lights! Throughout the game, Hilldrup was highlighted as a proud sponsor of University of Virginia Athletics. It was our pleasure to be there in-person for the game!
---