The Hilldrup Move-Up Fund Supports SAWs to Bring Mobility Ramps to Community
Hilldrup's support of Servants at Work (SAWs) aligns perfectly with our Move Up Fund mission of providing a hand up to those in need in our local community.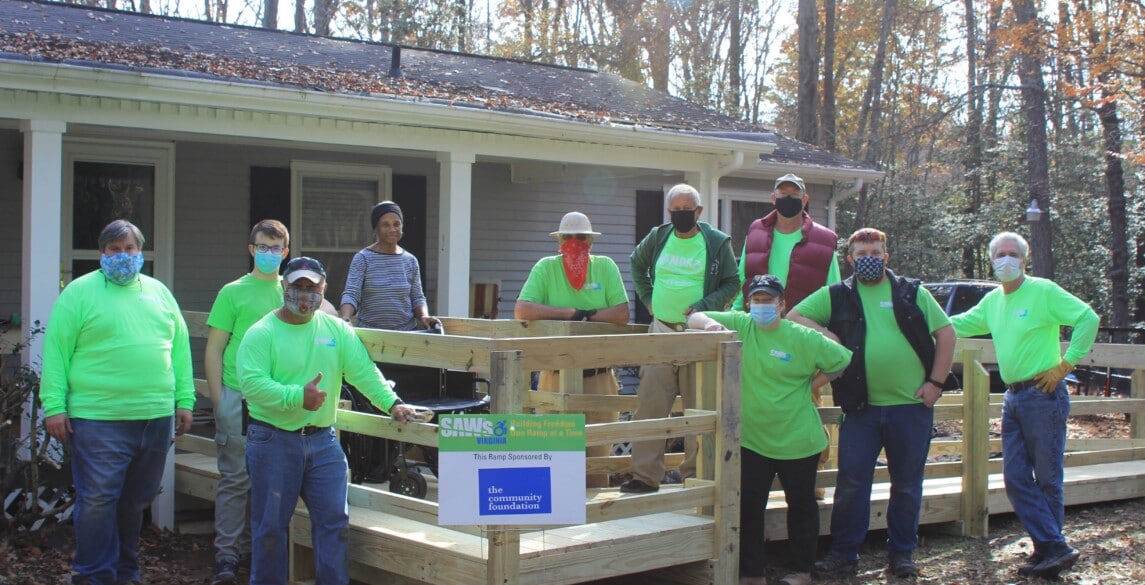 Hilldrup is thrilled to announce that our company's foundation, the Hilldrup Move-Up Fund, will be assisting Servants At Work (SAWs), a non-profit organization dedicated to providing wheelchair ramps to low-income, permanently disabled individuals. SAWs' ADA-compliant wheelchair ramps, which are constructed and installed outside of the individual's home, offer a true sense of independence and dignity to those they serve.
Recently, Hilldrup was pleased to be presented a grant request for SAWs through The Community Foundation of the Rappahannock River Region, which manages and distributes charitable giving throughout Fredericksburg and the local area. SAWs' mission perfectly aligns to the goal of the Hilldrup Move-Up Fund which is to empower individuals and their families who need a "hand-up" to a more favorable situation.
In fact, as a premier moving, storage and logistics company, Hilldrup recognizes and prides itself on honoring and respecting the importance of home. After all, it's where one of the most important aspects of our business takes place as we help individuals and families with their moving and relocation needs. Recognizing how impactful and truly life-changing a mobility tool, such as a ramp, is to those who are permanently disabled, we're honored to support such an outstanding and impactful organization such as SAWs. Hilldrup and The Community Foundation have been working closely with Charlie Russell, Executive Director – SAWs Virginia, who oversees that donations to build and install several ramps for those most in need are provided to those who live in the greater Fredericksburg area. We're grateful for everyone's work and support in these efforts.
"We absolutely loved the grant request from SAWs that the Community Foundation brought to Hilldrup. The work that Charlie [Russell] and the entire SAWs organization do for those in the local community ties directly to the purpose of the Hilldrup Move-Up Fund – we want to provide a stepping stone to a better future so the recipients of the funds can feel empowered to better their lives and the lives of their families," shared Jordan McDaniel Hinkebein, Marketing Director. "We're thrilled that the Hilldrup Move-Up Fund can assist in the build of several ramps and create a life-changing solution that's so well deserved and needed."
As if the work that SAWs provides for the community wasn't already impressive enough, their commitment to building safe, reliable ramps so quickly has made thousands of permanently disabled people's lives easier. Building the ramp takes SAWs volunteers less than six hours to complete and each construction is extremely safe as all ramps are built under the direction and expertise of certified engineers. In 2020, SAWs provided 24 ramps to those in need despite many of the challenges that have occurred in the last year – including the pandemic as well as the increased cost of lumber. SAWs is looking forward to celebrating the build of their 3,000th ramp later this month to honor the incredible work of its volunteers, leadership team and those who have helped make donations possible.
Thanks to our partners at The Community Foundation and our friends at SAWs, we're honored that Hilldrup's Move-Up Fund will help to make the accessibility and life-changing gift of ramps possible for those most in need in our local communities.
To learn more, volunteer or donate to SAWs' mission, please visit their website. To see more of their life-changing work, be sure to follow SAWs on their social media channels, to include Facebook, Twitter, LinkedIn and Instagram.
Below are just a few of the recipients of SAWs' ramps and the outstanding impact that these ramps have had on them and their families.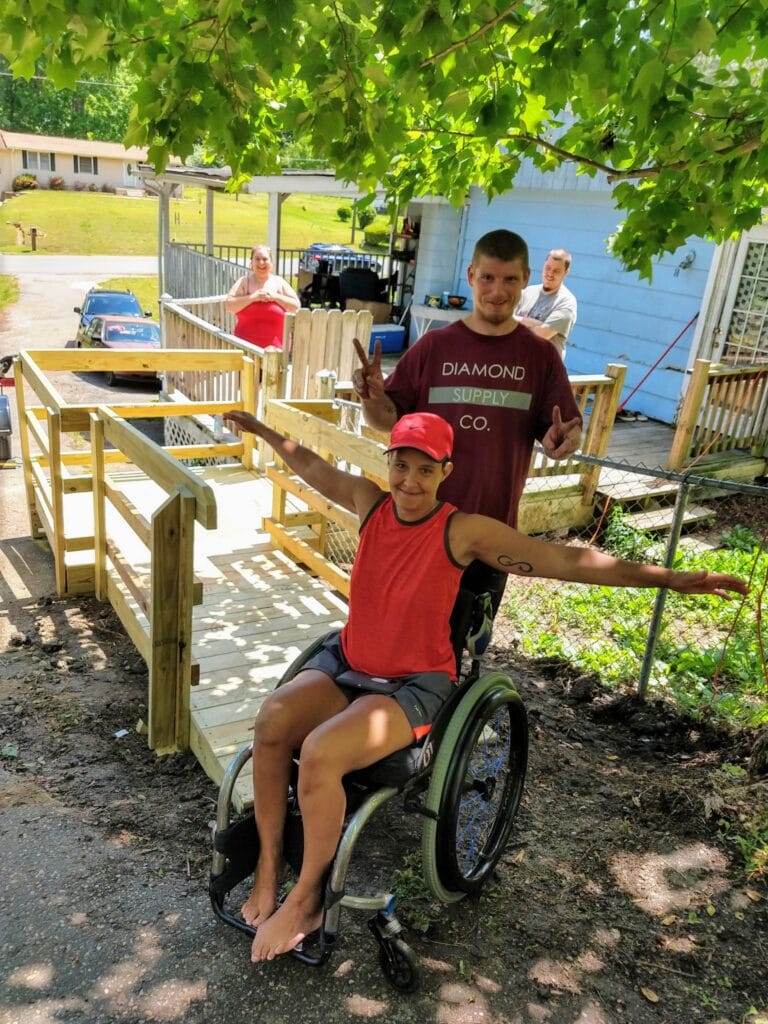 "I'm so grateful for everything SAWs has done for us. I used to volunteer at VCU Hospital. Now that I have a ramp, I'll be able to do all the things I did before and more. I'm just grateful for the opportunity to thank you from the bottom of our hearts." – Nicky M.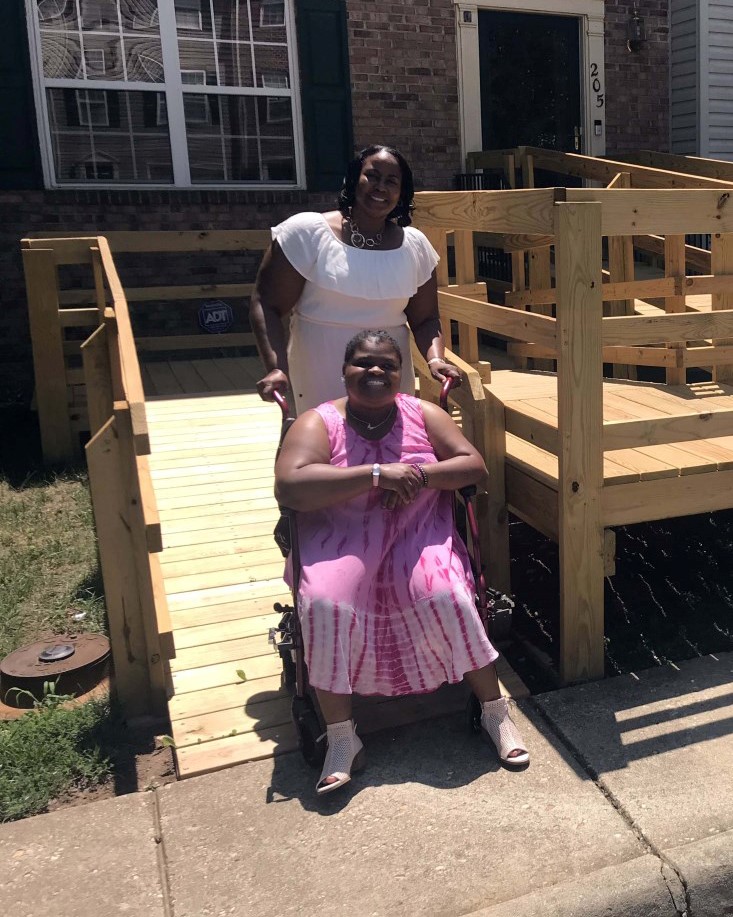 "Just getting Kena in and out of the house before, she had to walk up the stairs. And if she fell on me, we would just be laying there until someone came to help us. [The ramp] has been a true-life saver. She loves it and I love it. I thank you from the bottom of my heart." – Robin M.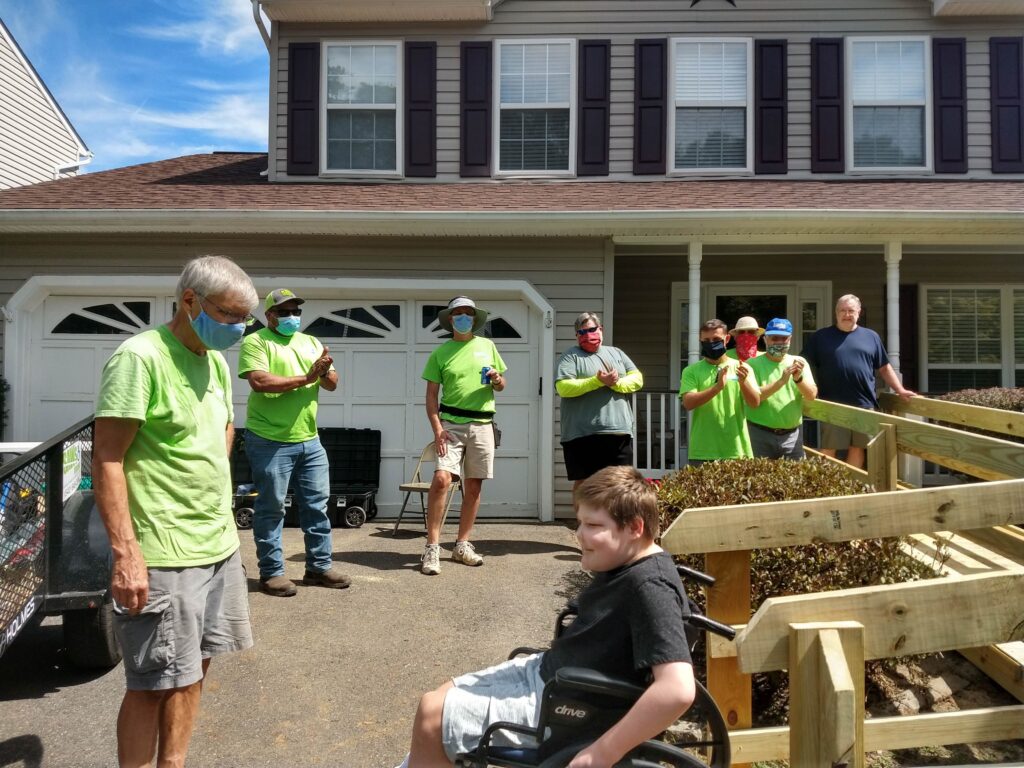 "[The ramp] is a life changing situation for us. Really, for my peace of mind trying to get out if there was a fire. With both of us in the house needing help to get out, time is of the essence. If I can get back into some semblance of a regular life that would be more than I could ever ask for." – Lori C.
Her 14-year-old grandson, Aidan, is also disabled with cerebral palsy and has pigmented villonodular synovitis, cherubism, factor 7 bleeding disorder and arthritis.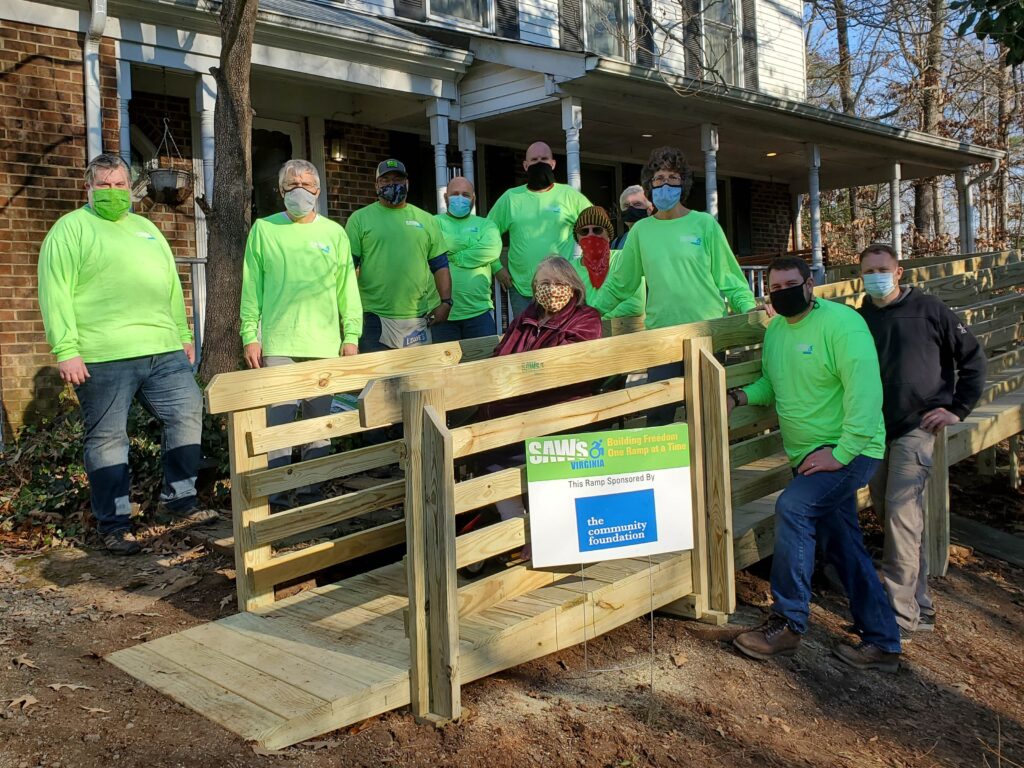 "What an awesome group of people you are. My new ramp is fabulous! Yesterday was the first day that I've been outside my house since July. It is such a glorious feeling of freedom knowing I can get out of the house now if I want to or need to. I actually rolled out on my front porch this morning and it was amazing. You have given me the Christmas present of a lifetime." – Rita S.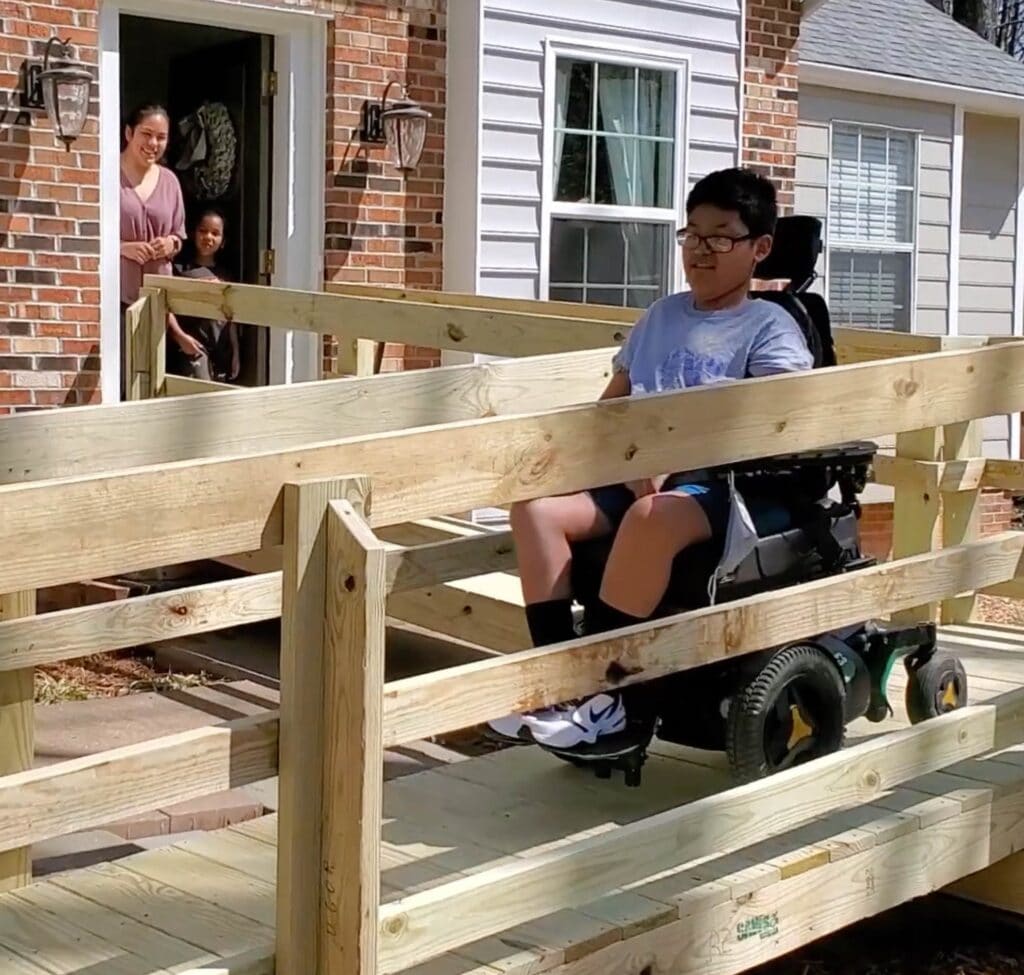 "It's not a hazard anymore him coming in and out of the house. He can go up and down by himself. He's even started going on little walks by himself. There's a lot of pressure on caregivers and family to do whatever they can. It's a blessing when you find other people who try to help lessen the weight on your shoulders and make such an impact on your child's life, on our life. It's amazing. What you guys did was a blessing." – Gilda L.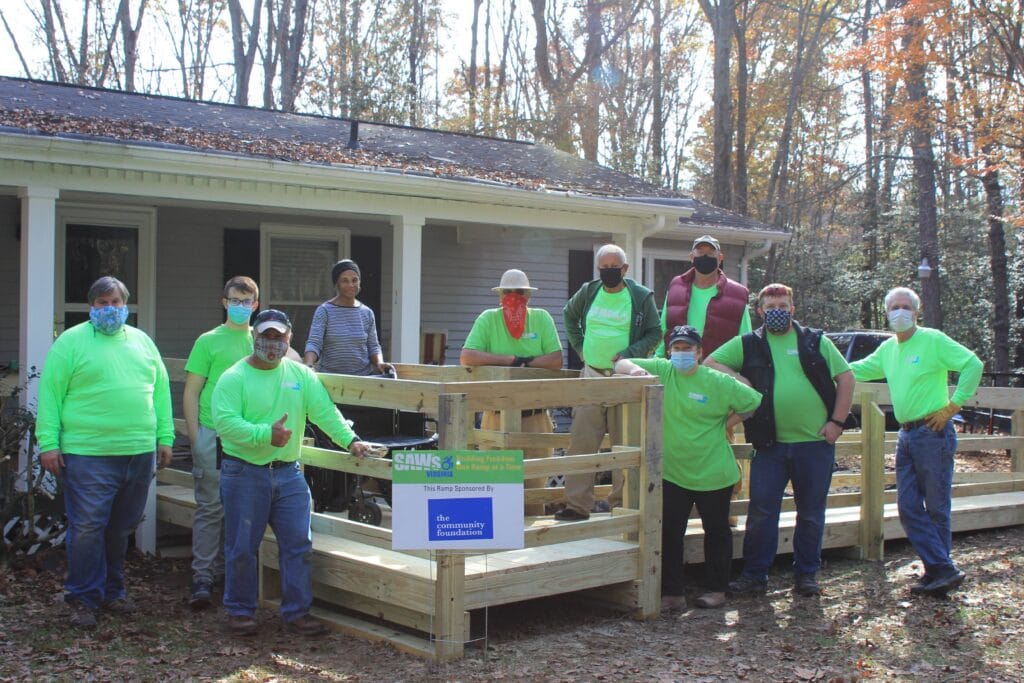 "SAWs to me is just a Godsend organization. I'm the only one taking care of all three of them [her husband, son and daughter are all in wheelchairs] and it's really a blessing to me. It has relieved me of the weight that I carry." – Diana M.
---