The True Cost of Cheap
There are good movers and there are not-so-good movers. No one sets out to hire the latter, but finding a reputable one…
There are good movers and there are not-so-good movers. No one sets out to hire the latter, but finding a reputable one like Hilldrup is easier said than done. Organizations and websites such as the Better Business Bureau, the American Moving and Storage Association (AMSA) and movingscam.com are free and easy ways to vet moving companies to protect you, your family and your belongings.
At Hilldrup, we make it clear what customers can expect from us. Our Customer Bill of Rights promises things like award-winning customer service, on-time and on-budget moving solutions and guaranteed customer satisfaction, and our 110 years of operation is a testament to how seriously we take those promises.
Good Morning America recently told the story of a couple who fell victim to a group of movers we've mentioned before – fraudulent move brokers. The story ends on a happy note, with the couple helping the FBI charge the owner with theft and extortion, although it took a more than a year of frustration and many broken belongings to get there. Our parent company UniGroup Worldwide is doing something about it, creating MoveRescue to help aid individuals by providing the tools and knowledge to get their possessions back these criminals.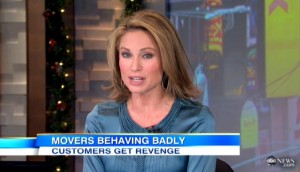 Movers Busted by Feds After Customers Help in Sting
It's a stark, but all too true, picture of what can happen when you go with a low-balled online quote from a move broker: threats, broken items thrown onto the front lawn and left dealing with someone who is all too willing to take advantage of your situation.
As the GMA story notes, legitimate movers are furious over these schemes. To us, there are certain things customers should expect from a moving company like Hilldrup.
Background checks and uniforms for movers: It can be unsettling to let complete strangers into your home, who then pack up all your possessions and take everything away. Rest assured when working with Hilldrup, the movers who knock on your door have passed a background check and undergone extensive training on how best to package your belongings. You can also expect them to be in uniform to relieve any concerns of whether they're from a different company.
Free in-home written estimates: It's impossible to provide an accurate quote without an in-home consultation – square footage alone is not a true reflection of the size and condition of your furniture. At no commitment, a Hilldrup move coordinator will visit your home to go over everything you need moved. Only then will you receive a quote that is accurate, and more importantly, honest.
We pride ourselves in hiring people who treat you and your family like they would their own. While not everyone has people like Dennis Putnam, Jr., the United Van Lines' operator of the year, there are a lot of good, honest moving companies out there – we just happen to think Hilldrup is the best. 
---