UVA's Thompson and Wicks Build on Personal Brands with NIL Partnership
Hilldrup's longstanding partnership with UVA Football takes an exciting step forward with a NIL deal between Hilldrup and Cavalier wide receivers Keytaon Thompson and Dontayvion Wicks!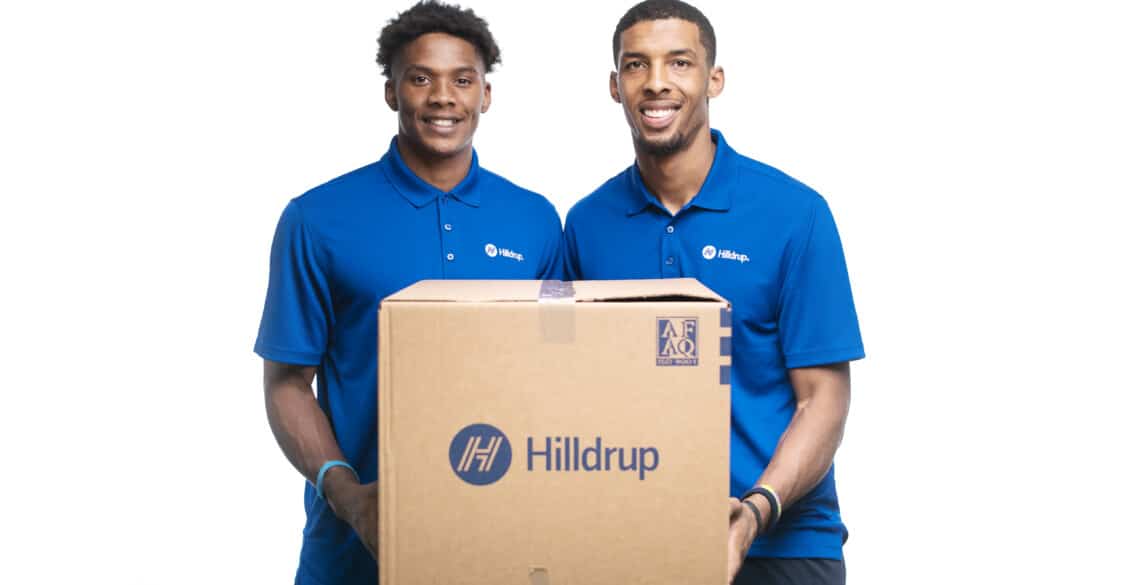 College football fans who have been paying attention to the pre-season rankings have probably come across these two names more than once: Keytaon Thompson and Dontayvion Wicks. Both receivers at the University of Virginia, Thompson was a 2021 ACC All-Academic selectee and was recently named to the  Preseason Second Team All-ACC selection according to Phil Steele and Pick Six Previews (All-Purpose). Wicks has appeared on the preseason Maxwell Award Watch List, Preseason Fourth Team All-American, First Team All-ACC according to Phil Steele, and more heading into 2022. Both were added to the Biletnikoff Award Watch List for 2022.
Now, the powerful duo can add one more accolade to their pre-season accomplishments: a sponsorship. NIL collective Cavalier Futures is announcing via On3 Sports that Thompson and Wicks have both inked deals with Virginia-based moving, storage and logistics company Hilldrup. The partnership includes social media endorsements, but goes beyond the typical NIL deal to incorporate custom video messages for Hilldrup employees and involvement in Hilldrup's in-game promotions during UVA's home games in Scott Stadium.
Hilldrup is owned and operated by former UVA linebacker Charles McDaniel, who has sustained the company's longstanding tradition of supporting Virginia Athletics. Now, he is among the first alumni to jump at the chance to elevate his company's brand through NIL partnerships and (more importantly, he says) support today's Hoos.
It wasn't the pending-superstar status that drew McDaniel to Thompson and Wicks. It was everything off the field that sealed the deal. "Their work ethic, humility, and values are what confirmed it for me." McDaniel said. "As we discussed the opportunity, it became clear that our priorities align – everything is family first."
Wicks and Thompson could not agree more, but "family first" is hard to live by when your family is nearly a thousand miles away in Louisiana. Both players were born and raised in Baton Rouge and New Orleans respectively, making it a challenge for their families to attend home games in Charlottesville. NIL opportunities offer a solution.
"I am grateful for this opportunity and how it will help me to support my family," Wicks shared. "My mom is going to be in the stands for every game, I can tell you that."
Partnering with Hilldrup is even more of a full circle moment for Keytaon Thompson, whose father has been a commercial truck driver since before he was born. Thompson says he plans to use the employee appreciation videos to address Hilldrup's drivers directly: "It means a lot to be able to partner with a brand that employs drivers like my dad because I know the sacrifices that they and their families make. I want to send a message that really hits home."
This partnership was facilitated by Cavalier Futures – an NIL collective working directly with student-athletes at the University of Virginia. The group was organized by former UVA student-athletes and officially kicked off back in March 2022 with baseball alum Executive Director Lo Davis leading the way. They have since announced brand sponsorships between quarterback Brennan Armstrong and McDonald's franchises owned by RAHE Inc., launched its own fan subscription content platform "Cav Club," and has begun growing a network of local partners. As the NIL era progresses into its second year, there is sure to be more to come in Charlottesville.
---