Washington, DC City Profile
Hilldrup knows a thing or two about the Washington, DC market thanks to our four locations located in the area. We're proud to serve our nation's capital and assist families and businesses who are relocating.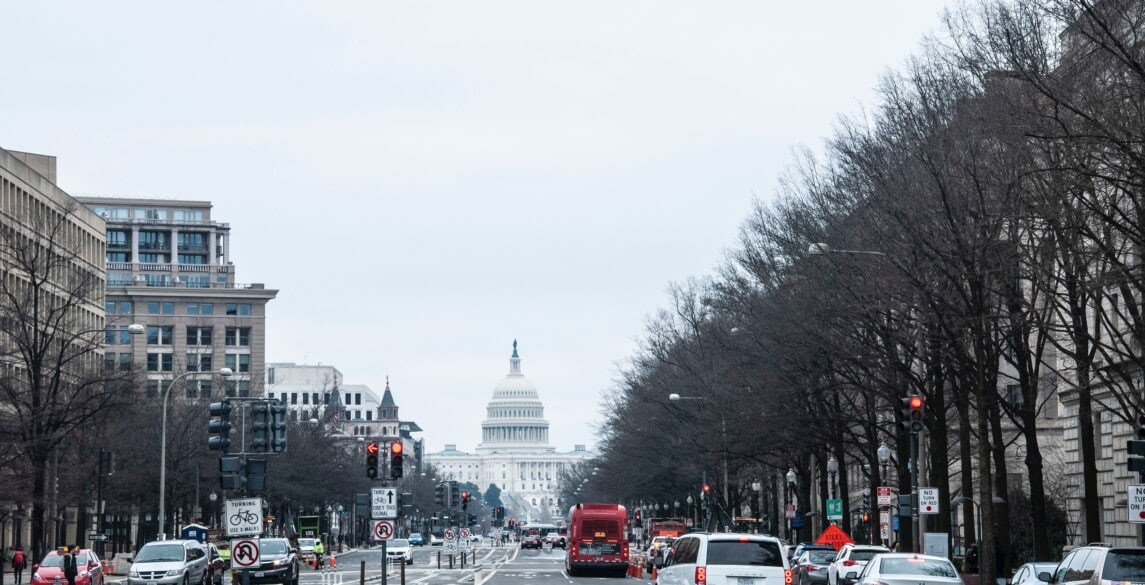 Washington, DC is more than just our nation's capital – its metropolitan area is home to more than six million people, making the region the seventh biggest housing market in the country. As the seat of government, the city has long been a magnet for the ambitious and the altruistic, people wanting to make a difference in public service and live in one of the country's true international cities.
Washington, DC Overview
Washington, DC is known for much more than simply being the nation's seat of power. Bursting with opportunity, the region is populated with corporations (particularly a vibrant tech sector), international nonprofits, cultural and historic institutions, think tanks, professional sports teams, universities and hundreds of foreign embassies – all contributing to a pulsating energy along the shores of the Potomac River. Its diversity is reflected in the variety of neighborhoods and enclaves – from the posh townhomes of Georgetown to the funky vibe of Adams Morgan, from the historic cobblestoned streets of Old Town Alexandria to the glistening buildings soaring over Arlington and Tysons Corner. There is a part of the metro area meant for everyone.
Residential Trends in Washington, DC
Who's moving to Washington, DC and why?
The city of Washington, DC – aka The District – is growing…really growing. The 2020 US Census found that the population of the city spiked close to 15 percent since the 2010 Census, the seventh highest growth rate in the Nation, pushing the number of DC residents to nearly 700,000. Driving much of the growth, experts say, has been highly educated millennials, who in some years represented two in every three new residents. Many graduates of the city's impressive array of universities – Georgetown, George Washington, American, Howard and Catholic, to name a few – put down roots in DC following their studies. Others were attracted to opportunities to work in government, international affairs, nongovernmental agencies or in the biomedical and technology companies populating the suburbs.
Washington, DC Cost of Living
With population growth often comes a rise in housing costs, and DC has not been immune. Despite a recent building boom, especially luxury condos, the median home value in the city's most popular residential sector tripled between 2000 and 2016. The median price for a detached single-family home today is $1,027,760, with townhouse prices up to $790,000. The median price for a condo is $449,000.
Those in the rental market will find that the average monthly rent for a 1-bedroom apartment is $2,344 while a 2 bedroom goes for $3,427, with rents fluctuating depending on the neighborhood.
Home prices and rents in the suburbs are generally less expensive, with many areas being served by the still-expanding Washington Metro system.
Generally, the cost of living in Washington, DC is 39 percent higher than the national average, with housing (148% higher) fueling the higher livability costs.
Washington, DC's Rules and Regs
Here's a look at the various local laws governing life in Washington, DC.
Washington DC Mask Mandate & Vaccinations
Guidance related to the pandemic, as in most jurisdictions, continues to evolve. Among the requirements, as of fall 2021:
The District is requiring a number of categories of people to be fully vaccinated, including city employees and contractors, adults working in schools or daycare as well as student-athletes over the age of 12.

All persons must wear masks indoors in public places in keeping with DC Health guidelines.
You can follow this link from the DC Mayor's office for the most up-to-date information related to the pandemic.
Liquor Laws
Packaged alcoholic beverages can be sold in liquor stores, gas stations, convenience stores and supermarkets every day of the week from 7 a.m. to 11 p.m. In bars and restaurants, alcohol may be served between 8 a.m. and 2 a.m. Sunday through Thursday and between 8 a.m. and 3 a.m. Friday and Saturday. Of course, there are exceptions during holidays and special occasions.
Grocery and convenience stores sell only beer and wine. Spirits in the district are sold at packaged goods (liquor) stores.
It is illegal in Washington, DC to carry open containers of alcohol in any public place that is not licensed by DC's alcohol authority.
Employment/Labor Laws
Currently, the city's minimum wage rate is $15/hour. In addition, DC labor laws require employers to pay 1 ½ times an employee's regular rate for all hours worked in excess of 40 hours during a week (some exceptions apply). There are no "right to work" laws in the District of Columbia.For information on laws governing employee leave, unemployment benefits, severance and other labor issues, read the Employment and Labor Laws.
Parking Laws
Even with an excellent network of public transportation (i.e. buses and the Metro), a great many people navigate the streets of Washington by car, which makes parking a premium. In addition to private parking garages, there are almost 17,000 metered parking spots in the District, some of which now have pay-by-phone parking meter options. All meters are enforced Monday-Saturday, and most of the free on-street parking is restricted to two hours. Also be aware that rush hour restrictions are strictly enforced between 7 and 9:30 a.m. and from 4 to 6:30 p.m. Best not to press your luck – some 50,000 cars a year are towed in DC.
For more, check out this expert guide to Washington DC street parking rules.
Dog Laws
The District of Columbia has several laws governing the ownership of dogs in the city. Generally, the laws require that owners take responsibility for their pets' behavior and whereabouts. Dogs are required to have collars and tags and be tethered by a leash in public. DC also requires annual vaccinations against rabies for dogs. Read the complete list of laws governing dog ownership and other animals.
Job Market in Washington DC
Current Employment Rate Trends
Washington, DC enjoys a strong job market, both in terms of employment rate and compensation levels. The average total compensation for a DC employee is about $95,769 USD compared to $68,703 for the rest of the U.S. More than a quarter of DC workers have advanced degrees, about twice as high as the nation as a whole.
Types of Jobs/Industries
About one in four (26%) District jobs are with the federal or city government, including the military. Other popular employment categories include professional/business services, education and health, leisure and hospitality and businesses supporting national security.
Company Headquarters
There are close to 20,000 for-profit companies within the District of Columbia with thousands of others in surrounding jurisdictions. DC itself boasts the headquarters of two Fortune 500 corporations, Fannie Mae and Danaher Corp. Another nine Fortune 500 companies have HQs in Northern Virginia, including Capital One, Northrop Grumman and Hilton, while the Maryland suburbs have Marriott International and Discovery Communications.
If you're considering moving to Washington D.C. or relocating soon, be sure to check out Hilldrup's Washington D.C. move guide for where to live and what to see and do!
---