What is Considered a Local Move?
Moving comes with a lot of unknowns. Hilldrup is here to assist you through the process and ensure your move is easy and stress-free!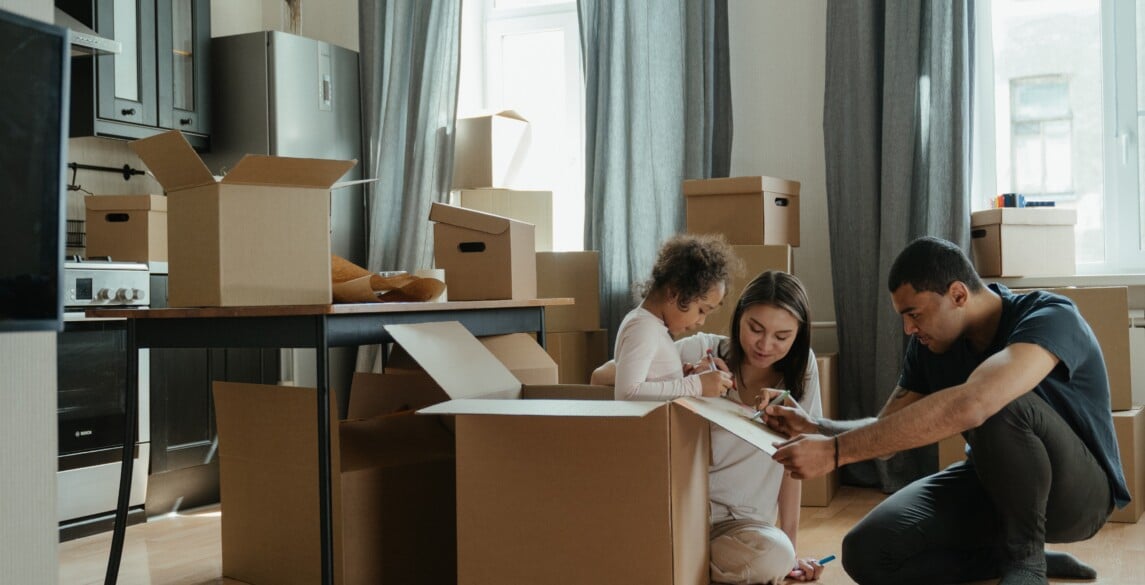 Moving should be an exciting time, but without the proper planning and assistance, it quickly can become stressful – even for a local move. Knowing the basics surrounding your upcoming local move can help manage expectations and identify what support you'll need. Recognizing the difference between a local and intrastate move, hiring a credible moving company, and knowing the costs associated with a local move is beneficial to ensure a successful move experience. Not all moves are the same, but here are a few things to consider when moving locally.
Local Moves vs. Intrastate Moves
A local move is typically one that occurs when moving between two locations within 50 miles or less, while an intrastate move occurs over a longer distance in the same state.  This is of course in comparison to an interstate move which takes place when moving across state lines.
Traditionally, moving companies charge an hourly rate for local moves. Hiring less experienced part-time movers or doing the job yourself means you could run the risk of damaging your valuables. Stay clear of non-licensed movers, also known as rogue movers. Some will use bait-and-switch tactics to scam potential customers (more on them below).
How moving companies price intrastate moves varies throughout the industry. Some will charge by weight or cubic feet, while others will retain their hourly rate and add a travel fee.
Whether it's a local or intrastate move, it's critical to get a quote based on a visual inspection of your belongings. This can either be done in person or virtually. Every home is different, and a visual survey is the only way to get an accurate quote for your move. It's also something any reputable moving company should offer for free. Be wary of anyone who charges for a quote. From this survey, moving companies will determine the approximate cost of your move and the amount of space your belongings will occupy on the truck.
Hiring a Credible Local Moving Company
There are good movers and not-so-good movers, and it's important to know the difference. It's tempting to look for ways to save money on moving. Unfortunately, rogue movers prey on budget-conscious families by promising lower prices only to demand a significantly higher one once their belongings are on the truck. They'll literally keep your belongings hostage unless you pay. While there are resources to help victims of rogue movers, it's best to stay clear of these scammers when looking for credible movers.
Ensure that your movers have passed a background check and are trained on the best ways to move your belongings. Depending on the scope of your move, a reputable mover also can provide a moving coordinator to answer questions you may have and provide updates throughout the move process. You also want to review your moving valuation coverage options and select the best one for your needs.
Cost Associated with a Local Move
Like all moves, the cost of a local move is determined by your belongings – both how much you need to move and the delicacy of your items, should anything need specialized packaging and handling. Each moving company's price may vary, but a home's size will typically determine the number of people needed on a moving crew. Here is a rule of thumb:
1 bedroom: two movers
2-3 bedrooms: up to three movers
4 bedrooms: up to four movers
More than 4 bedrooms: four or more movers
More experienced movers may require fewer crew members who can safely pack and move your belongings faster than less experienced ones.
Even for short local moves, having experienced help can make a world of difference. It's still important you properly vet your local moving company to ensure they are reputable and have the expertise and assets to handle your local move effectively.
Hilldrup has a dedicated team of moving specialists to help streamline your next local move. Whether you're moving locally or intrastate, our team will be ready to assist you every step of the way. Click here to learn more about how we can help.
---